Cheap Thrift Store Finds and a DIY Kitchen Backsplash using Subway Tile?
You may be questioning how the two could possibly ever go side by side.
We are here to let you in on our little secrete of installing a Subway Tile Backsplash for Cheap!
WHAT IS SUBWAY TILE?
Subway tile has provided that simple, classic bright white timeless look throughout kitchens and bathrooms for years. We will never forget the first time our eyes laid on this timeless tile! It was our first home, our first home where everything was cool simply because it was our first home! Our home featuring this very cool green tile was built in the 1940's, so it was indeed an authentic vintage subway tile that we all dream to color match today.
Subway Tile first came about when it debuted in New York train stations in the early 1900s. Thereafter it quickly became a staple in kitchens and bathrooms because of it's durability and ease of cleaning. In addition it was quite pleasing to one's eye. This 3×6 tile quickly became a favorite and has now become quite the crazy, especially dressed in a white glaze!
Cheap Thrift Store Finds
HOW CAN YOU INSTALL SUBWAY TILE FOR CHEAP?
Are you simply in lovvvvve with those white walls adorned in the glaze of white, but just can't justify the price? Don't despair, we are here to share! We too were in your same situation. Each time a new project comes to our minds, our first thought is how can we make this for less?
….off to the Thrift Store we went. Sure enough we were able to find a cute little tile saw at our local Habitat Restore for the whopping price of $4!
…that's right…Only FOUR $
We were like two kids at in a candy store, only we were getting our sugar rush off of white ceramic bars instead of white chocolate bars! We filled our car with boxes of white goodness, a cutter and even a trowel! Our advice to you is to check all of your local thrift stores, restores, and tag sales too!
If you aren't able to find a thrift store second hand find, you will also be able to purchase the needed supplies at your local hardware store or online at the links below.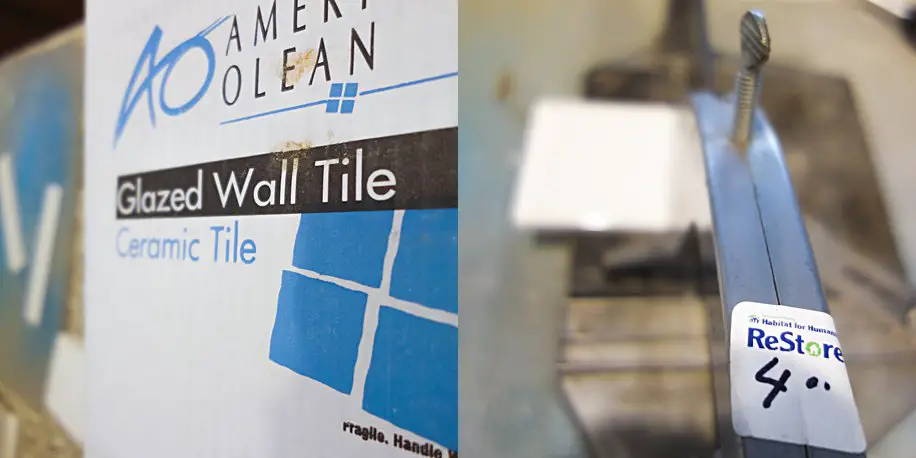 DIY Kitchen Backsplash using Subway Tile
SUPPLIES & TOOLS:
–Subway Tile in the color of your choice (we prefer simple white)
Make sure to buy extras!
–Tile Cutter
–V notched trowel in the size of 3/16″x5/32″
–Hand coping saw with a stone blade (this will be used for cutting around outlets)
-Tile nippers may also be used if you are more comfortable with them
–Grout Float
–Grout Sponge
–Grout (the color of your choice)
–Color matched grout caulk
–Mastic
-Large Plastic Bucket
-Eye and Hand Protection
-Blue Tape and Other Surface Covering
STEPS:
Step One:
Turn off the power to each outlet, there after remove outlet covers.
Use your blue tape to protect cabinets and where your countertop meets the wall.
Step Two:
Apply mastic to the wall with your v notched trowel
Step Three:
Start in the corner or end of your countertop (make sure it's flush with your countertop)
Complete that row, use your cutter to cut a tile in half to start your next row. (this will provide a staggered joint look like a brick type of pattern)
Continue applying your tiles, cutting around any outlet as needed.

Step Four:
Let dry overnight
Step Five:
Apply grout to tile with rubber grout float
Step Six:
Using your bucket full of water, dip your sponge in the water.
Wipe off the grout with the dampened sponge removing any haze.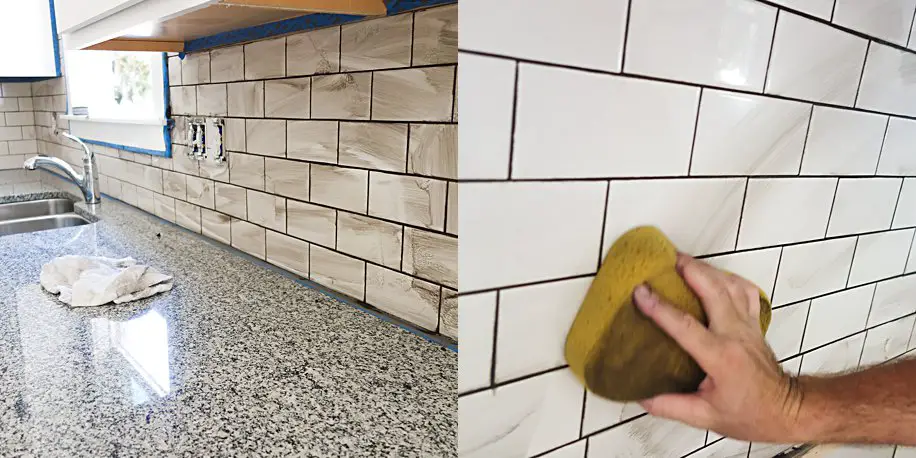 Step 7:
Next day, remove the blue tape.
Using your color matched grout caulk you will want to caulk where the tile meets the countertop.
Re-install outlet covers
Take a Step Back, Admire your work & Pat yourself on the Back! Job well done, high-five!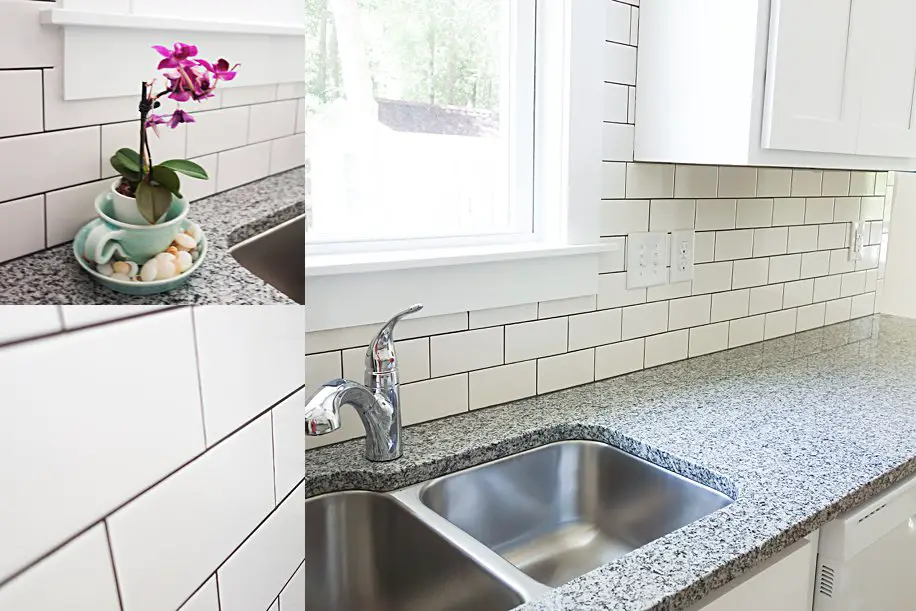 HAVE YOU INSTALLED A DIY SUBWAY TILE BACKSPLASH?
DO YOU LOVE SUBWAY TILE? WE'D LOVE TO HEAR ABOUT IT IN A COMMENT BELOW!
Thank you for enjoying my Blog!
I sure do appreciate it and would love to hear from you in the comments!
Peace, Love, and Simple Living Friends!
~Erin