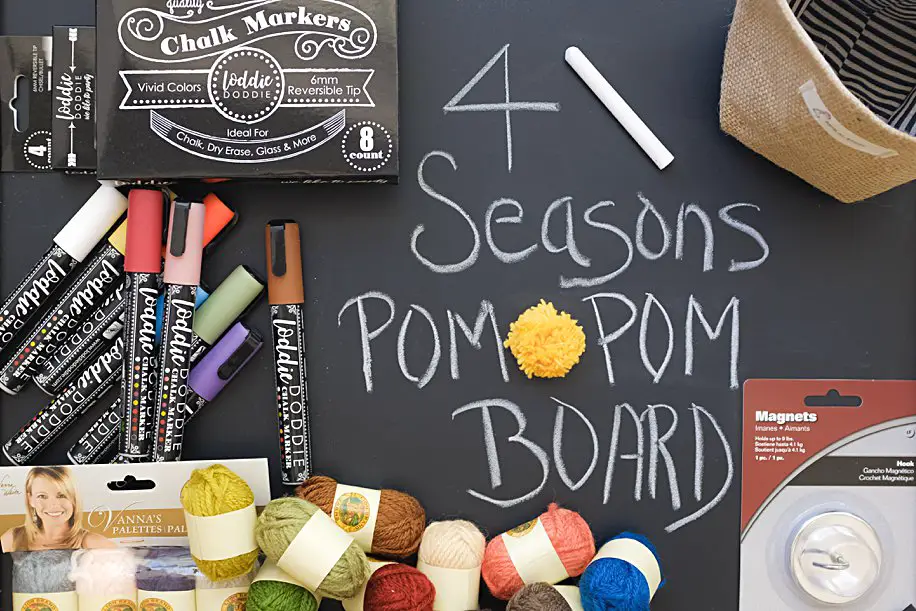 Do you love decorating your home throughout the Seasons?
Do you love Pom Poms, Doodling, and love the Simplicity of Chalkboards?
I know I sure do! I can't wait to share this heart-touching whimsical craft with you!
DIY 4 Seasons Pom Pom Magnetic Chalkboard Crafts for Kids & Adults!
Chalkboards were once only used within the schools, now they fill our homes with fun, whimsy, and memories of cherished days of childhood! They are no longer used just for practicing handwriting or adding 2 + 2; chalkboards are now an artistic creations that hang upon our walls!
Enjoy this fun chalkboard craft that forever changes throughout each Season!
SUPPLIES NEEDED:
-Magnetic Chalkboard
I searched high and low for the perfect magnetic chalkboard and finally found THIS ONE by Lodie Doddie on Amazon.
It's simply beautiful! Magnets stick, chalk smoothly glides and it erases with ease. A truly lovely product.
I purchased the large 18″x22″ which seems the perfect wall size, however they also make a smaller 11″x14″ size.

-Chalk or Chalk Markers
This diy craft project can be enjoyed using traditional chalk found at any local store.
(OR)
If you are like me you will enjoy these LOVELY CHALK MARKERS also made by Lodie Doddie!
Oh my goodness, how did I ever enjoy a chalkboard without these markers?
They are absolutely wonderful. They glide on smoothly, are highly pigmented, and the best thing is they erase with ease!
Another bonus is they do not leave any type of hallow effect that other markers may leave.

-Pom Poms
You may purchase pom poms like THESE POM POMS.
(OR)
Simply make your own magnetic pom poms!
I adore making pom poms, you can learn how I make them at my HOW TO MAKE POM POMS BLOG.
They are easy peasy to make, I like using these CUTE LITTLE BUNDLES OF YARN to create my pom poms.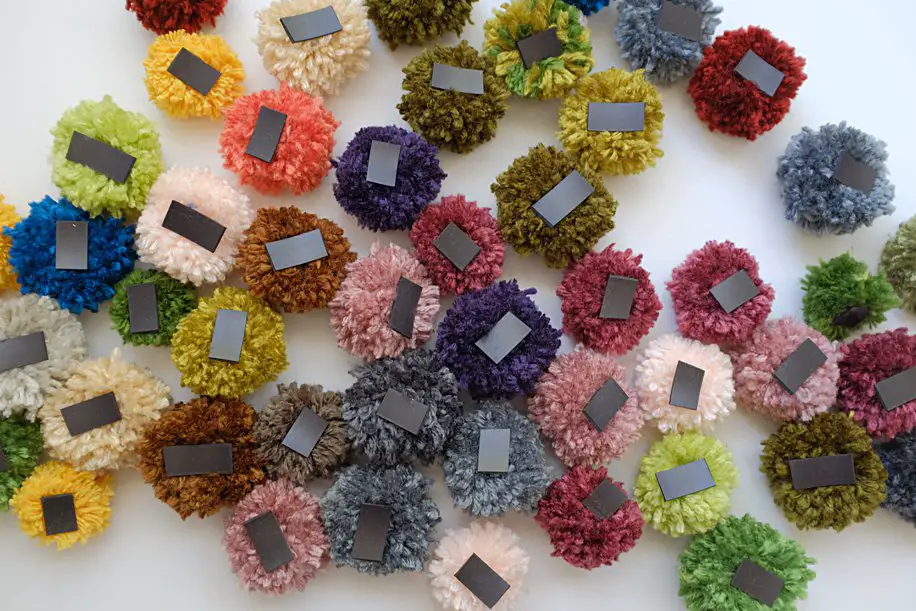 -OPTIONAL ROLL OF STICK ON MAGNETS
If you are creating your own pom poms, you will a roll of sticky magnetic tape.
-OPTIONAL BAG
I purchased this SUPER CUTE BAG to hold my pom poms when not in use.
(I removed the little stitched label)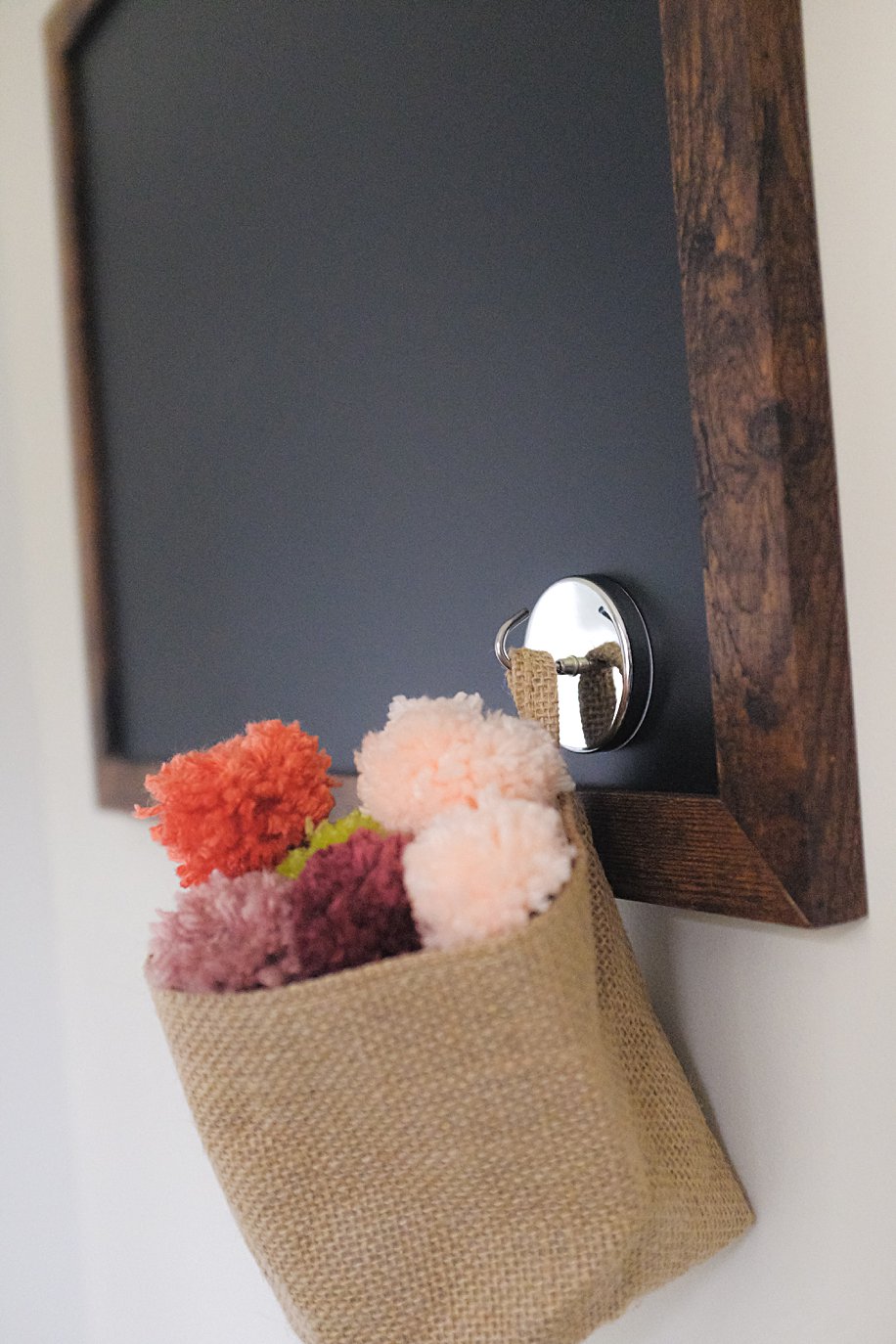 -OPTIONAL MAGNETIC HOOK
An easy way to hang your pom pom filled bag upon your magnetic chalkboard is with a MGNETIC HOOK.
-DIRECTIONS:
Use your imagination to create your works of art for each Season!
SAY HELLO TO SPRING TIME
Bunnies, Pastel Flowers and More.
WELCOME SUMMER TIME
Oh the Simplicity of Daisies in the Sweet Sunshine of Summer!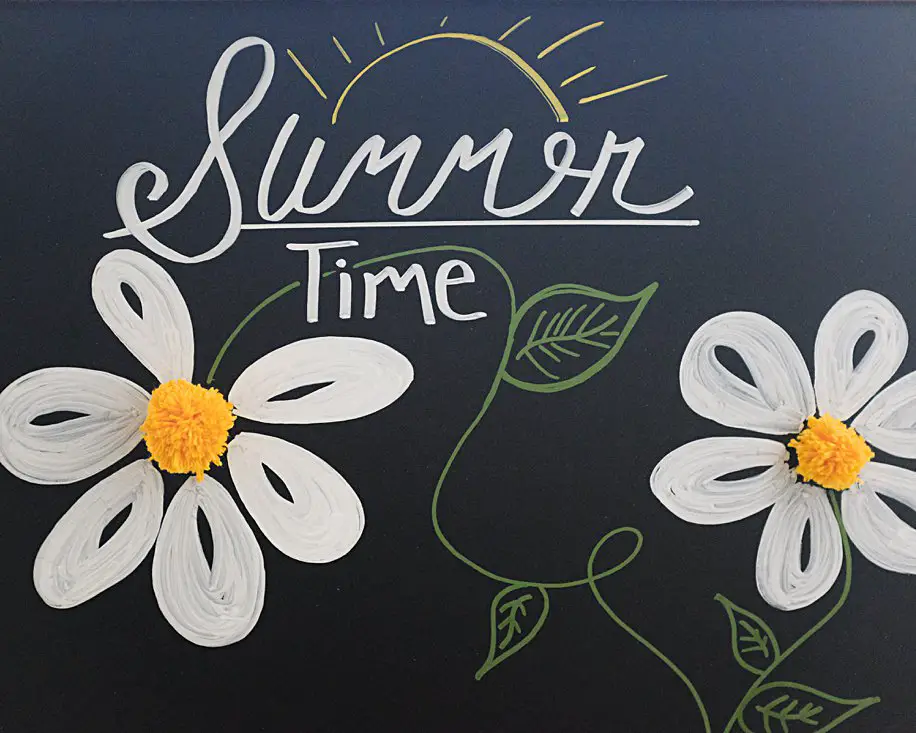 HAPPY FALL
Turkeys, Fall Leaves, and being Thankful and Grateful!
A WINTER WONDERLAND
Snow Covered Trees, Holly Leaves, and Cheer of Red and Green!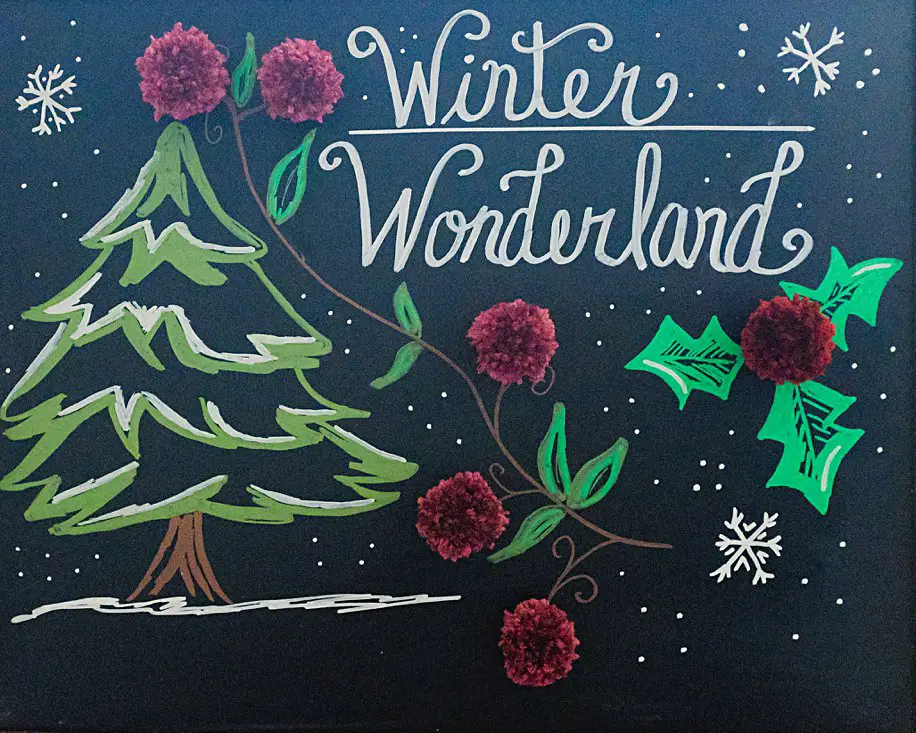 I hope you enjoyed my inspiration for this fun 4 Season Pom Pom Magnetic Chalkboard!
If you give it a try, I'd love to hear all about it in a comment below! I'm sure many of your artists out there will come up with beautiful designs!
Thank you for enjoying my Blog!
I sure do appreciate it and would love to hear from you in the comments!
Peace, Love, and Simple Living Friends!
~Erin