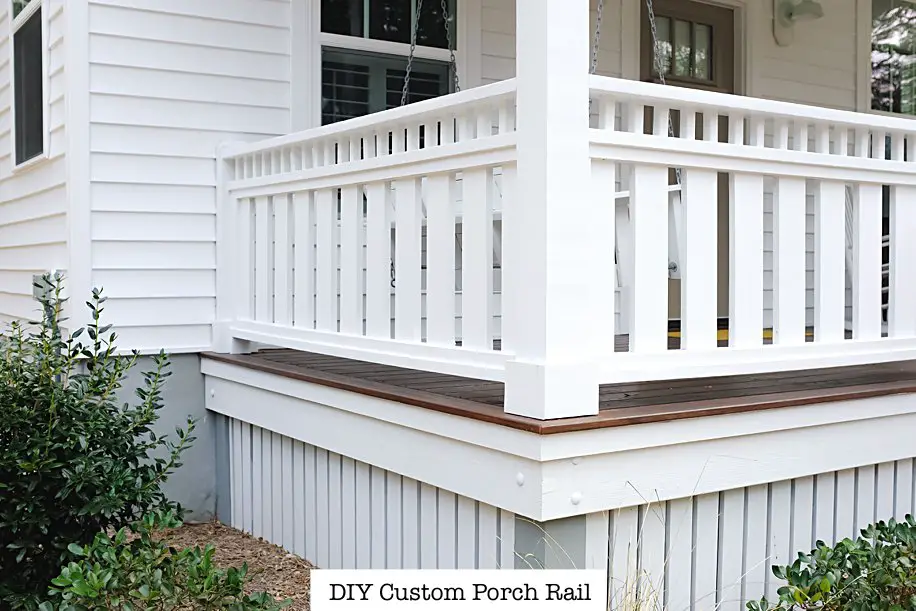 Let's talk about your Custom Porch Deck Rail with our Cottage Design!
Are you tired of the boring pre-made porch and deck railings?
Sharing our design with you is our pleasure! Adding a DIY Custom Porch Deck Rail to your home or cottage will provide you with a one of a kind custom feel!
DIY Custom Porch Deck Rail Cottage Design
SUPPLIES NEEDED:
-2″x4″x8′ pressure treated lumber
-2″x6″x8′ pressure treated lumber
-5/4″ pressure treated decking boards (we prefer to remove the rounded edge through a table saw to provide a squared off edge)
-2″x2″x8″ pressure treated lumber for decorative top piece
-1″x2″x8′ pressure treated trim boards
–Wood Glue
–Wood Filler
–brad nails 1 & 5/8″ Stainless Steel
-15 Gauge 2 & 1/2″ Stainless Steel Finish Nails (it's important to use stainless nails to prevent rust)
-Trim Screws #9×3″ exterior trim head coated wood screws
-Wood Paint Primer (we like Zinserr 1-2-3 Primer)
-High Quality Exterior Paint
TOOLS NEEDED:
-Miter Saw (we like this Kobalt Saw)
-Sander (we like this Porter-Cable Sander)
-Finish Nailer Ryobi Nail Finisher
GREAT, LET'S GET STARTED ON YOUR CUSTOM PORCH DECK RAIL COTTAGE DESIGN!
-PREP & DRY
Throughout our life we love saving money, this project was no different.
First of all we purchased low quality wood that in return would require us to prep and dry prior to project. This saved us about half the cost of higher quality wood.
Prep and Drying includes prepping and filling knot holes and cracks, as well as letting the wood dry out by stacking with spacers to create air flow.
(please note, low quality wood does not need to be purchased and time can be saved by purchasing pre-dried better quality wood)
Deck, Porch and Porch Posts Should be Fully Completed prior to Railing Project. You will be attaching the railings to your porch/deck/posts.
-DESIGN
We designed a template to refer to during the project.
In addition we have kindly included this template of our design to guide you through your project.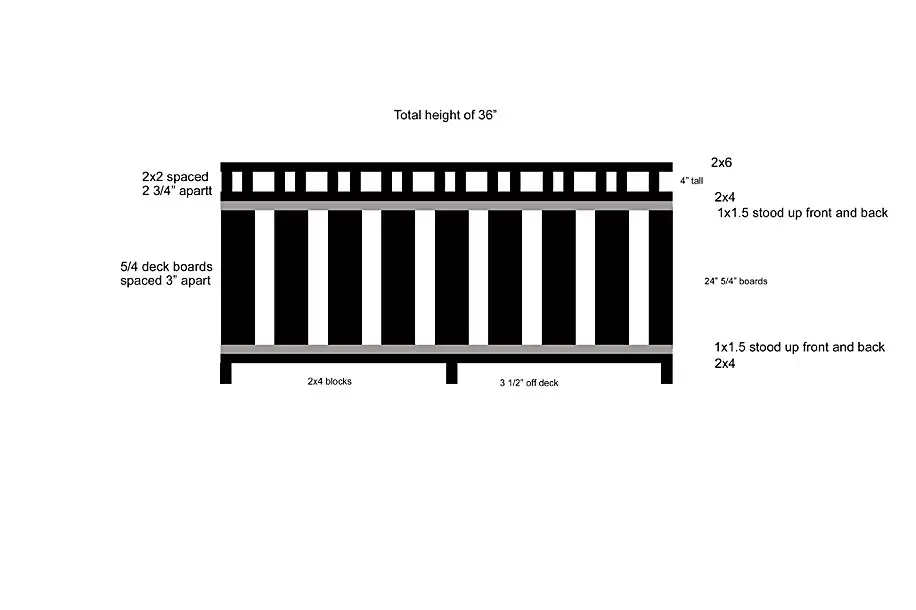 -ASSEMBLY
DECORATIVE CENTER RAIL:
Cut a 2″x4″ to proper length to fit between your posts. This is the center horizontal board on the template.
Nail the decorative 2″x2″x4″ pickets in the center using scrap pieces of wood to create a jig. This jig spacer will be used to place pickets evenly while nailing.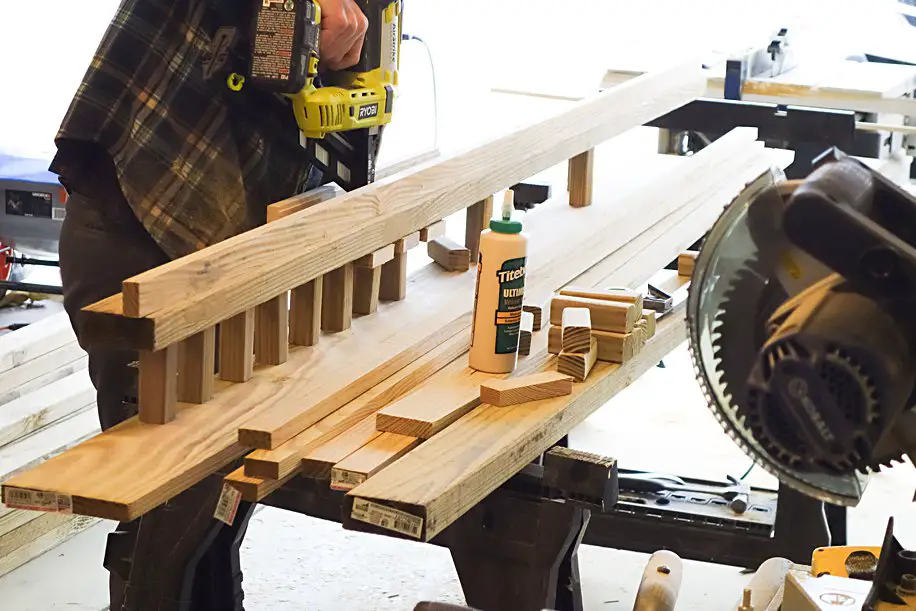 BOTTOM RAIL:
Starting with the bottom 2″x4″ attach one of the 1″x2″ pieces standing vertical to allow the 5/4″ boards to be centered in the 2″x4″
Cut this assembly to length to fit in between your posts.
Cut 2 2″x4″s at 3 1/2″ long blocks. These will be nailed to the inside bottom of the posts.
The next step will be nailing the bottom rail to the blocks.
VERTICAL PICKETS:
From there the 5/4″ boards are now cut to 24″. Using spacers to keep equal distance
between them, attach the bottom of the 5/4″ boards to the 1″x4″ with 1 5/8″ brad nails.
CENTER RAIL ATTACHMENT:
For the center 2″x4″ with the decorative 2″x2″'s facing up is fastened in the same way as the bottom only on top of the 5/4″ boards.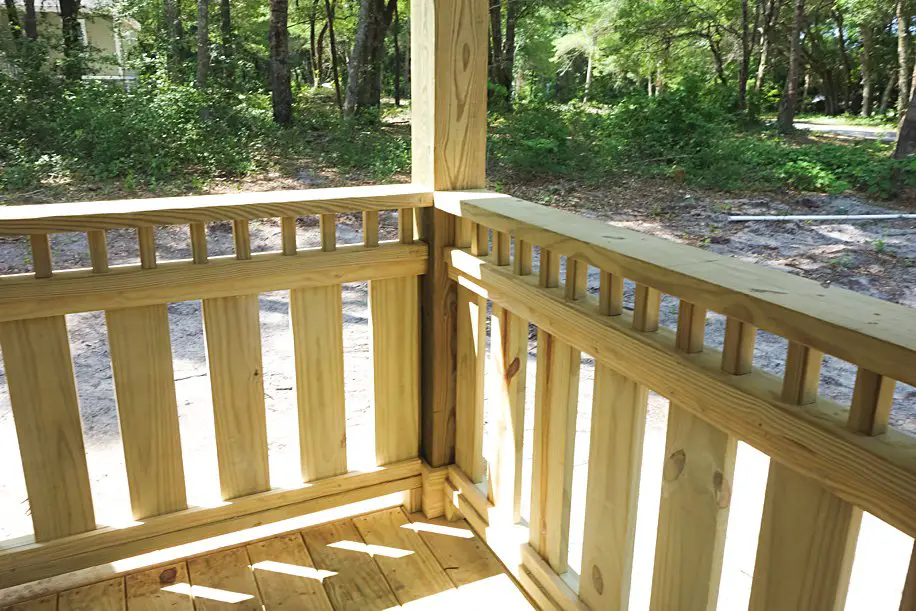 TOP RAIL ATTACHMENT:
The post size will determine the size of your top rail. The top rail size can be either a 2″x4″ or a 2″x6″.
If your porch or deck has 4″x4′" posts you will be using a 2″x4″ therefore if you have 6″x6″ posts, you will be using a 2″x6″ board.
The top rail will be attached with one finishing nail into each decorative 2″x2″ picket. From there you will use a trim screw to secure the top rail to each of your posts.
Wood joints were caulked then all wood was primed and painted.
Enjoy your new railing and furthermore prop your feet up and go grow a sweet Lemon Tree!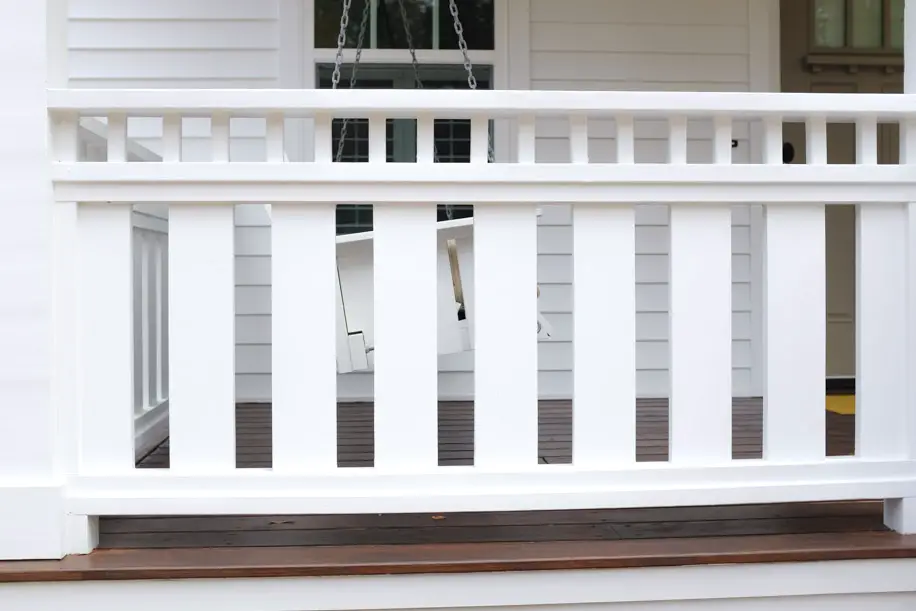 LET US KNOW IF YOU HAVE ANY QUESTIONS, OR COMMENTS!
WE WOULD LOVE TO SEE YOUR FINISHED RAIL! DID YOU MAKE ANY CHANGES?
LEAVE US A COMMENT BELOW
Thank you for enjoying my Blog!
I sure do appreciate it and would love to hear from you in the comments!
Peace, Love, and Simple Living Friends!
~Erin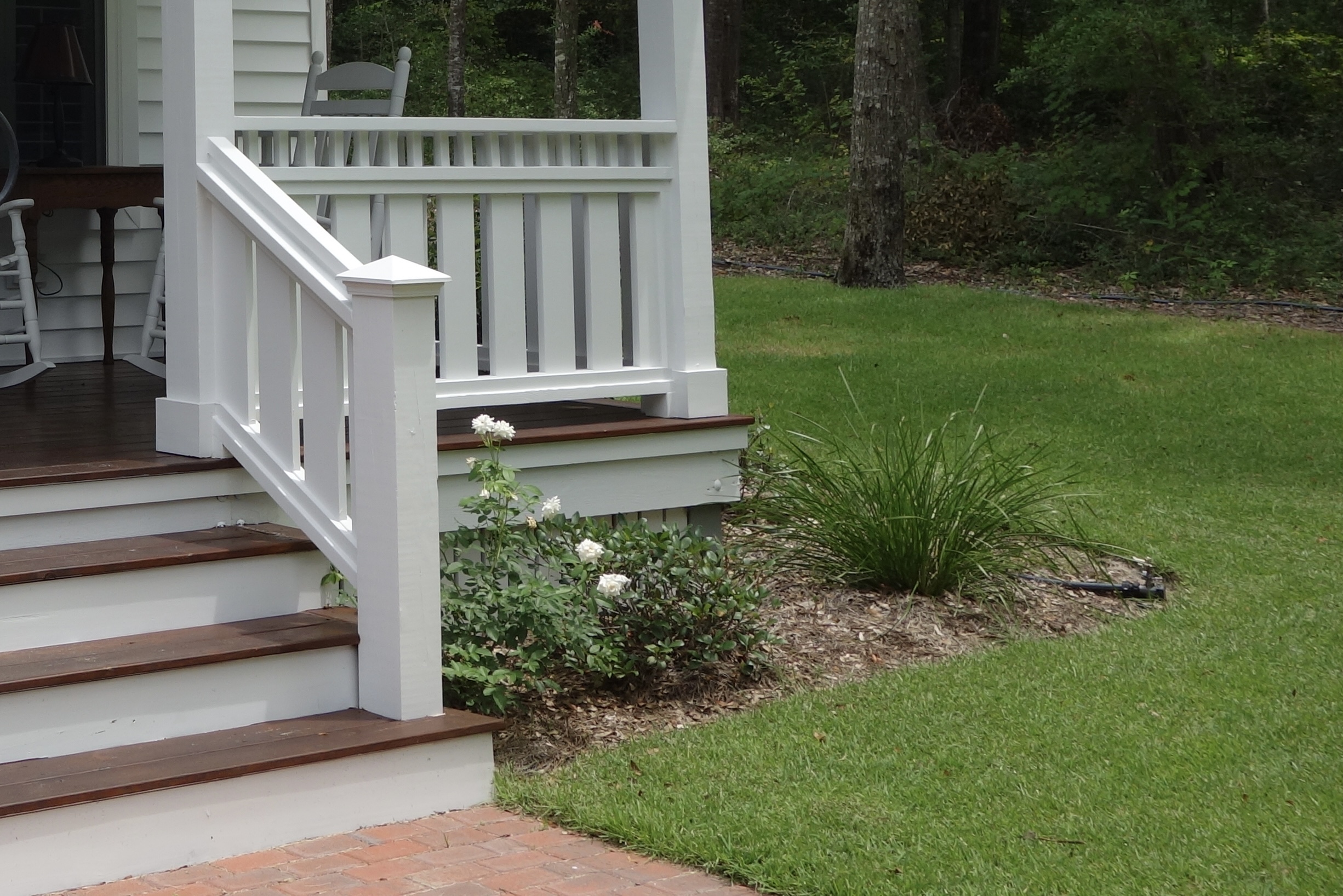 In Response to Mark's Great Question/Comment Below.
Here is a Picture of our Rail Design that we continued on down the Steps. We added a 2×3 on top to bring the height up which created a hand rail. This was also required where we live due to code.
"Hello Erin,
Thank you for sharing this deck rail design.  I have  entry steps that lead up to my  front porch.  Do you have steps entering your deck and if so,  what did you do for handrailing down the steps?  Would love to see photos if available.
Thanks, Mark"