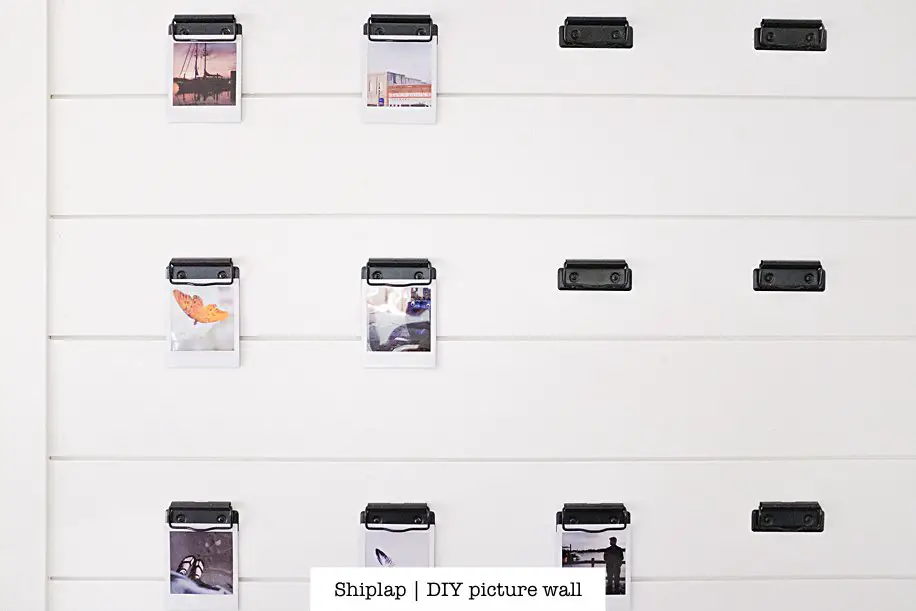 Polaroid pictures take our hearts back in time, combining them with a Shiplap DIY picture wall with 5 Easy Steps creates a unique retro vibe within your home!
We remember growing up as kids it seems the instant print polaroid pictures were the only type of prints that filled our photo albums; now this instant print is the cool way to do photos! We can't say we grew up with the beloved shiplap, but oh how we have simply fallen in love with this simplistic wall of white!
We are here to guide you through 5 Easy Steps to create this wall of wonder!
WHAT IS SHIPLAP?
Shiplap in simple terms are boards with rabbet joints that overlap one another.
This overlapping creates a shadow and gap therefore providing that shiplap look that many have fallen head over heels for! Funny thing is, historically shiplap was meant to be hidden. Hidden by wallpaper or even cheesecloth and muslin. Therefore if you live in an older home, you may just have a hidden gem beneath your coverings of wallpaper!
TODAY'S SHIPLAP:
Today's shiplap is similar to the past days of shiplap. Today's shiplap is opposite from a needed house construction product, rather it's the new cool wall covering! Today it's of course seen on the popular HGTV TV show Fixer Upper with Chip and Joanna Gaines and throughout the FarmHouse Cottage world of home design. It too is created with rabbet joints, however today's shiplap seems to be an easier task than yesterday's shiplap. In fact it's availability is provided at most hardware stores and you can even have it shipped directly to your home with this Ship to your Home Shiplap boards!
Shiplap is available in a few choices, we prefer the pre-primed boards, as it eliminates one step of priming.
POLAROID | SHIPLAP | DIY PICTURE WALL
WHAT IS A POLAROID INSTANT PRINT?
All the way back to 1948 is when the first Polaroid instant camera was created!
From that moment on, the instant print has continued to be a fascination throughout the world!
There are many versions of the instant print from the original creators Polaroid camera creators to Fujifilm's with their Instax cameras and Instax prints.
TYPES OF INSTANT CAMERAS:
As previously mentioned, there are many types of instant film cameras.
These cute little cameras come in a array of rainbow colors, from a pop of pink, possibly purple or a glamour of green. If you aren't into the pops of colors, you'll be able to enjoy the classic Polaroid camera or the vintage Fujifilm feel of instant cameras.
TYPES OF INSTANT PRINTERS
We know what you are thinking, why on earth would I need an instant printer if I own an instant camera? Well that is very true my friend, however what if you love the look of the insta print but you don't own an instant camera? Not to worry, we've got you covered! This Fujifilm Instax printer allows one to print from cameras and smart phones!
We personally have this gem of a little printer and adore it.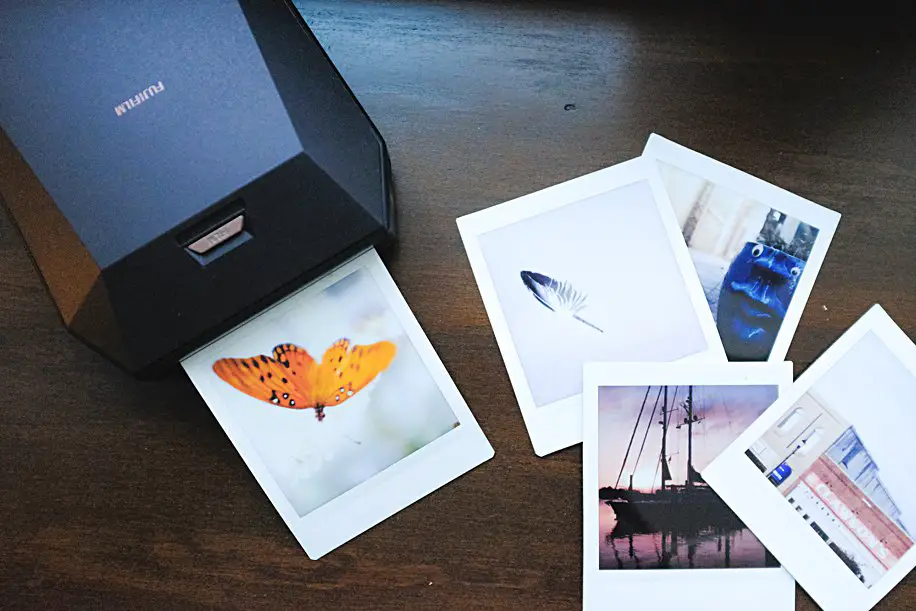 Another fun option if you'd rather not purchase an instant printer or camera is this fun-filled way to order these super COOL Pics from Parabo Press!
HOW TO CREATE A DIY SHIPLAP PICTURE WALL:
Here we go, let's get started on creating this awesome wall of instantaneous wonder!
We can almost promise every friend, family, and yes even the dog will instantly be drawn to this wall of memories you are about to create!
TOOLS & SUPPLIES:
-Miter Saw (we like this Kolbalt Saw)
–Stud Finder
-Sander (our preference is this Porter-Cable Sander)
-Optional Finish Nailer (we like this Ryobi Nail Finisher)
-A hammer and 2d or 3d finish nails may be used.
–Wood Filler Primed Putty
–Shiplap boards sizes measured per your accent wall of choice
Shiplap boards are available as shiplap purchased in hardware stores or as shiplap purchased online
–Black photo clips (these are actually clipboard clips, however we found they work perfectly for displaying your instant prints
-Your choice of instant camera or instax printer
While Gathering your shiplap supplies don't forget to gather a bit of shiplap cuteness along the way!
5 EASY STEPS:
-Step One: Cut each shiplap board to length
-Step Two: Use stud finder to locate your studs, mark with a pencil
-Step Three: Nail each shiplap board directly to the studs with 15 gauge finish nailer or hammer and nails
(each board should be nailed with the longest edge pointing upwards)
-Step Four: Putty nail holes and Paint
-Step Five: Attach picture clips per desired spacing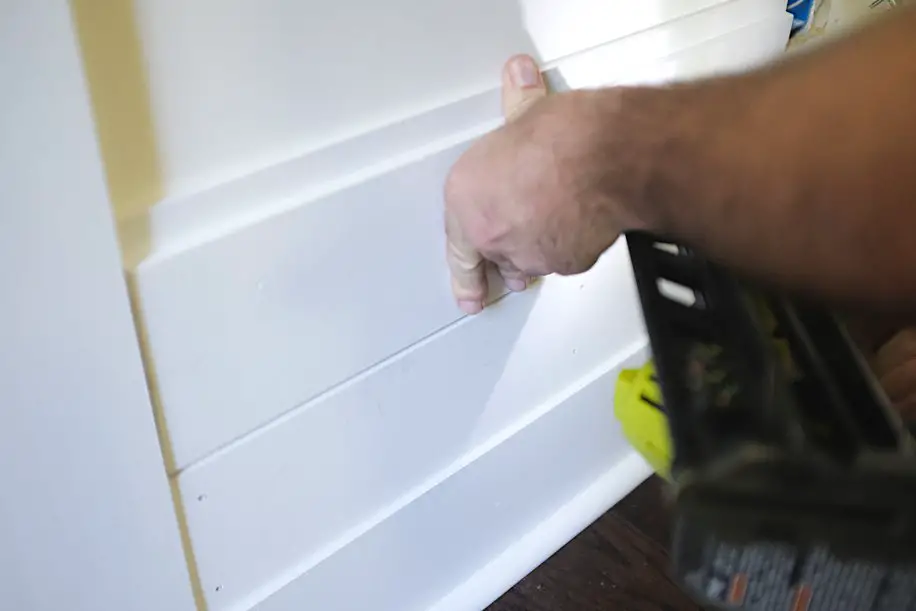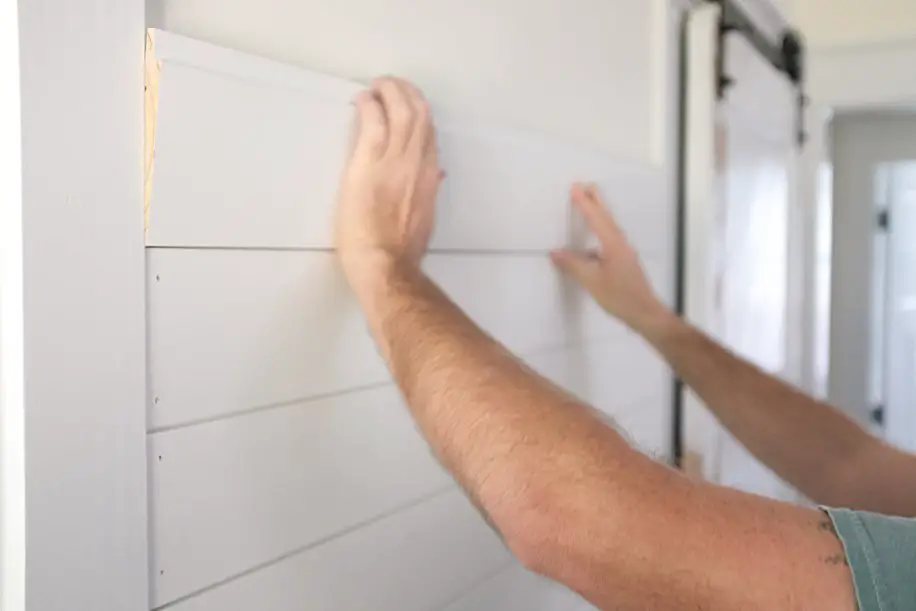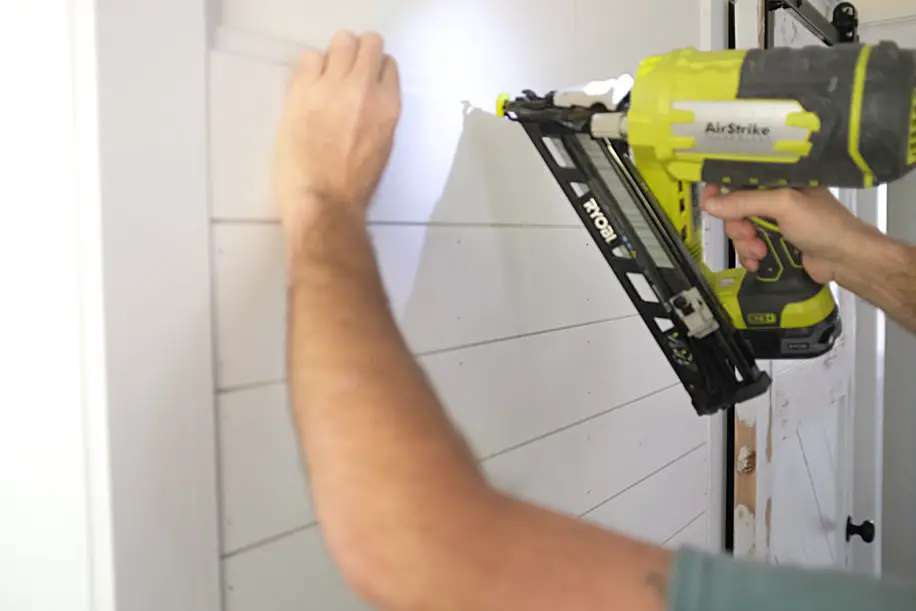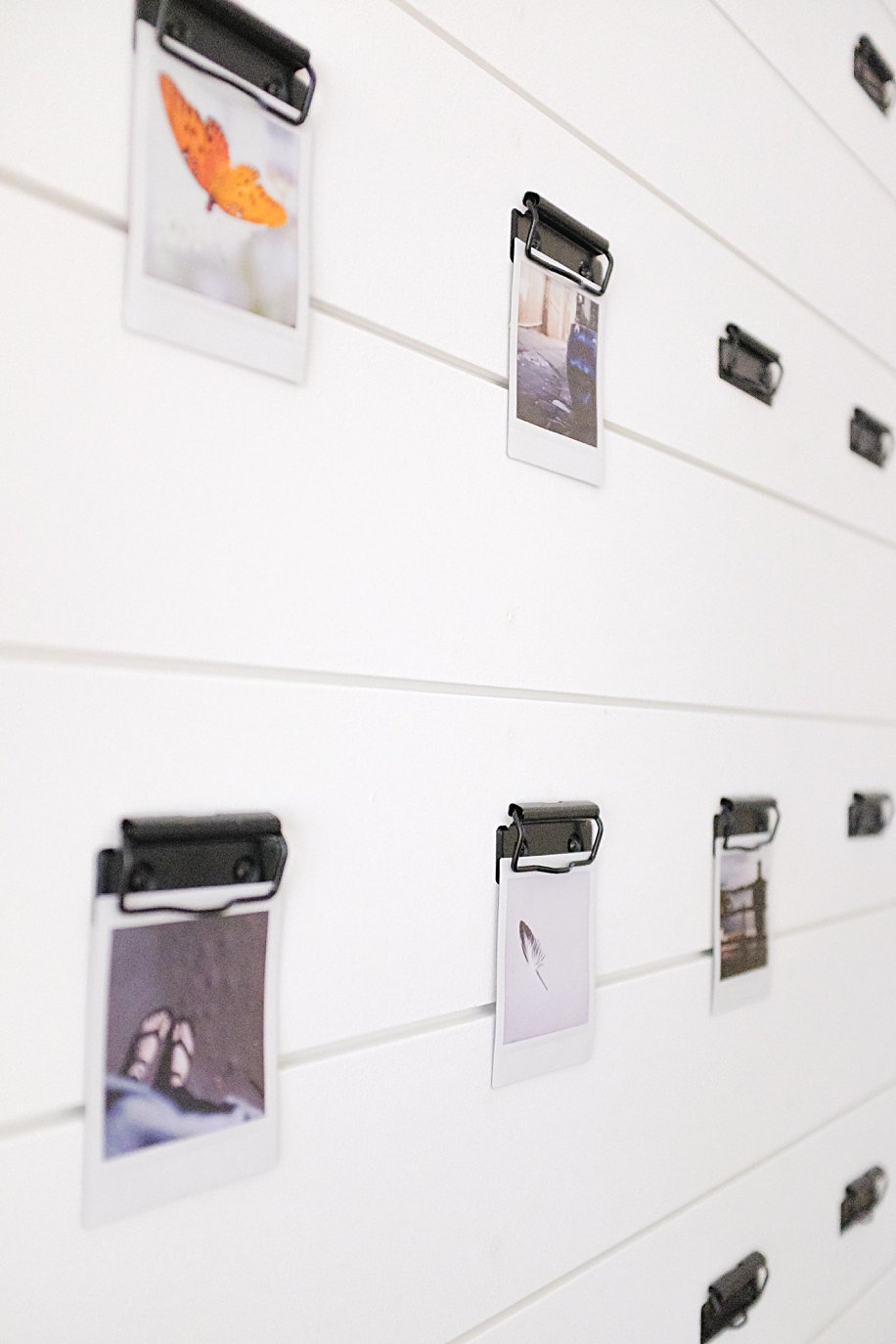 Thank you for enjoying my Blog!
I sure do appreciate it and would love to hear from you in the comments!
Peace, Love, and Simple Living Friends!
~Erin