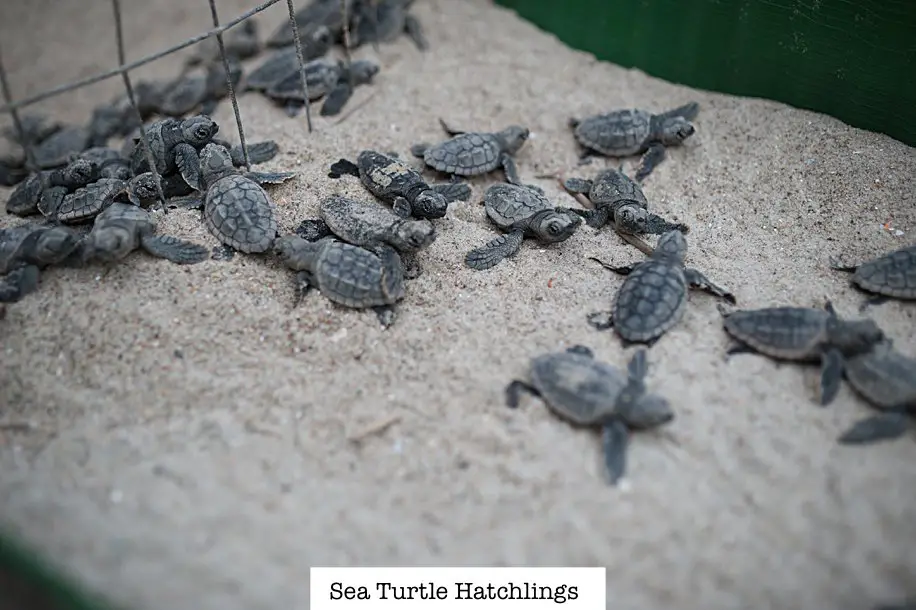 Sea Turtle Loggerhead hatchlings in North Carolina are quite the memorable site to see amongst the many things to do along the beautiful North Carolina Coast! If you are lucky enough to witness a Sea Turtle Nest Hatching, it will surely be one of the most magical moments within your life! The Sea Turtle nesting season ranges from May through October on the NC coast. Hence this timeframe also being vacation tourist season, it's very important to educate the importance of the sea turtle's protection! All nesting sea turtles are protected within the U.S. in addition they are either endangered or listed as threatened. It's up to us to help protect the beautiful sea turtle!
NC SEA TURTLES:
The most well known and common Sea Turtle to NC is the Loggerhead Turtle.
Some other sea turtles found on the coast of North Carolina are the Green, Kemps Ridley, Leatherback and Hawksbill. You can enjoy learning about all of the beautiful sea turtles in this beautifully written sea turtle book! With the Loggerhead being the most common to our coast of NC, we would love to spot light this beauty of a girl!
LOGGERHEAD SEA TURTLE HATCHLINGS NESTS IN NC
A female Loggerhead will travel throughout the sea of thousands of miles as she searches for her perfect nesting spot. Throughout her search, she will find her journey bringing her to the coast of NC. Many times she will travel thousands of miles for the exact beach she was born!
Having the average speed of 15miles per hour, this can be quite a long journey for this moma to be.
LOGGERHEAD FACTS:
-Name: The common name is Loggerhead while the scientific name is Caretta Caretta
-Life Span: A Loggerhead Sea Turtle can live a very long life of 50 years or more!
-Adult Size: Typically an adult Loggerhead Sea Turtle grows up to 4 feet in length and weighs around 250 pounds or more.
-Classified: Loggerhead Sea Turtles are classified as a Reptile
LOGGERHEAD FUN FACTS:
-The Loggerhead got it's name from their oversized head resembling that of a log.
-Loggerhead Sea Turtles enjoy dining on horseshoe crabs, conchs, jellyfish and seaweed.
-The Loggerhead Species have called Earth their home for 110Million Years!
-Stars and the moon reflections upon the water guide the sea turtle back to their ocean's journey.
SEA TURTLE NESTS
When the mother sea turtle returns to the beach to lay her eggs, she will leave behind tracks of majestic ripples within the sand. The Loggerhead moma sea turtle will typically create a nest every two to three years. 100 sea turtle eggs is the average amount of eggs each female sea turtle will lay per nest.
Within 60 days is when the eggs will hatch if the nest is not disturbed. In the NC area the nests are protected by volunteer sea turtle watch groups. Many times the nests will be protected with fencing or other varieties of protection in hopes of discouraging curious viewers from disturbing the newly laid nest. Nests can be seen along the beaches of NC.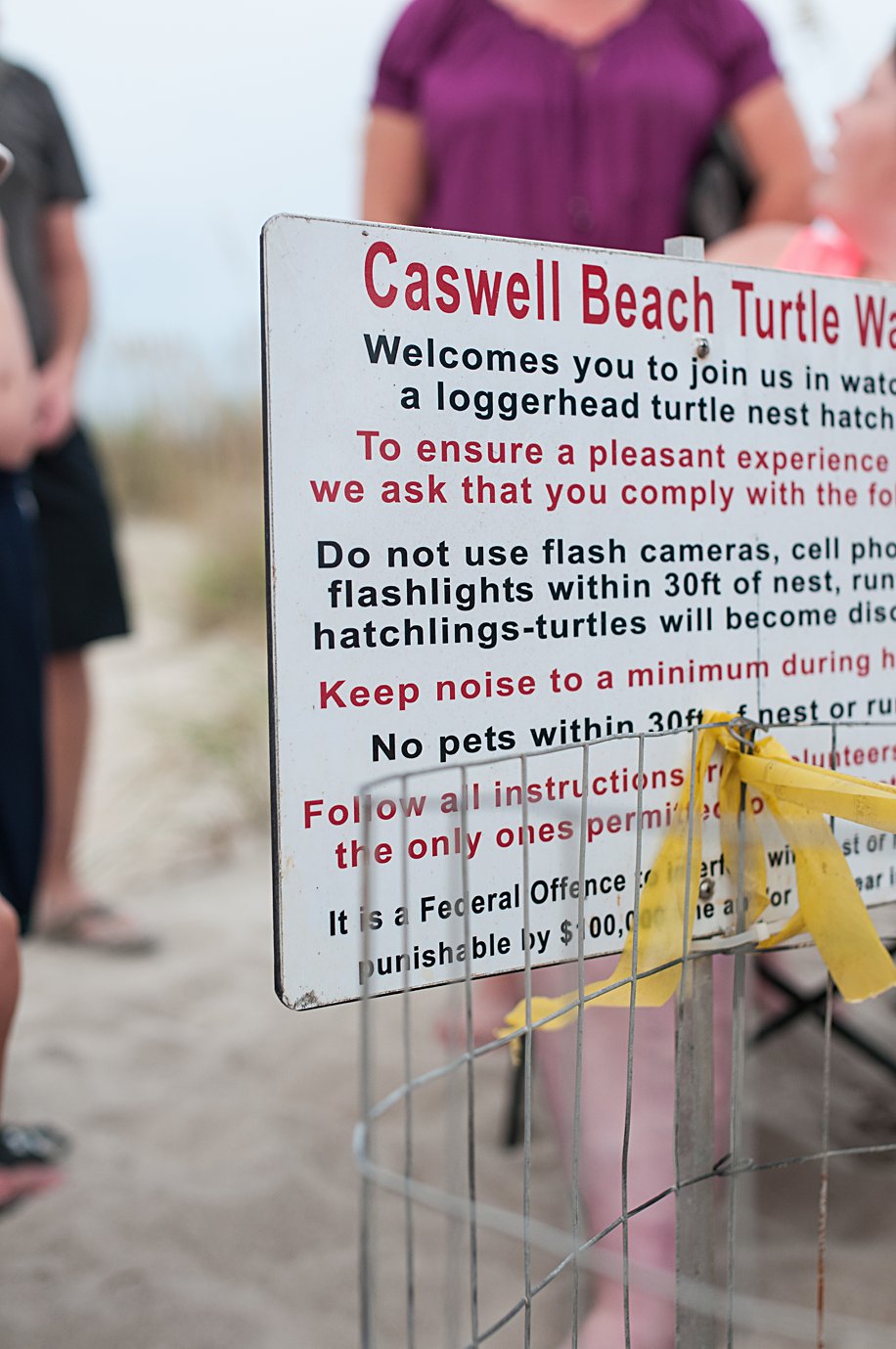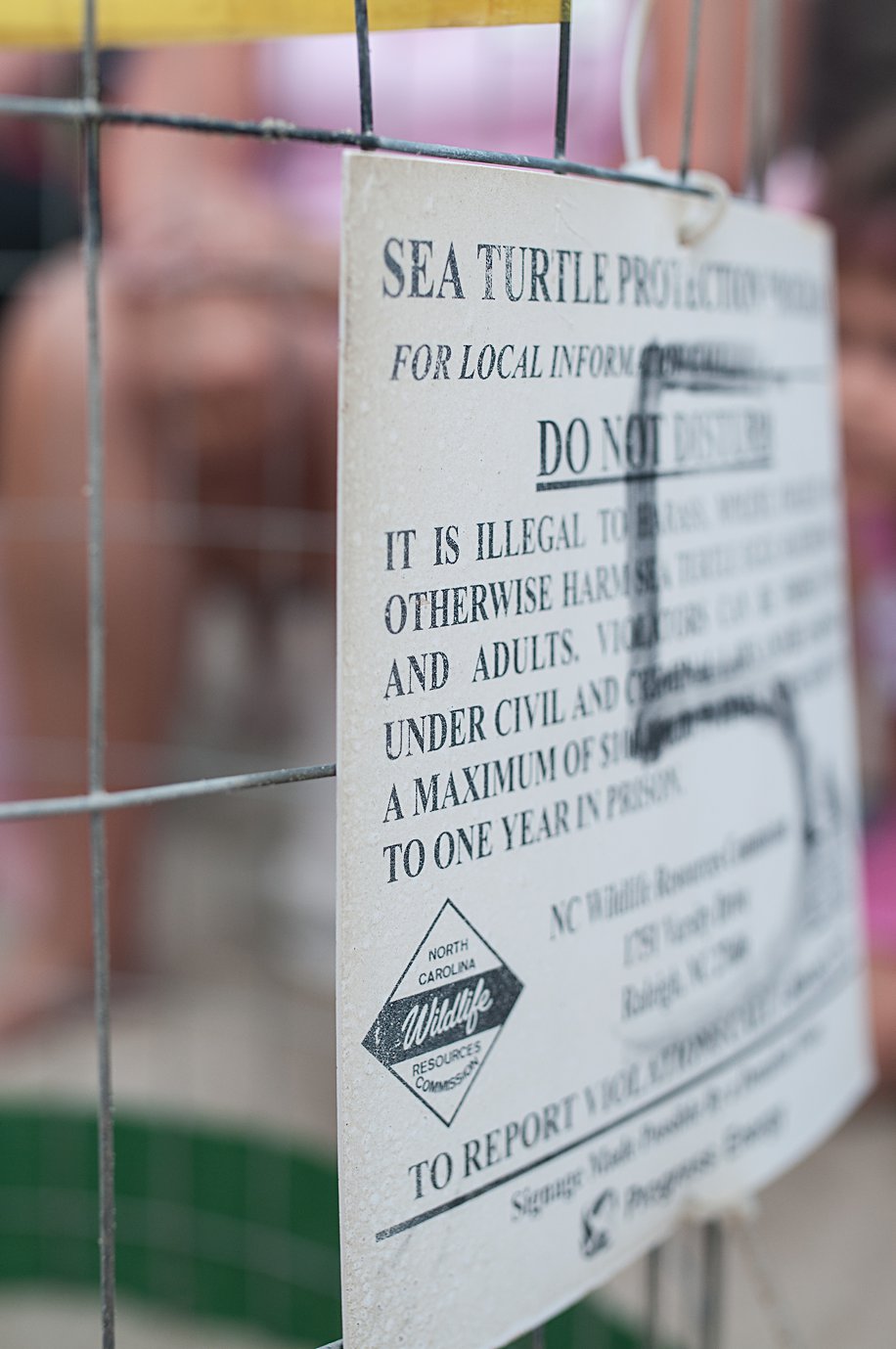 SEA TURTLE HATCHLINGS
To witness a baby sea turtle hatchling make their way from sand to sea is the most magical of life experiences! The baby sea turtles begin the hatching process around the 45-75 day timeframe. The little hatchlings work as a team together pushing their way up through the sand.
Before poking their little heads through the sand, they wait for the harsh sunny day time temperatures to cool and sun to set. This is their natural instinct to better protect themselves from predators. After emerging, they search fo the light of the moon to guid them along their way. Artificial lighting can be quite damaging and confusing to their journey of safety.
Generous volunteers and turtle watch groups will often be seen monitoring the nests awaiting their arrivals and on stand by to help guide them out to sea.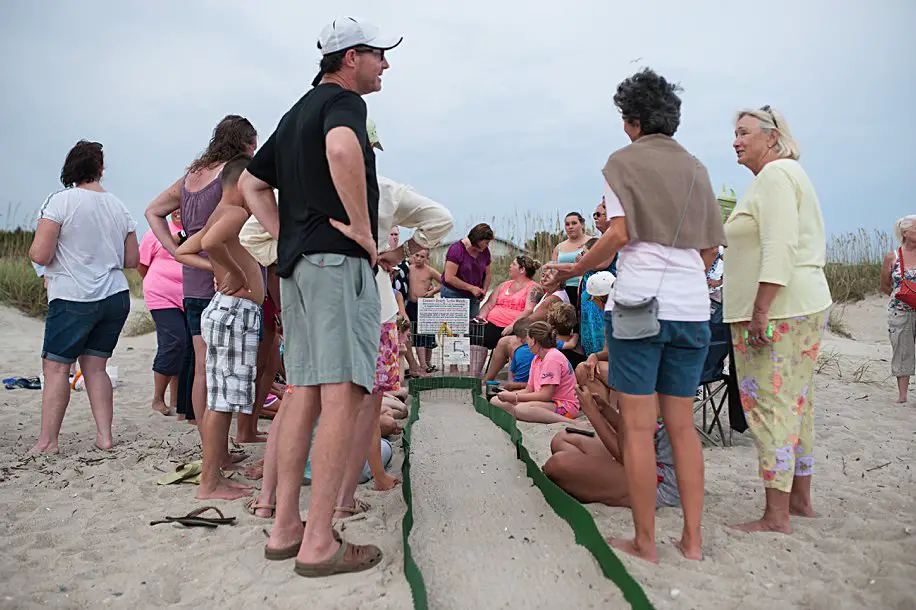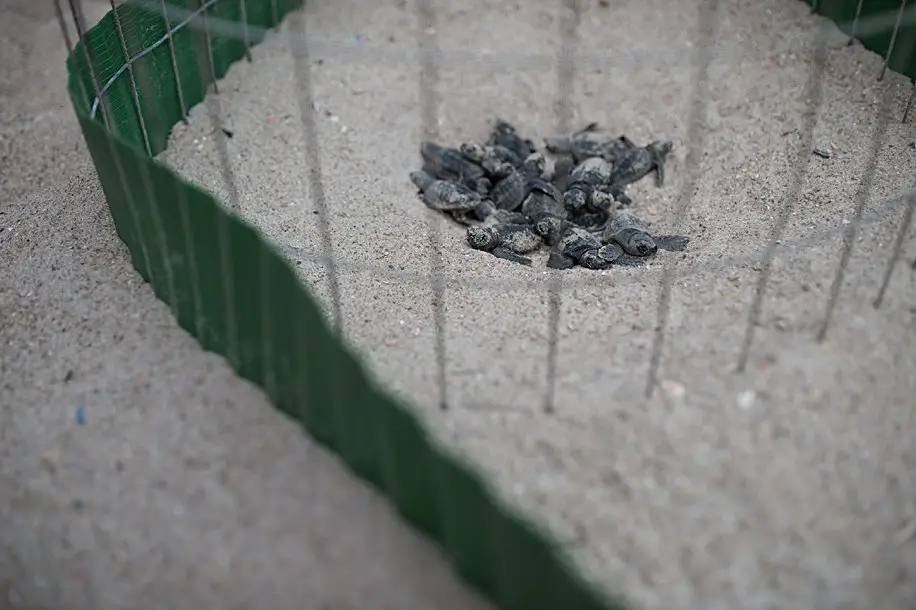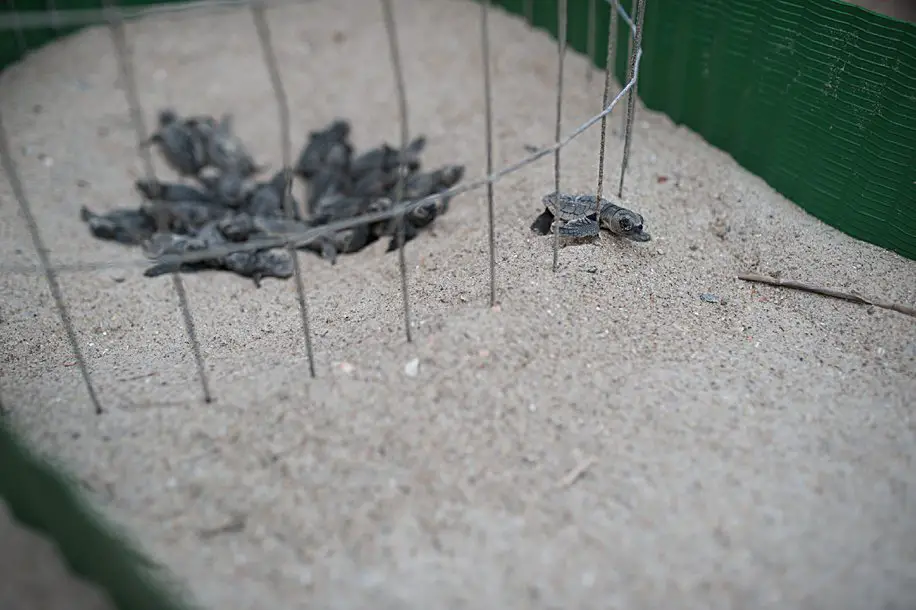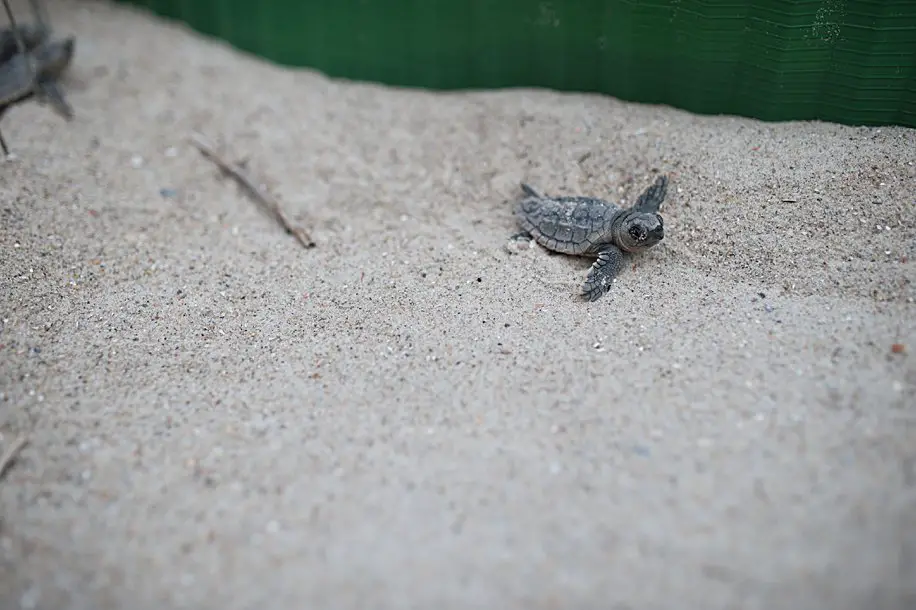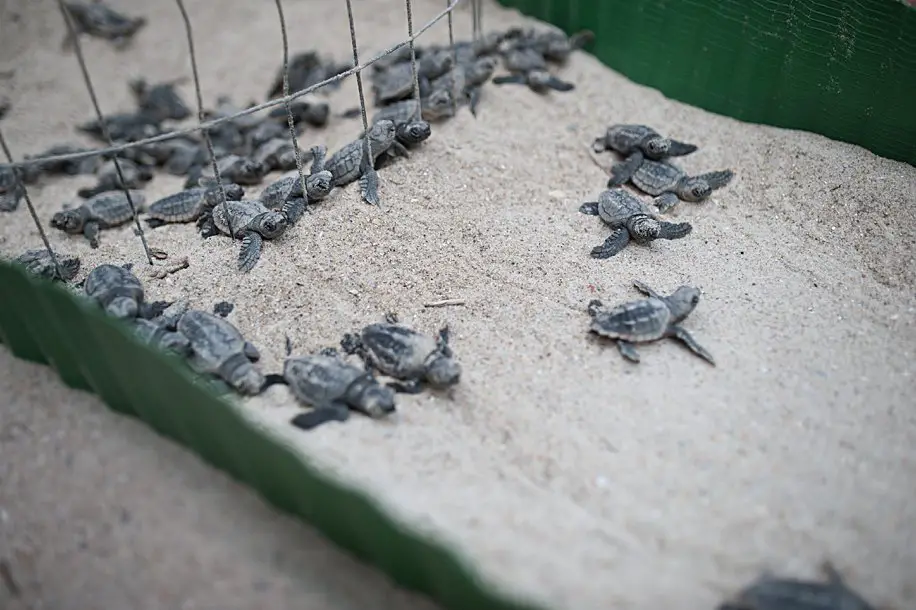 HATCHING FUN FACTS:
-Newly hatched baby Loggerhead hatchlings are much smaller than of their parents measuring at only about 2 inches long
-Sadly only 1 in 1,000 baby sea turtles will survive their journey to adulthood.
-A Sea Turtle boil is not a type of soup, it's when many babies emerge at once. (we were lucky enough to witness this in the video below!)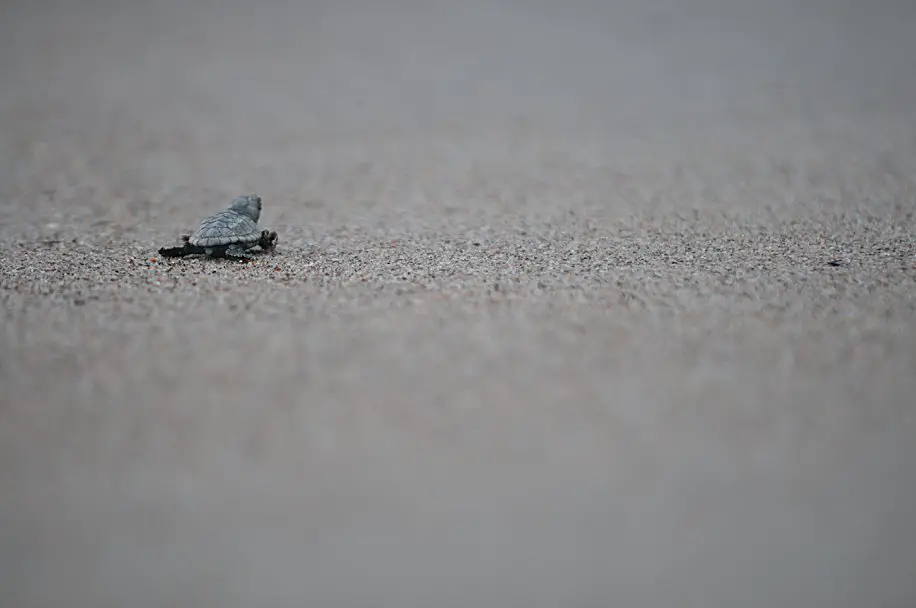 HOW YOU CAN HELP SAVE THE SEA TURTLES
-Avoid a sea turtle that is making it's way to or from the ocean, avoid shining lights at the turtle and stay off it's tracks
-Do not disturb sea turtle nests. A sea turtle nest will typically be numbered and surrounded by fencing or some other form of a barrier.
-Lights Out! Turn off all lights near the beach of which may confuse the turtle upon it's journey. Including porch lights, and other outdoor or indoor lighting.
-Pick up all litter, fill in all beach holes, remover your clutter and beach equipment from the beach.
-Avoid flash photography if you are lucky enough to witness the sea turtles
-Never pick up a sea turtle
SEA TURTLE PROGRAMS IN OUR AREA
Bald Head Island, NC Sea Turtle Protection Program
Oak Island, NC Sea Turtle Protection Program
Caswell Beach, NC Turtle Watch
Holden Beach, NC Turtle Watch
Ocean Isle Beach, NC Sea Turtle Protection Org.
Sunset Beach, NC Sea Turtle Watch
Pleasure Island, NC Sea Turtle Project
Wrightsveill Beach, NC Sea Turtle Project
Feel free to leave us a comment below!
Have you also had a baby sea turtle experience? We would LOVE to hear about it!
FOR TURTLE ALL OF THE SEA TURTLE LOVERS: