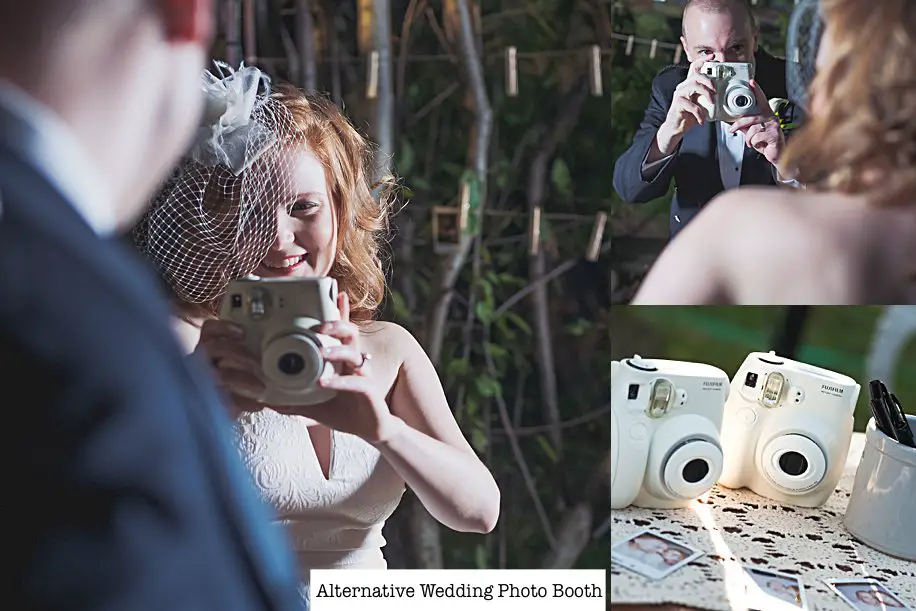 The DIY alternative wedding photo booth is the new trend of a fun guest book idea!
As Professional Photographers, we realized this popular wedding trend has become quite the craze! Bride, Grooms and Couples were looking for the perfect way to incorporate their guests having fun, while remembering each moment. Wedding days can become quite the blur, as the day goes by so quickly. In comes the beloved photo booth guest book idea! As professional photographers we have not only enjoyed owning our own photo booth; we have enjoyed photographing bride's DIY photo booth creations!
One of our favorites is this DIY alternative wedding photo booth with a fun Shabby Chic, Vintage guest book idea for your wedding reception or event all while using instant cameras and instant prints!
HISTORY OF THE PHOTO BOOTH:
The photo booth dates all the way back to 1889 when the first photo booth was featured at the World Fair in Paris. It was a coin operated metal photo producing machine. In 1925 the first curtain enclosed photo booth was created. For the whopping price of 25 cents, people were presented with a strip of 8 photos within about 8 minutes of waiting time. Photo booths quickly spread throughout the United States and have since been updated, revised, and digitalized!
DIY ALTERNATIVE WEDDING PHOTO BOOTH : FUN GUEST BOOK IDEA
With the photo booth being the most popular wedding craze these past few years, no bride wants her perfect wedding day to mirror her bestie's wedding day!
Think outside of the box; think outside of the booth! With a few inexpensive items you can create the most shabby of chic wedding moments for your wedding guests.
SUPPLIES Online One-Stop Shop List:
–Instax Cameras
-Instax Film
–Chalk Board
–Chalk
–Sharpie Markers
–String or Twine for the Clothes Line
–Clothes Pins
–Doilies
–Small Table
–Crock to Store the Pens
–String Lights in Warm Tone
(Optional item to create this beautiful shabby chic vintage feel is a bird cage veil similar to the one this bride wore on her wedding day)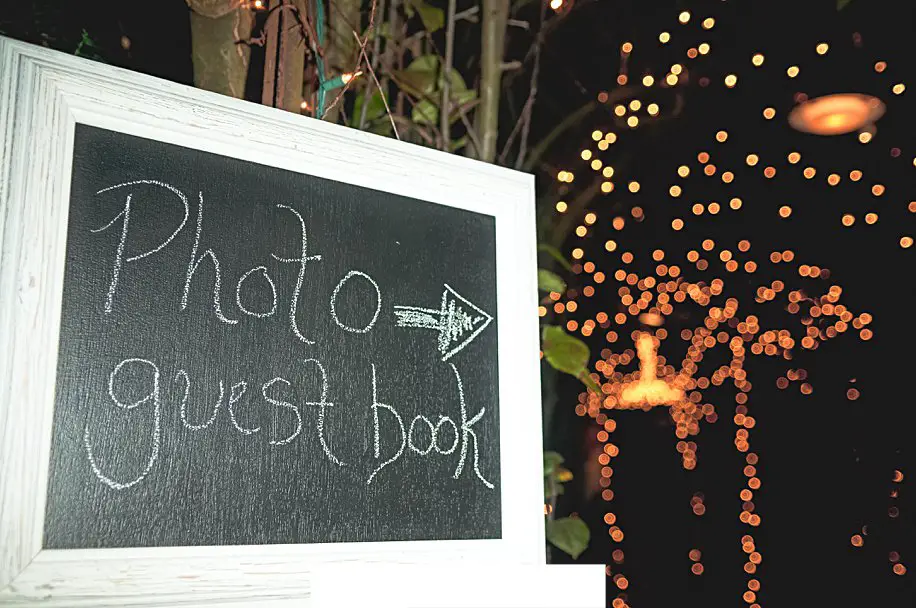 SIMPLE DIRECTIONS FOR YOUR ALTERNATIVE PHOTO BOOTH GUEST BOOK
Your chalk board will lead the way to your alternative photo booth station; this is where your guests will enjoy taking pictures.
A cozy area of your garden, reception, or event area works best for this. Gracefully hang string lights among the trees to create a big of whimsical magic.
String twine from tree to tree with clothes pins pinned throughout, this provides the location guests will pin their pictures with written memories for your guest book.
Create photo stations by having instant cameras and sharpie pens sitting upon the table while being adorned with lace and crocheted doilies to create a shabby chic fee.
Next, all you need are your guests! Your guests will gather within this cozy little picture nook as they enjoy taking pictures of one another. All while leaving notes of hand written love hanging upon the line for you to gather at a later time to be placed within your guest book!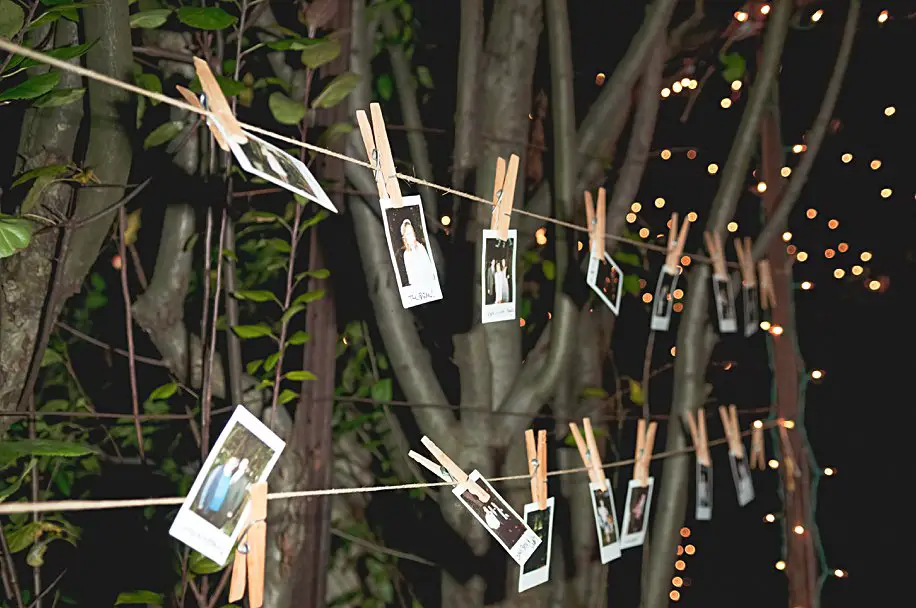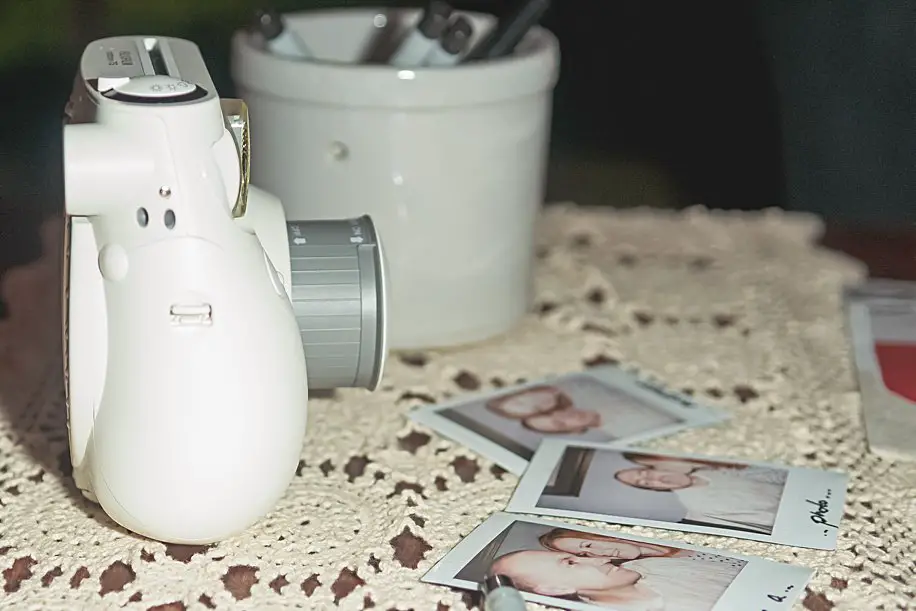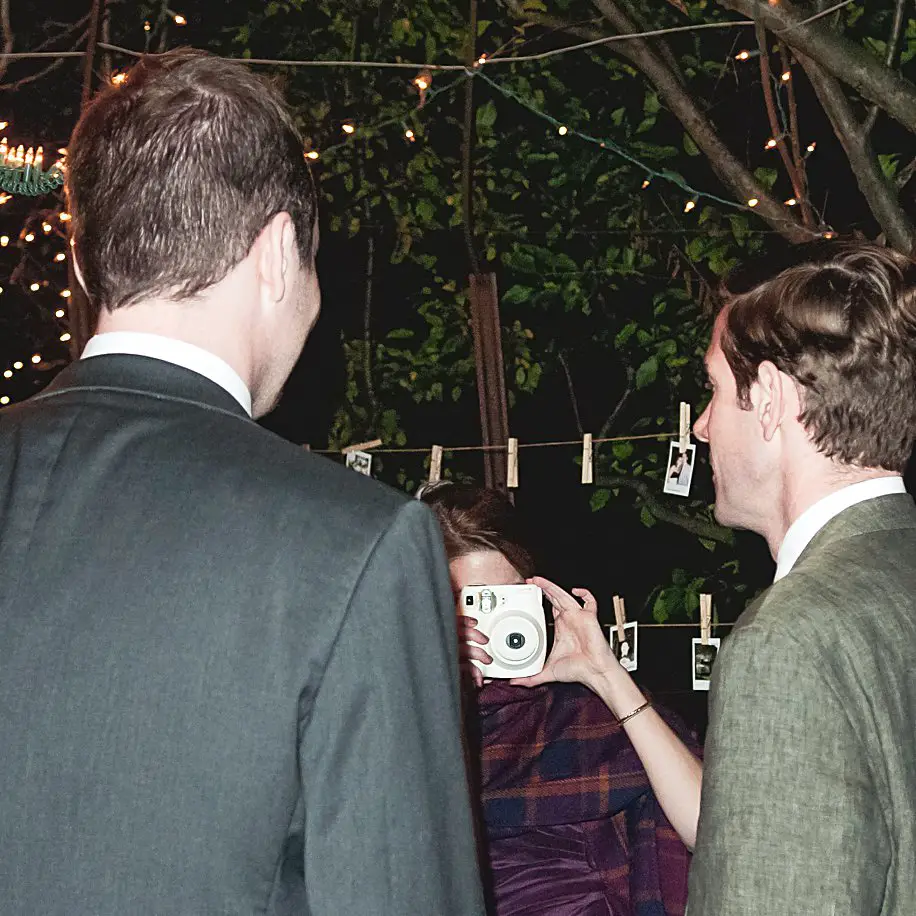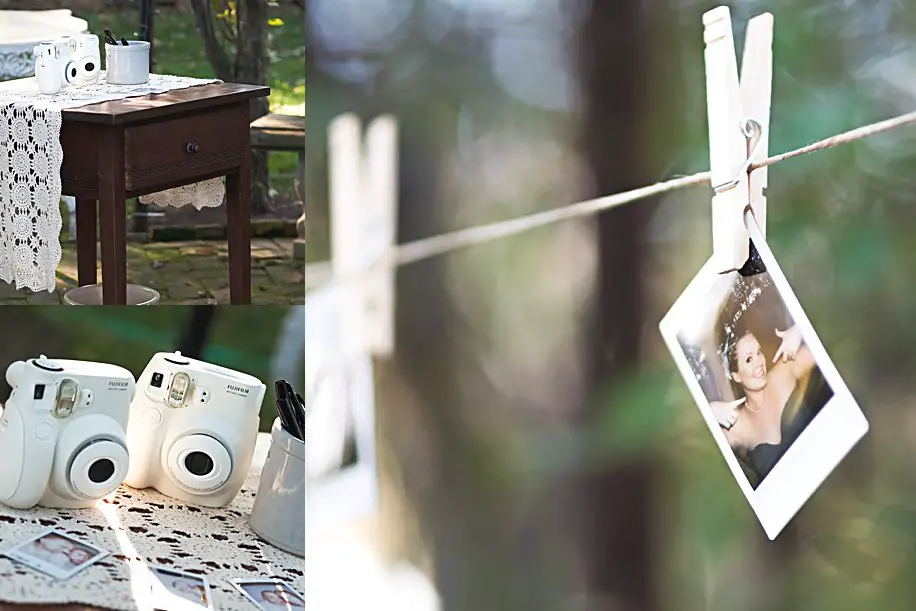 AS THE WEDDING COUPLE….DON'T FORGET TO JOIN IN THE PICTURE TAKING FUN!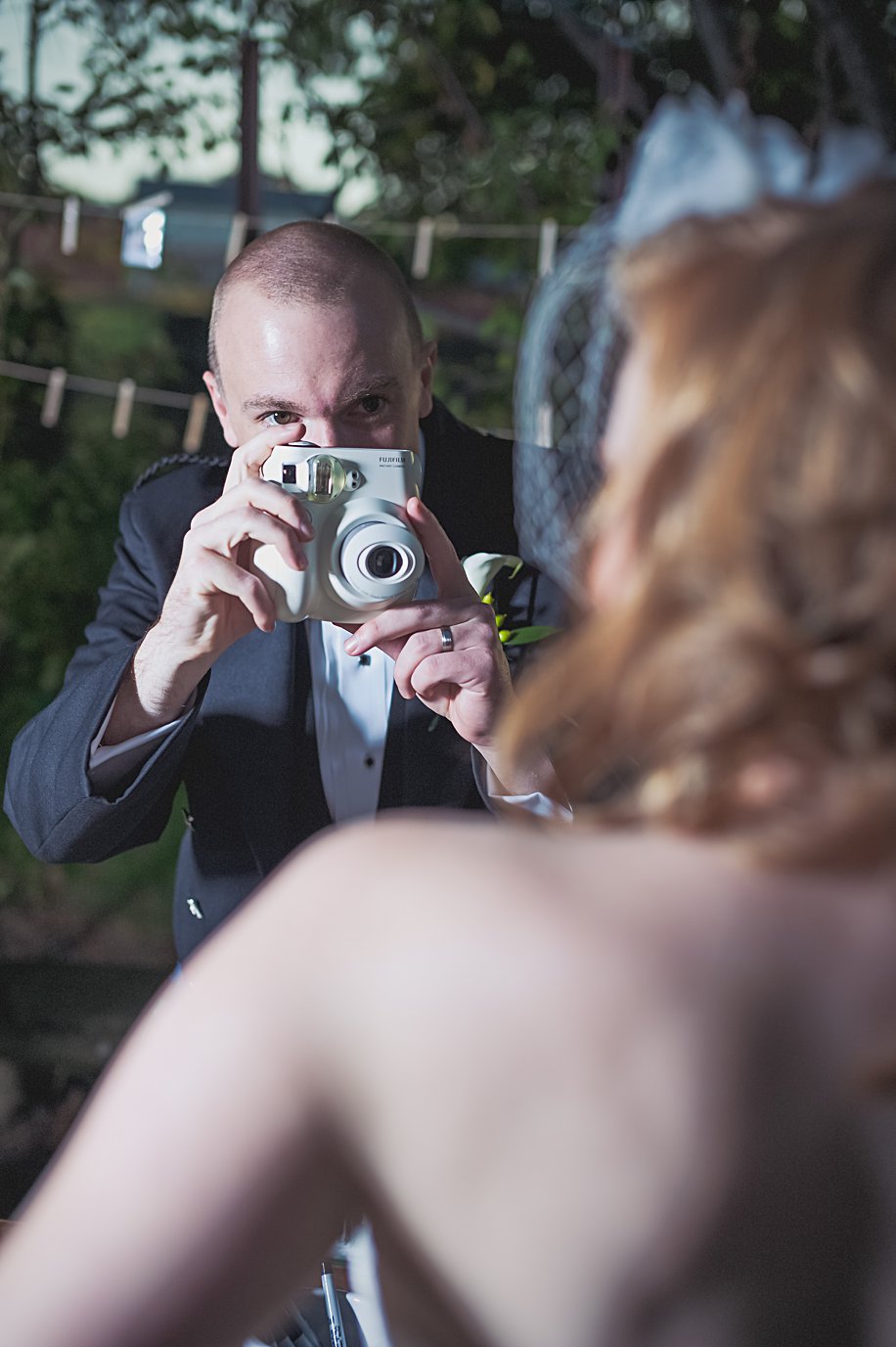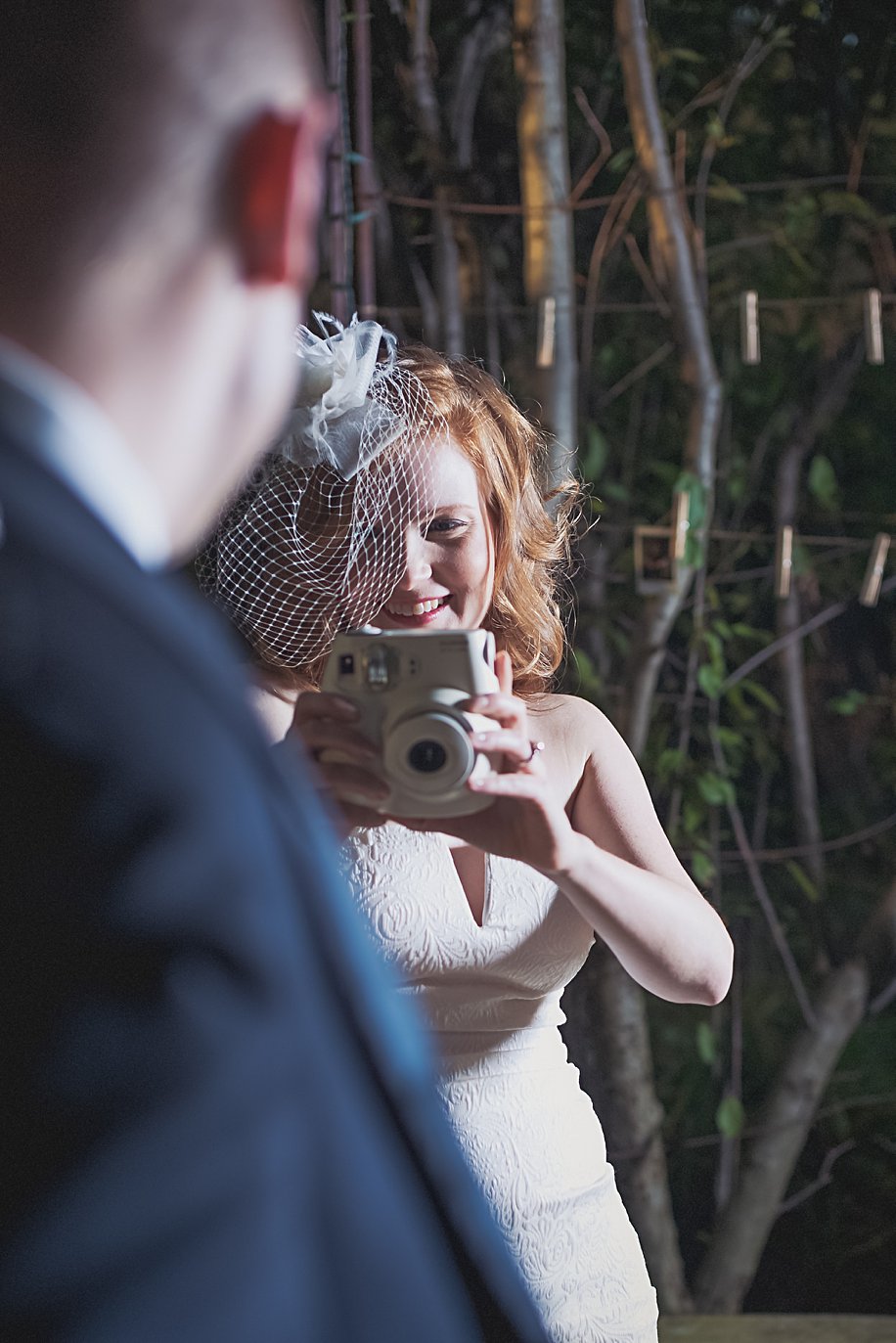 HAVE YOU ENJOYED AN ALTERNATIVE PHOTO BOOTH? WE'D LOVE TO HEAR ABOUT IT IN THE COMMENTS BELOW!
Thank you for enjoying my Blog!
I sure do appreciate it and would love to hear from you in the comments!
Peace, Love, and Simple Living Friends!
~Erin