I simply adore my Pilea Peperomioides, I'll share my latest experience with online order unboxing, repotting, propagation blog with video included! Many of you may be wondering how a live plant can be shipped through the mail, many may be wondering will it arrive alive and will it survive! You may also be wondering the best way to care for your Pilea when it arrives. I know I wondered all of the above when I purchased my first Pilea a while back. No worries, I'm here to share it all with you!
I'm SUPER EXCITED TO SHARE MY PILEA PEPEROMIOIDES ONLINE ORDERING UNBOXING AND REPOTTING & PROPAGATION BLOG VIDEO TIPS WITH YOU!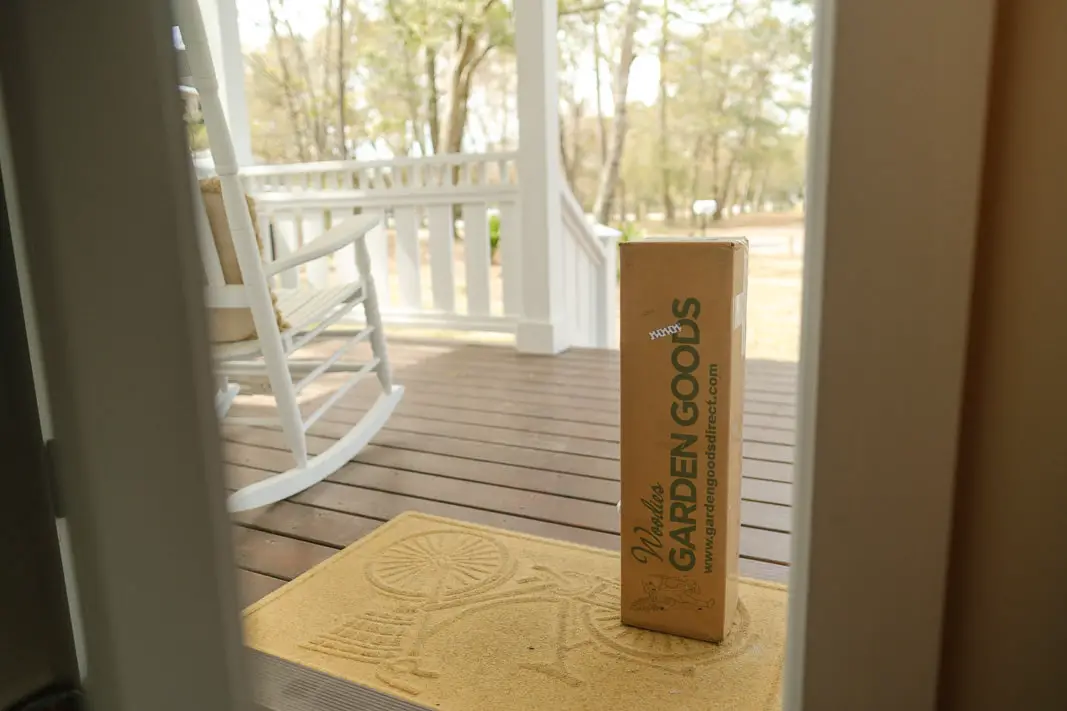 Where to Purchase Your Pile Peperomioides via Online Ordering?
I purchased mine through a company on Etsy called Garden Goods Direct
Anytime one orders a product online it's always the "unknown" feeling of how will this item or product arrive, of course this feeling of purchasing a live plant triples!
After reading many reviews of customers pleased with their Pilea Plants and communicating with the company, I decided to take the plunge and my oh my I'm so glad I did!
UPON ARRIVAL:
Placed my Order
Was Notified of Shipping
Received 2 Days Later Arrived at My Front Door
The Box was clearly marked and sitting pretty when I opened my front door
After carefully cutting open the box, I found the prettiest Pilea Peperomioides
Pilea was wrapped in brown paper, had a warming pad, and was stapled to prevent spillage
After I carefully removed her from the packaging, I inspected her for bugs with no signs
Upon inspection I was happily surprised with a baby Pilea Pup sitting proudly beside her Momma! She was indeed old enough to separate!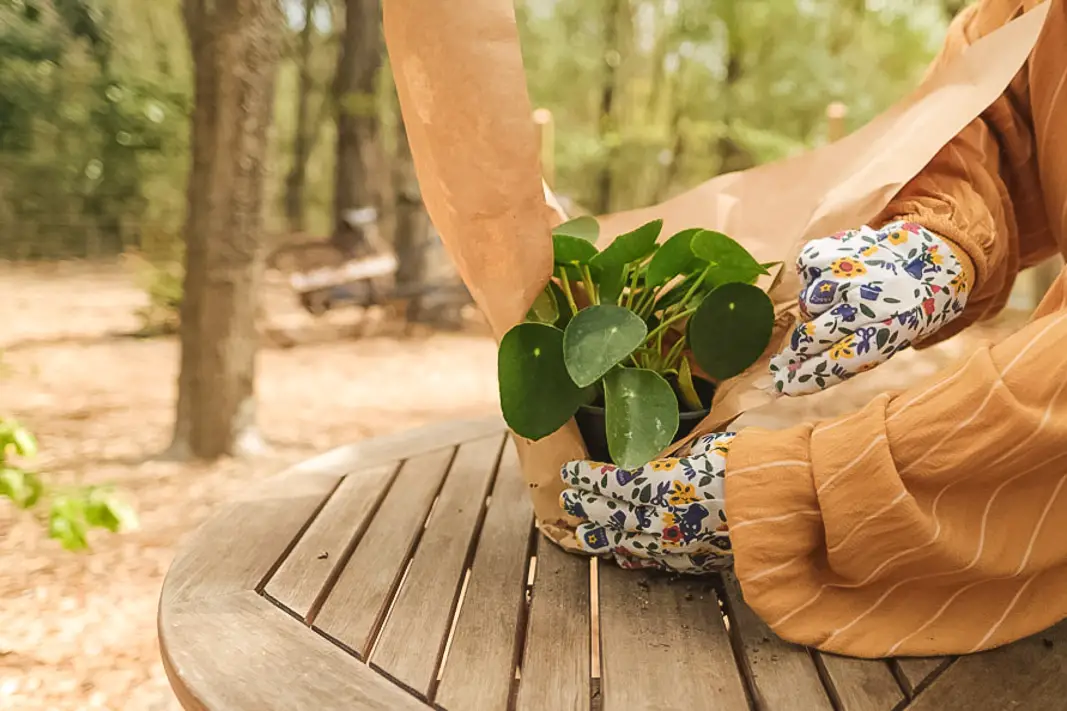 With any Pilea Purchase, I always immediately change out my soil.
Please understand I am by no means saying my online order was tainted soil…it was perfectly clean with no signs of bugs, pests, or fungus. I just personally feel better replacing all soil with my FAVORITE SOIL MIX to prevent any chances of the dreaded fungus gnats. I seriously swear by this soil! I've had so much luck with this soil, that all of my Pileas are happily growing within this soil, producing pups, and have no signs of fungus gnats. As a precaution I always have my Favorite Sticky Gnat Traps on Hand and the first sign I see they are caught instantly, the soil I use stays so dry there is hardly any chance of egg laying.
Now onto my typical repotting and propagation process of all of my Pileas….
REPOTTING AND PROPAGATION PROCESS:
Using my FAVE SOIL MIX, I fill a terra cotta pot with the soil.
(any terra cotta pot will work nicely, I always use terra cotta because it breathes and keeps my pileas healthier. I have my eye on this cutie of a hanging terra cotta pot, maybe next time)
Next I carefully remove the main momma Pilea plant from it's current pot and wash away as much of the existing soil that I can, this isn't necessary but it's my secrete to gnat free soil.
At this point I examine where the baby Pilea Pup is attached to determine the best place to propagate her from her Momma without too much trauma.
I carefully cut her as faraway from her Momma as I can with a sharp clean knife
She is then on her own and now named as she is no longer part of her Momma
Names shall be Momma Maryland and Baby Woodlan not Woodland, Woodlan :-)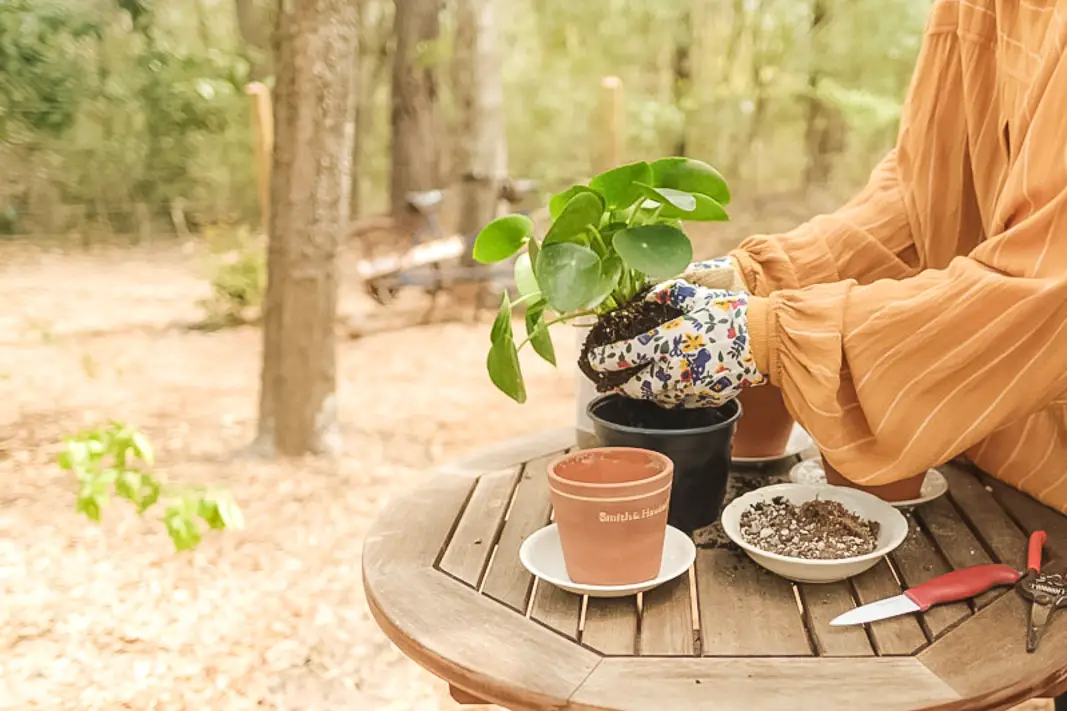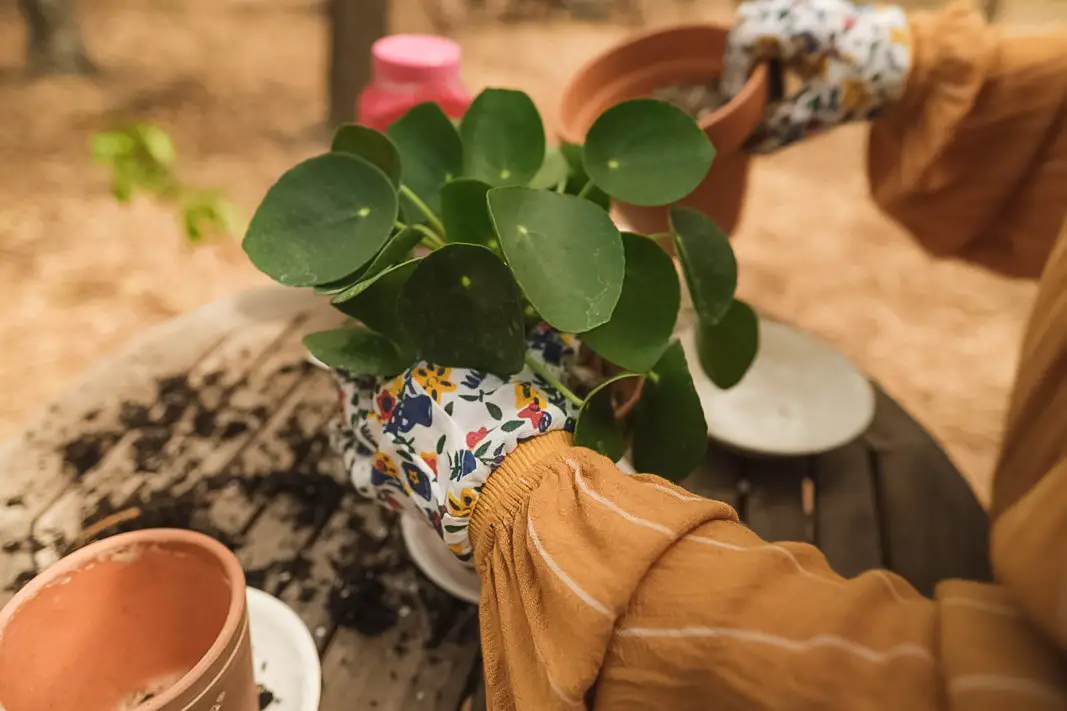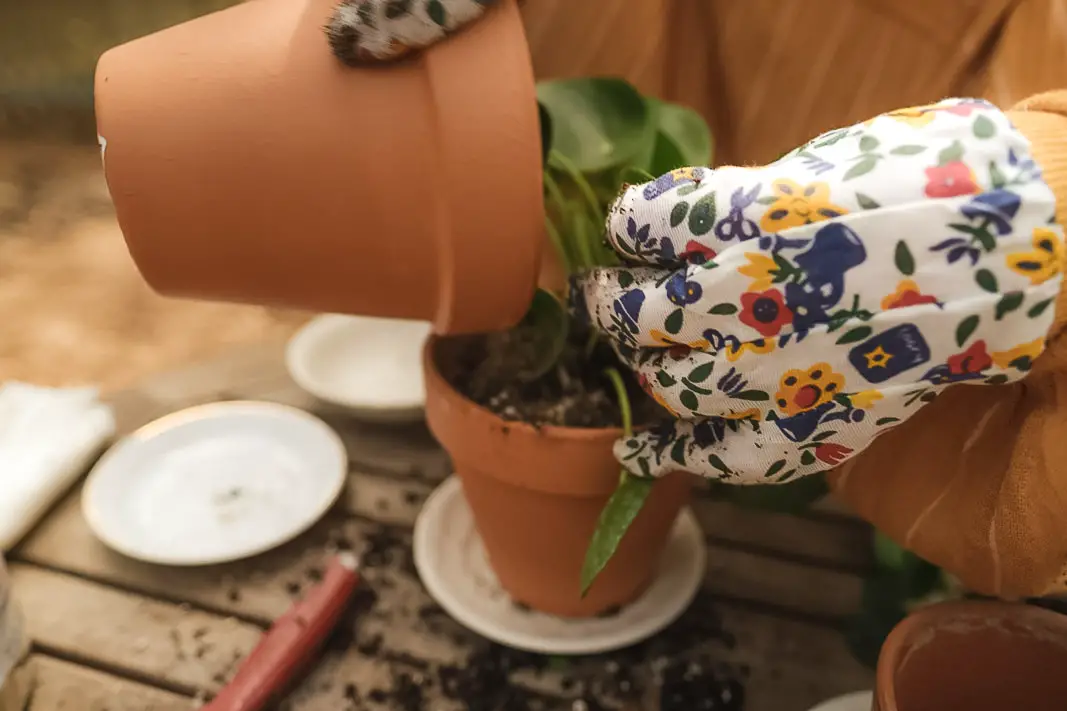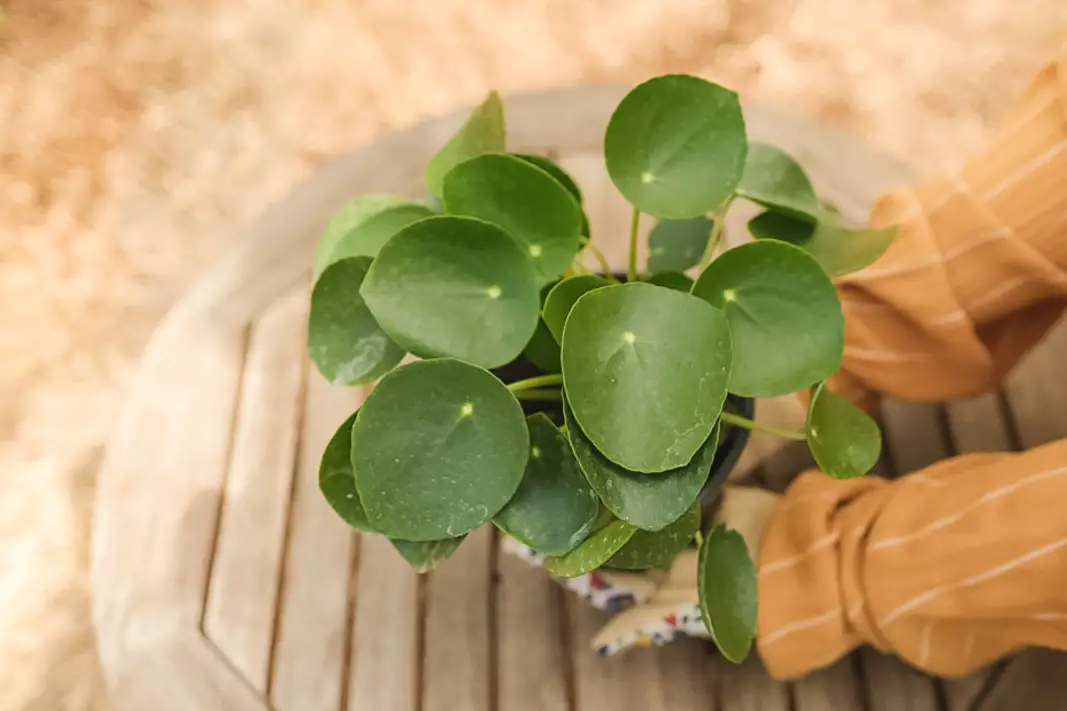 ADDITIONAL PILEA CARE & TIPS:
I place my Pileas in either a South or North Window, these two girls will be Southern Girls
Typically I have found my Pileas do best in the South, however I do have one growing nicely in the North…time will tell if she creates drama to be moved further South with her friends.
I water thoroughly every 1-2 weeks depending on the time of year, and depending on the pot size. Not watering again until the soil is totally dry. Pileas do not like wet feet at all!
You can find quite a few of my previous Pilea Blogs, such as Pilea Care, Pilea Propagation, dealing with the dreaded Fungus Gnats, and yes, even when disaster strikes your Pilea and your beloved Pileas start to die (happened during weeks of an evacuation from a hurricane)
DO YOU ALSO HAVE A LOVE FOR PILEAS?
I ALWAYS LOVE COMMENTS…SO SHARE YOUR LOVE IN A COMMENT BELOW!
Thank you for enjoying my Blog!
I sure do appreciate it and would love to hear from you in the comments!
Peace, Love, and Simple Living Friends!
~Erin