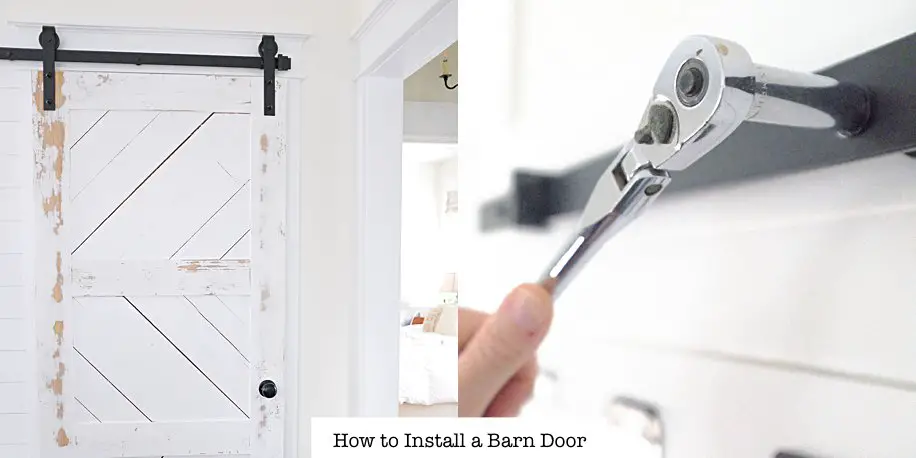 Oh the beloved Barn Door!
This trendy door has become quite the sought after look within homes.
Search any pinterest diy or decorating board on How to Install a Barn Door; you'll be sure to find them.
The Barn Door not only provides privacy, it also provides a bit of artsy within your home.
You may be wondering how difficult is the barn door to install? Installing a barn door can be quite simple with the proper hardware.
We are here to inspire you to hang one of these beautiful doors within your home!
How to Install a Barn Door
WHAT IS A SLIDING BARN DOOR:
The sliding barn door dates all the way back to the first century.
As the population is constantly looking for a way to save space within their homes, the sliding barn door has become quite the popular door. Sliding barn doors take up a lot less space than the traditional hinge swing doors that are typically found throughout homes.
The traditional hinge swing door typically requires ample amount of swing space, opposite of the barn door requiring no swing space. Installing the barn door on a sliding track system is what allows the barn door to function, making it aesthetically pleasing.
Barn Door styles range from rustic, cottage, farmhouse, traditional, and modern.
SUPPLIES NEEDED
–Drill
–1/4″ Drill Bit
–1/2″ Socket and Wrench
–Dummy Door Knob to Match the Other Doors in your Home (optional, but we love this touch to ours)
-Barn Door Floor Guide Kit
-Barn Door Sliding Track Kit
IMPORTANT TIPS PRIOR TO INSTALLATION
-Your Barn Door must be wider than your doorway opening
-Strong, good quality heavy hardware is a must have
-Even though Barn Doors don't require swing space, they do indeed require slide space
-Confirm your home has enough structural support within the studs of the chosen wall
STEP ONE:
SELECTING YOUR DOOR
Measure door opening.
You will need a door 2 inches wider than your opening.
The door should be the same height as your opening because you will want to allow 1 inch gap between the bottom of the door and the floor.
STEP TWO:
SELECTING YOUR HARDWARE
When selecting your Hardware Kit you will want to select a kit that is twice as wide as your door.
For instance we have a 3ft door, therefore we purchased a 6ft long hardware kit.
STEP THREE:
MOUNTING BOARD
You will want to add a mounting board in the size of 1″x4″ or 1″x6″ (we chose a 1″x6″)
Make sure to locate wall studs prior to mounting the board as this is where you will want to attach your board.
STEP FOUR:
TRACK
Install your barn door track and spacers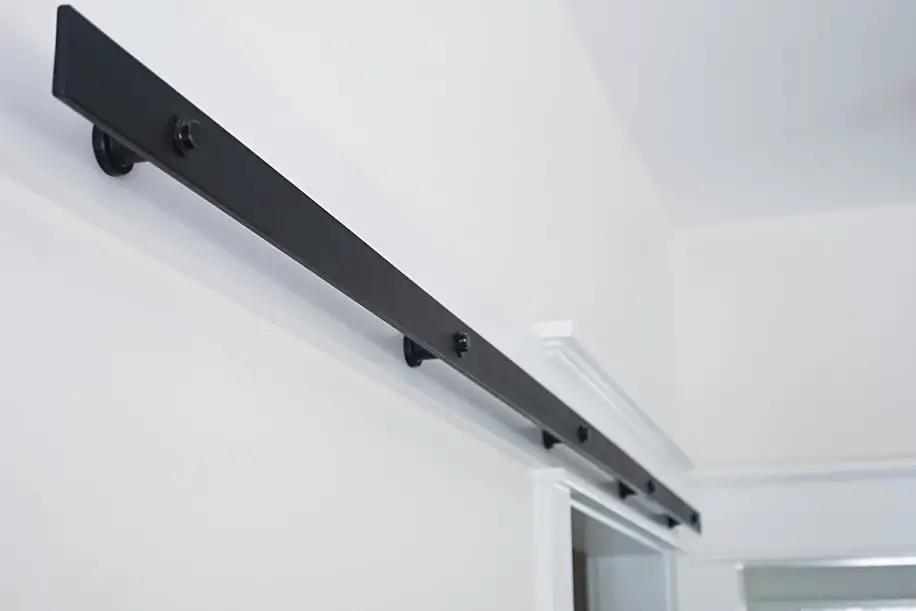 STEP FIVE:
ATTACHING ROLLERS
Attach hanger rollers to the door by pre-drilling holes in door.
Use the supplied bolts and nuts within your kit. Make sure to use the lock washers to prevent the nuts from coming loose over time.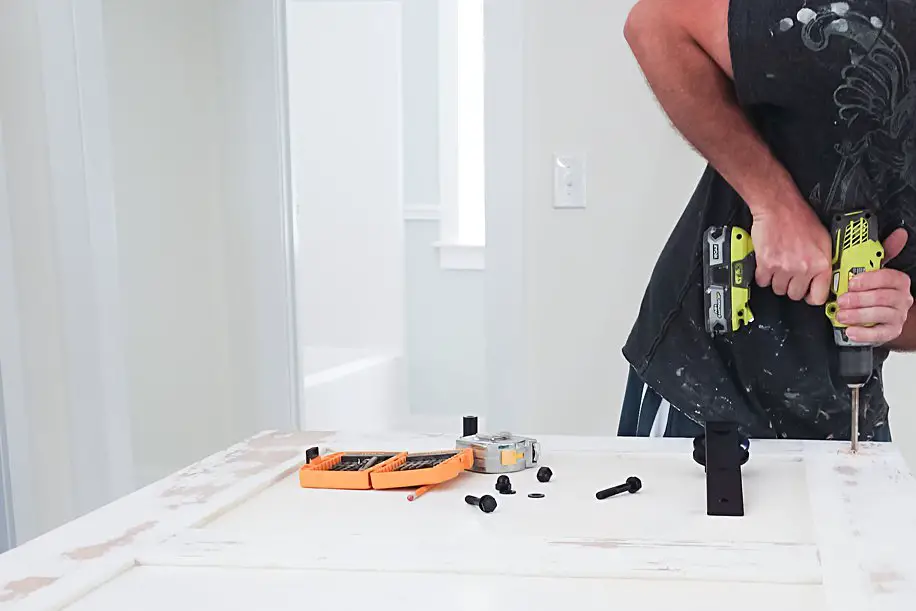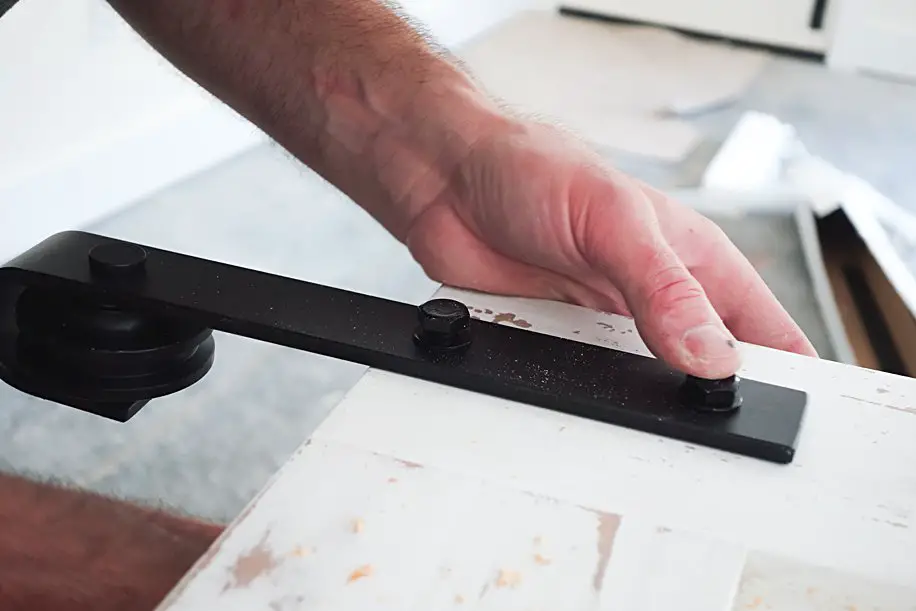 STEP SIX:
HANGING THE DOOR
Hang the Door after everything is secure and in place.
STEP SEVEN:
STOPS AND BLOCKS
Install the 2 stops provided to prevent the door from rolling off the end of the track.
Next, add the safety blocks provided in your kit to prevent the door from jumping off the track.
STEP EIGHT
FLOOR GUIDE
Final Step is to install your floor guide roller.
We personally simply adore this added touch to our door! We love the vintage look of it and we even love the rolling sound of it!
It just seems to make the entire barn door experience complete.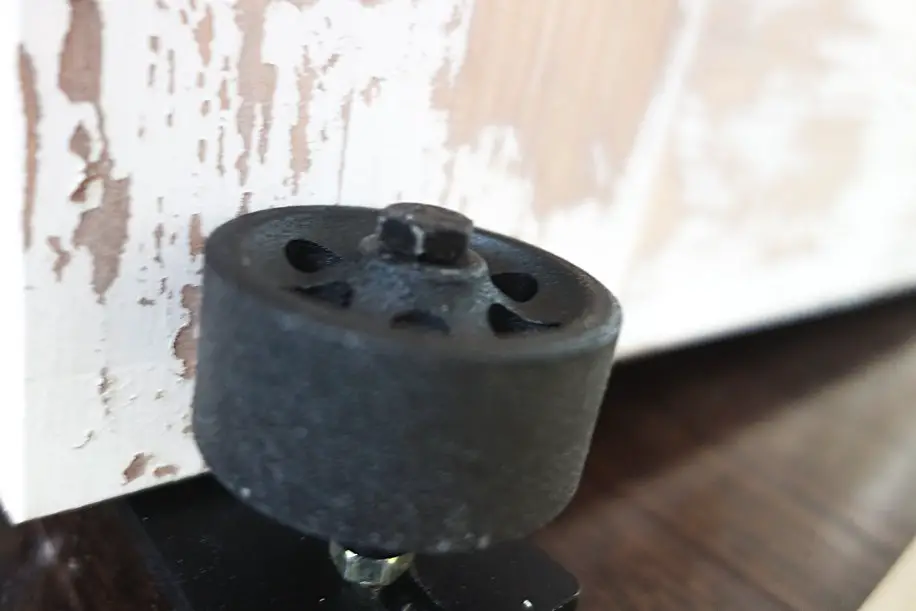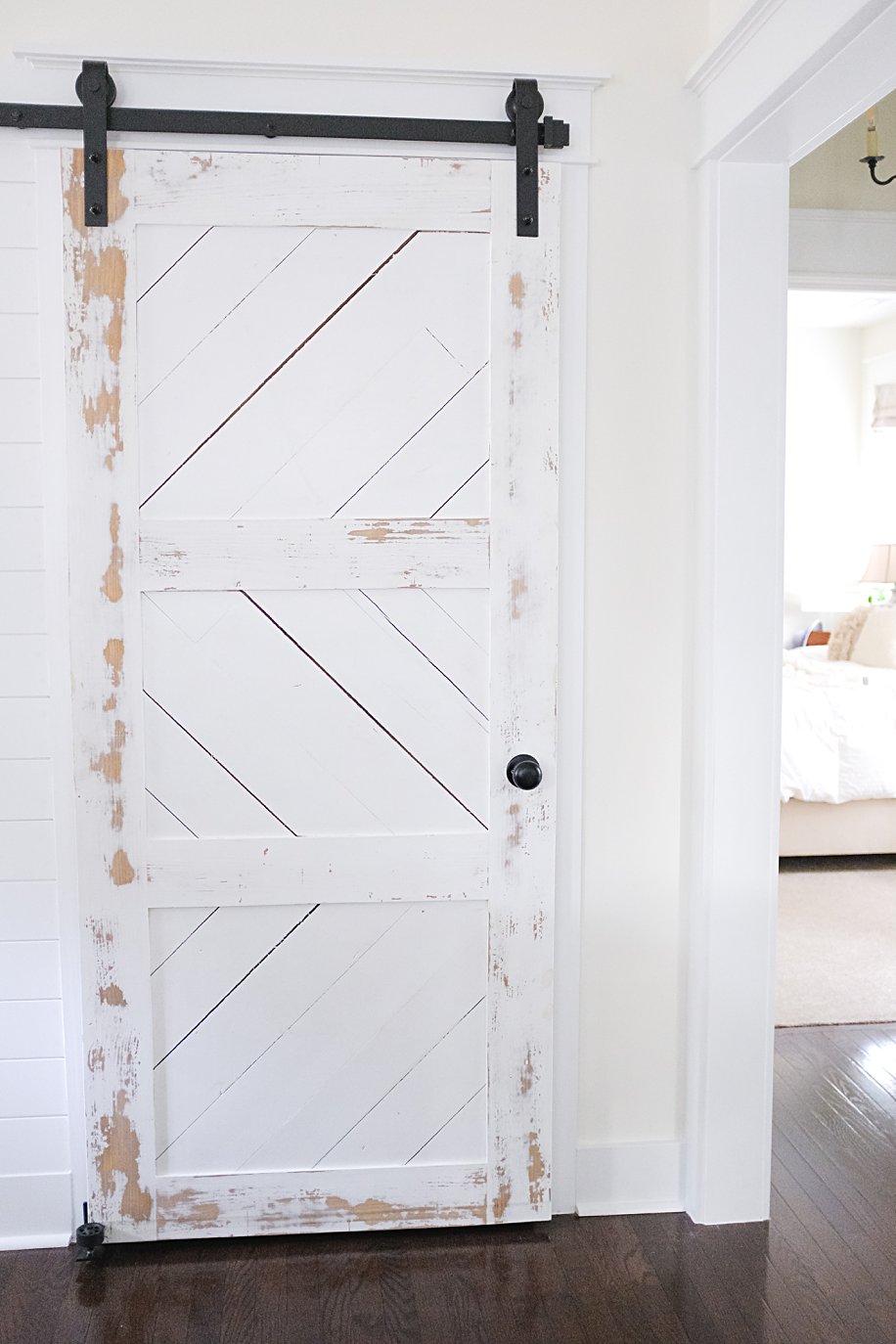 OPTIONAL STEP
SHIPLAP WALL
If you enjoy the Cottage Look, The Coastal Look, or the Farmhouse Look, you may enjoy adding this Shiplap wall! We love the look of Shiplap, however we didn't want our entire cottage adorned with shiplap. This Shiplap wall creates a cozy accent wall.
You can learn how to create a Shiplap wall at our DIY Shiplap Picture Wall Blog!
It's super cute and super fun!
I HOPE YOU ENJOYED OUR BARN DOOR INSPIRATION
I would LOVE to hear if you have enjoyed adding a barn door in your home!
Please leave us a comment below to tell us all about it!
Thank you for enjoying my Blog!
I sure do appreciate it and would love to hear from you in the comments!
Peace, Love, and Simple Living Friends!
~Erin