Fragrance Free Hair Products are my jam and this is my review of the Brand "No Nothing"
No Nothing is Also Available on Amazon
As someone who suffers from a condition which leaves me allergic to most fragrances and many chemicals that are typically within our everyday products, I'm always happy and excited to try new brands! After having used several brands with no luck, I was excited to find the "No Nothing" brand who kindly sent me a few of their moisturizing products for review!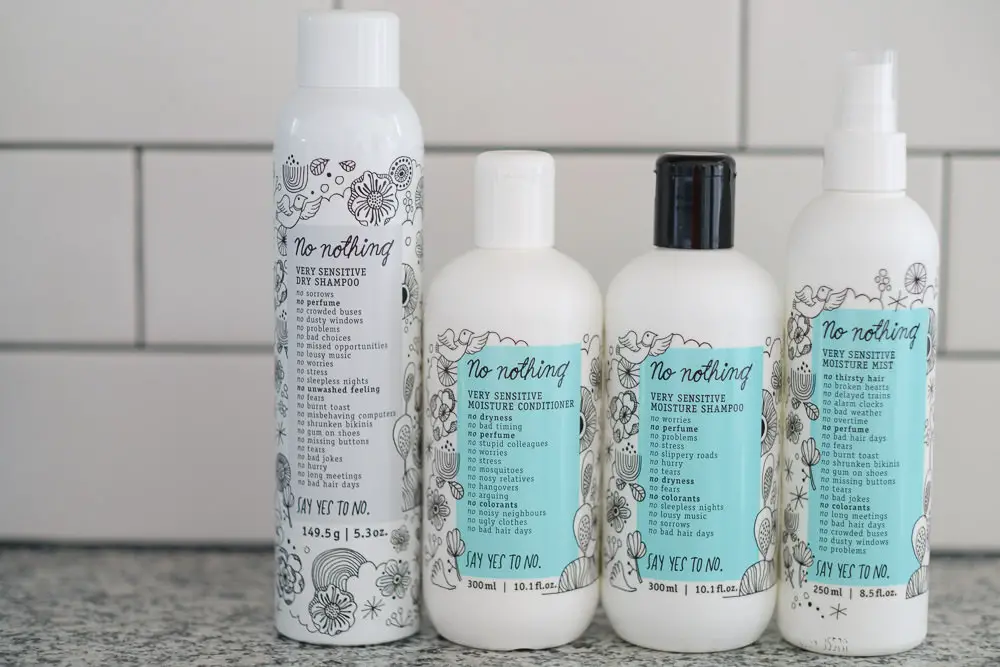 What first captured my curiousness was there cute little doodle like drawings on their labels!
I mean, seriously….doodles on my shampoo? Who wouldn't want this adorableness?
My heart loves to doodle and draw so much I wrote a blog about why I draw!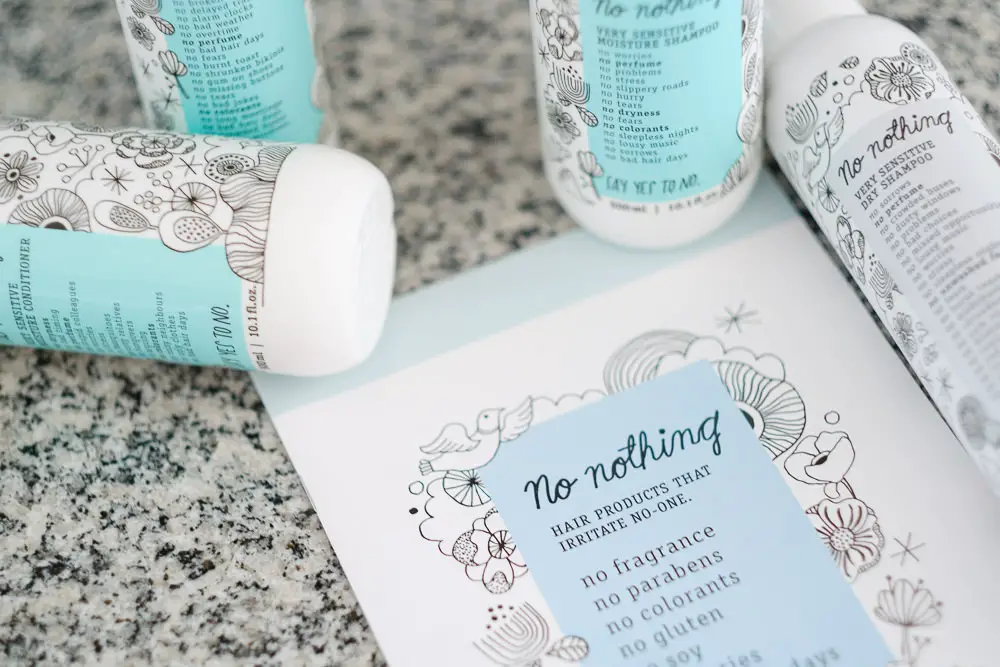 About the "No Nothing" Brand:
-What they Believe We believe in a better world where sensitivity is a good thing.
-Their products contain a few sensitizing ingredients as possible.
-They sate all of their products are 100% perfume free.
– No irritating Ingredients, No Fragrance, No Parabéns, No Gluten, No Soy
-Signature Saying is "Say Yes to No" I mean seriously how cute is that?
in addition to each label they provide cute laughable sayings like No bad timing, No nosy relatives, No ugly clothes, No worries and No bad hair days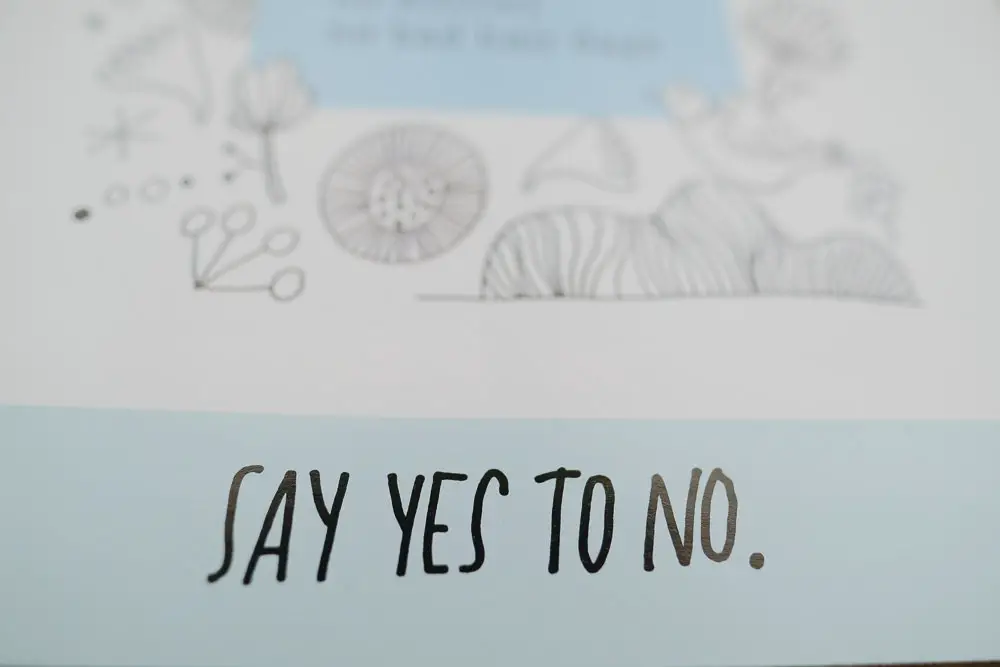 Products the "No Nothing" Brand Offer:
Repair, Moisturize, Color Safe, Volume, and Style & Finish are all Lines within their No Nothing Product Line. Shampoos, Conditoners, Hair Sprays, Dry Shampoos, Mists, and More!
Where to Purchase:
-No Nothing Products May be Purchased Directly From Them
-Amazon Also Sells the No Nothing Products Available with Prime! Easy Peasy Ordering!
On Amazon You Can Find My Products which I've kindly Linked Below:
Moisturizing Shampoo
Moisturizing Conditioner
Dry Shampoo
Moisture Mist
The Smell Test:
As soon as the products arrived, I did what I always do…the Smell Test.
Shampoo – Nope, No Smell!
Conditioner – Nope, No Smell!
Dry Shampoo – Bummer, Yep Some Smell (the person without sensitiviites may not mind)
Moisture Mist – Another Bummer, a Bit of a Smell (the person without sensitivites may not mind)
The Usability Test:
Shampoo is simply lovely! It lathers nicely, has no smell at all and rinses out leaving my hair clean.
Conditioner is creamy and very hydrating, my oh my how I loved this conditioner!
Dry Shampoo is very nice but sadly it has a slight smell that upset my system. It does work well.
Moisture Mist seems to be very popular by others, however for me it had a slight smell.
My Results:
I love the No Nothing Brand of Moisture Shampoo and Conditioner!
They both left my hair feeling hydrated, soft and smooth…very well done!
I will be purchasing these products again on Amazon, as well as trying more of their products!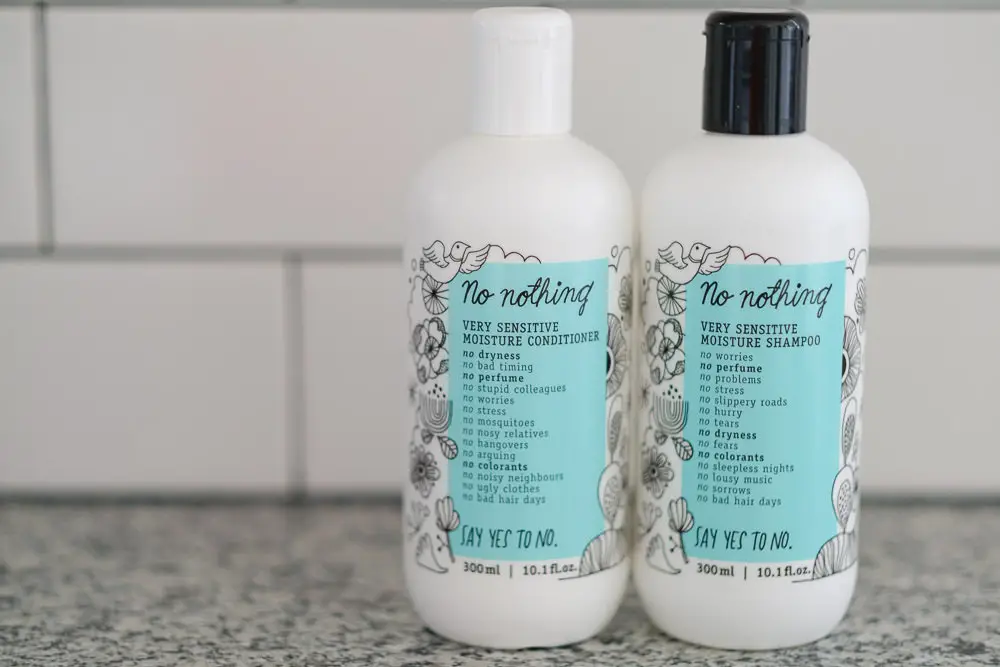 Thank you for enjoying my Blog!
I sure do appreciate it and would love to hear from you in the comments!
Peace, Love, and Simple Living Friends!
~Erin