My Roasted Parmesan Parsley Potatoes Recipe harvested fresh from the garden to table is one of my faves! It's an easy recipe that is simply perfect for your new from the garden potatoes.
I'll also be including my optional dipping sauce, so stay tuned until the very end!
First let me tell ya, if you can Grow Your Own Potatoes, it will be even tastier and oh how proud you will be to say "hey I grew these potatoes" If you'd like to learn how,
Enjoy My Grow Potatoes in Grow Bags Blog
You're Gonna Love this Recipe: Roasted Parmesan Parsley Potatoes harvested fresh garden to table!
If you have never ever had freshly grown potatoes, I highly recommend you give them a try!
If you are reading this in early Spring, there's still time! Make certain to check out my how to grow potatoes blog. Oh and that cute little colander is simply a life saver in the garden!
As you can see it goes from gather to rinse. This Colander is truly the BEST!
I have both the Mini Size Harvest Colander and the Large Size Harvest Colander for bigger harvests.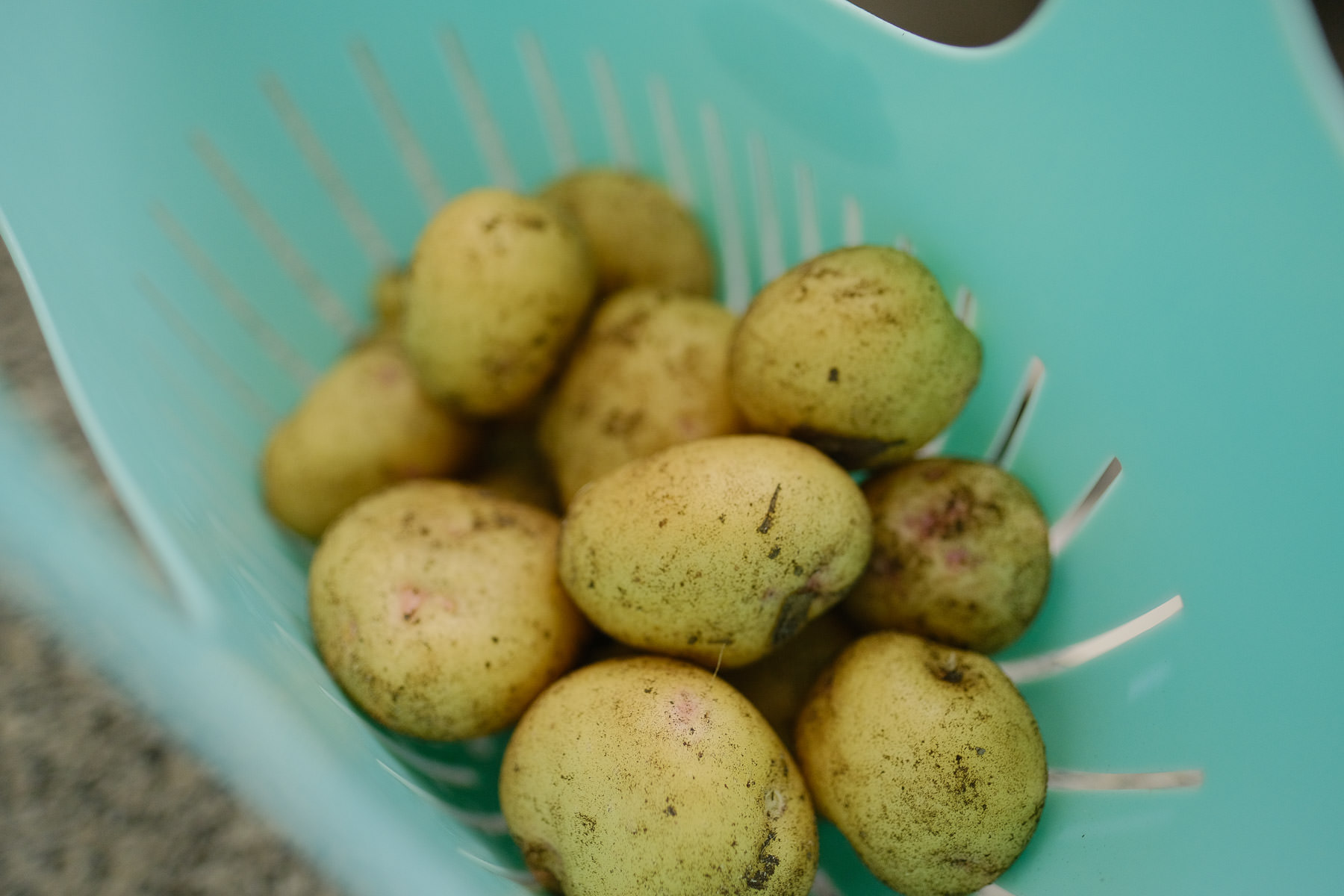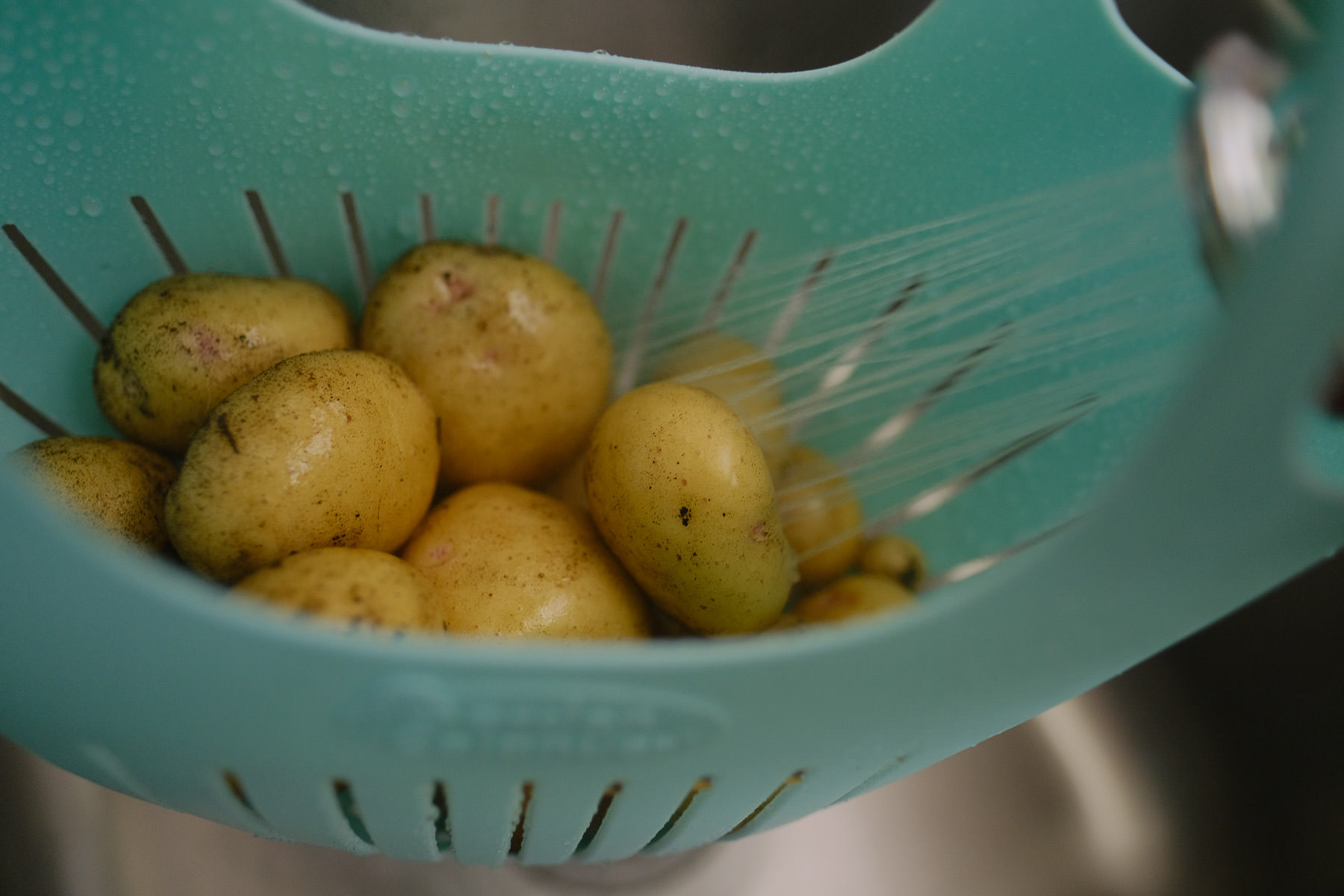 DON'T FORGET…..always scrub scrub scrub a dub dub your potatoes!
I have found the best way to scrub my potatoes and other veggies is with THIS CUTE LIL' BRUSH!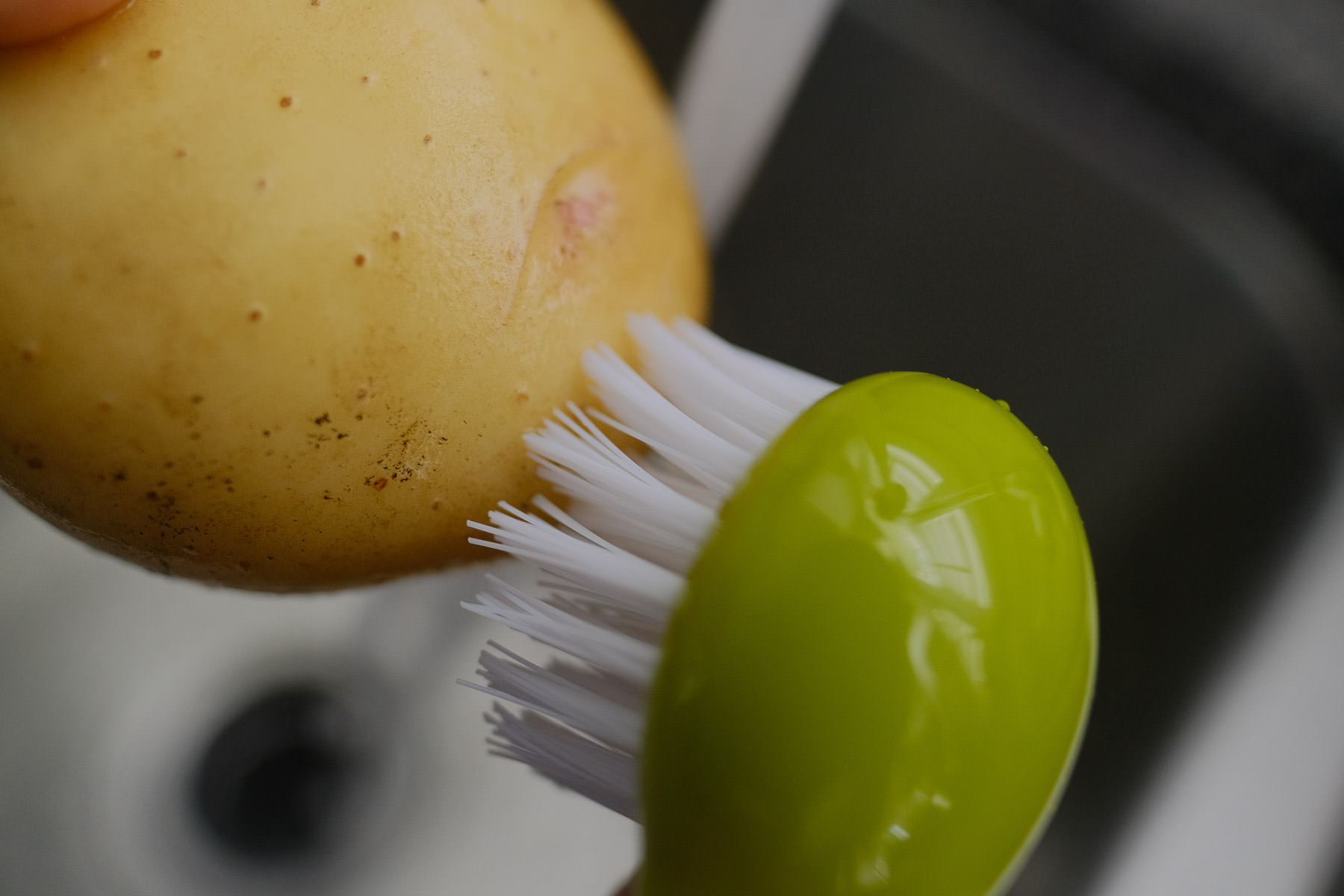 INGREDIENTS:
POTATOES
PARSLEY FLAKES (FRESH OR DRIED)
LIGHT OLIVE OIL
PARMESAN (FRESH OR PRE-PACKAGED)
SALT (I ENJOY PINK SALT)
MY FAVE COOKING SUPPLIES MENTIONED:
with easy purchase links…..
Roasted Parmesan Parsley Potatoes Recipe:
WASH THOROUGHLY
CUT POTATOES IN CUBE TYPE BITES
PREHEAT YOUR OVEN AT 425 DEGREES (depending on your oven)
WHISK ALL INGREDIENTS IN A COVERED BOWL (these glass bowls are similar but more beautiful!)
SHAKE THE BOWL, TURN UPSIDE DOWN TO COAT THE POTATOES
PLACE POTATOES IN A SINGLE LAYER ON BAKING SHEET (I love this crisper sheet pan)
BAKE FOR 30-45 MINUTES
SPRINKLE WITH PARMESAN THE LAST 15 MINUTES
THE FOLLOWING DIPPING SAUCE IS OPTIONAL *
(BALSAMIC VINEGAR, OLIVE OIL, PARSLEY FLAKES, MINCED GARLIC)
(TO SEE AND PRINT FULL RECIPE, CONTINUE BELOW )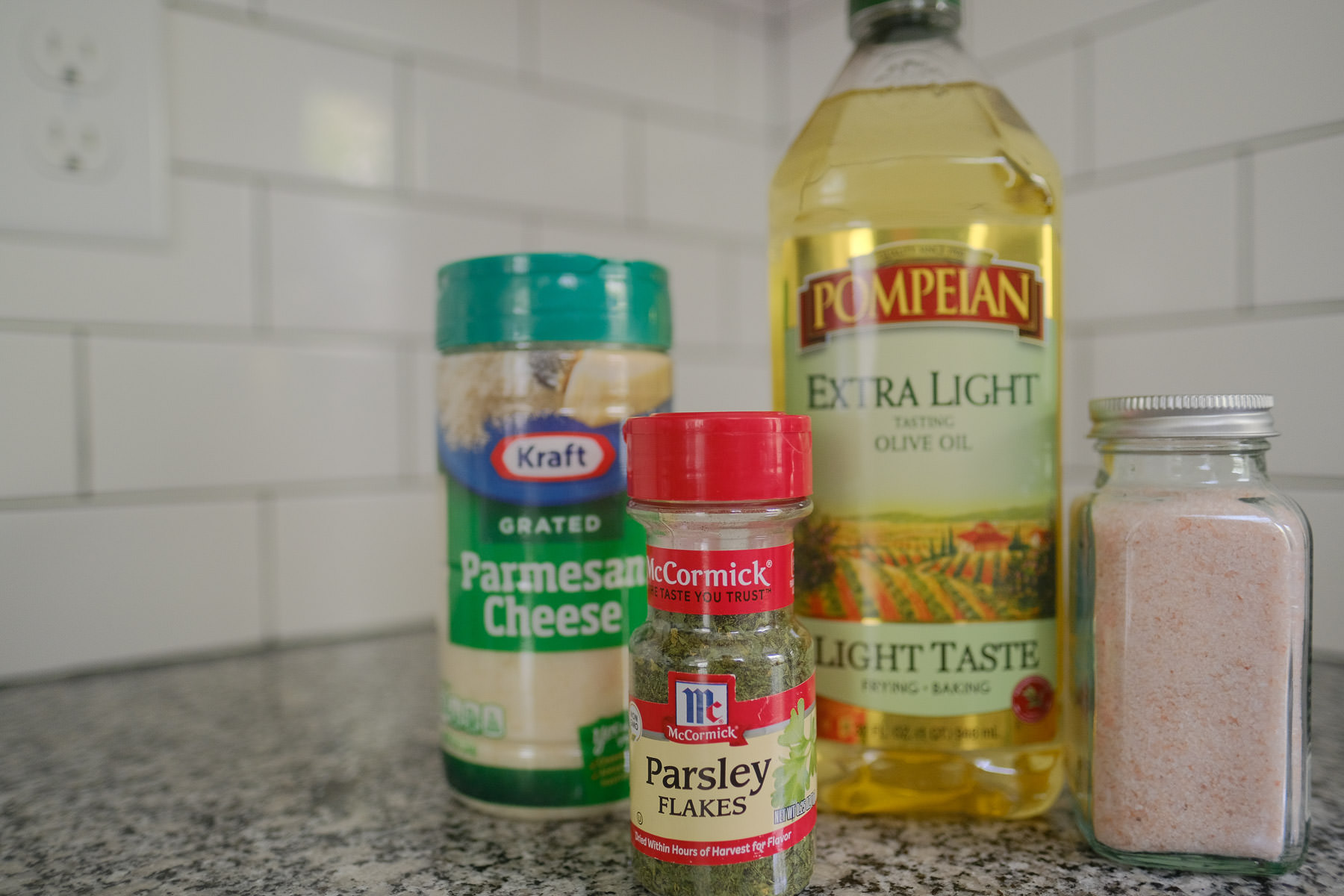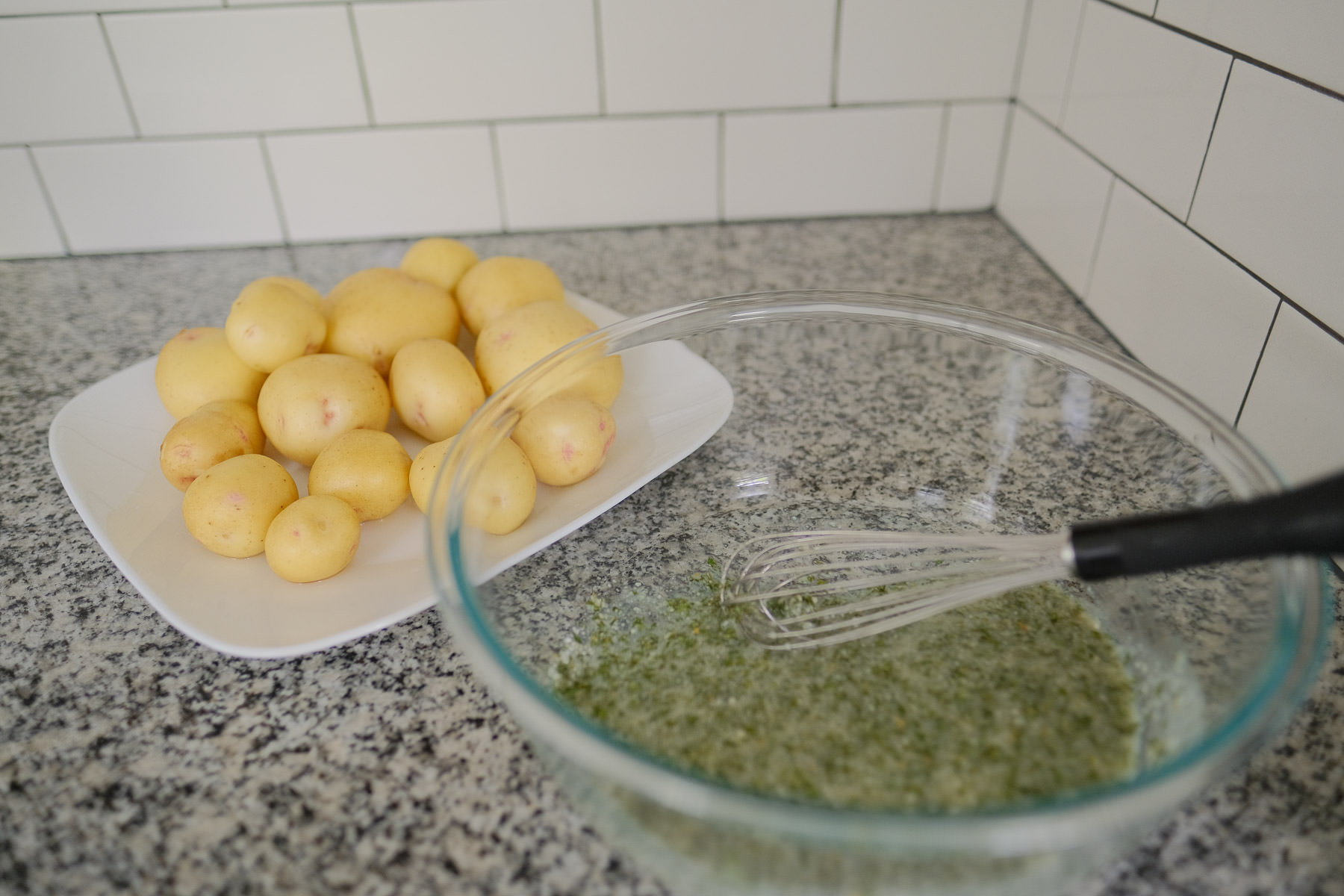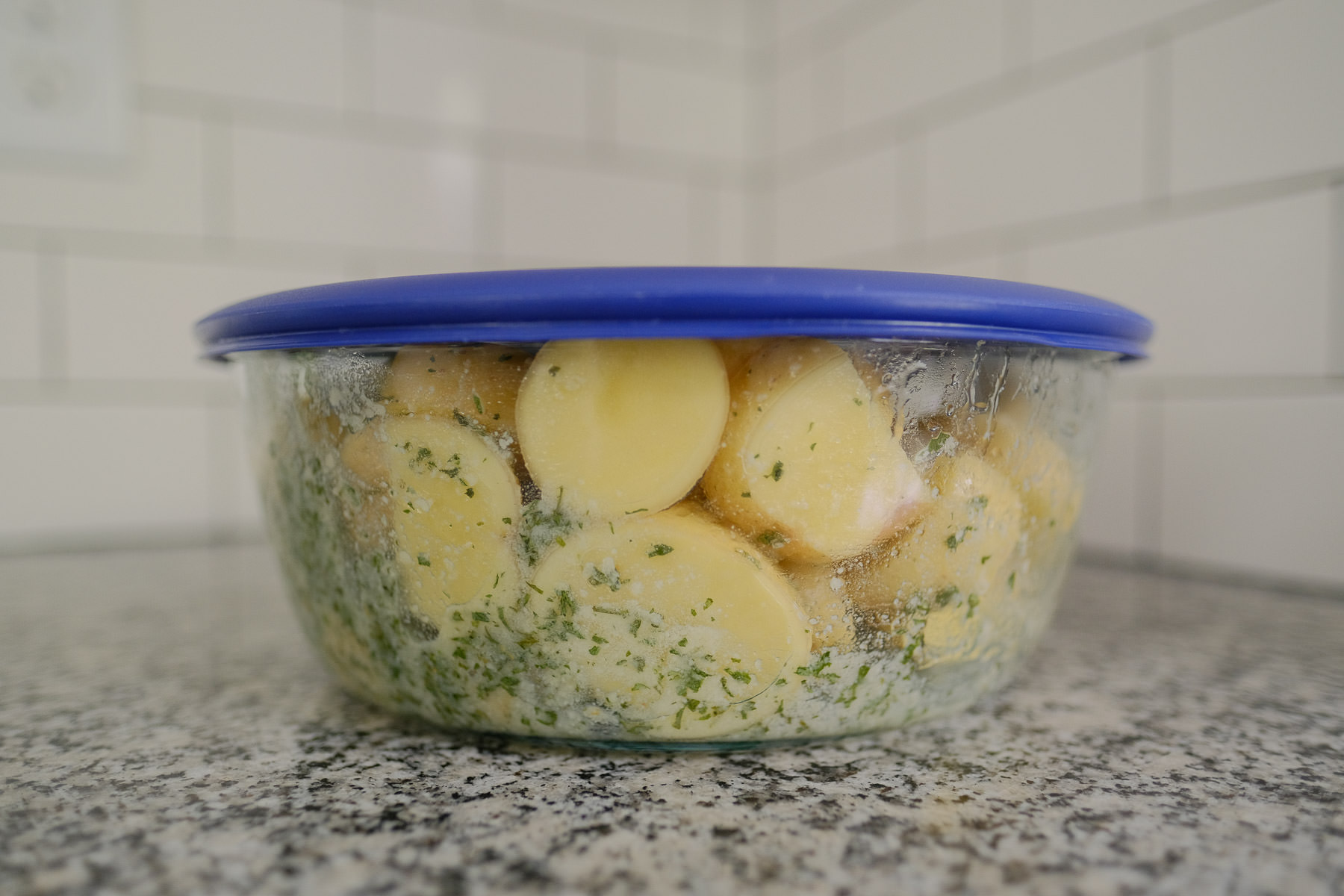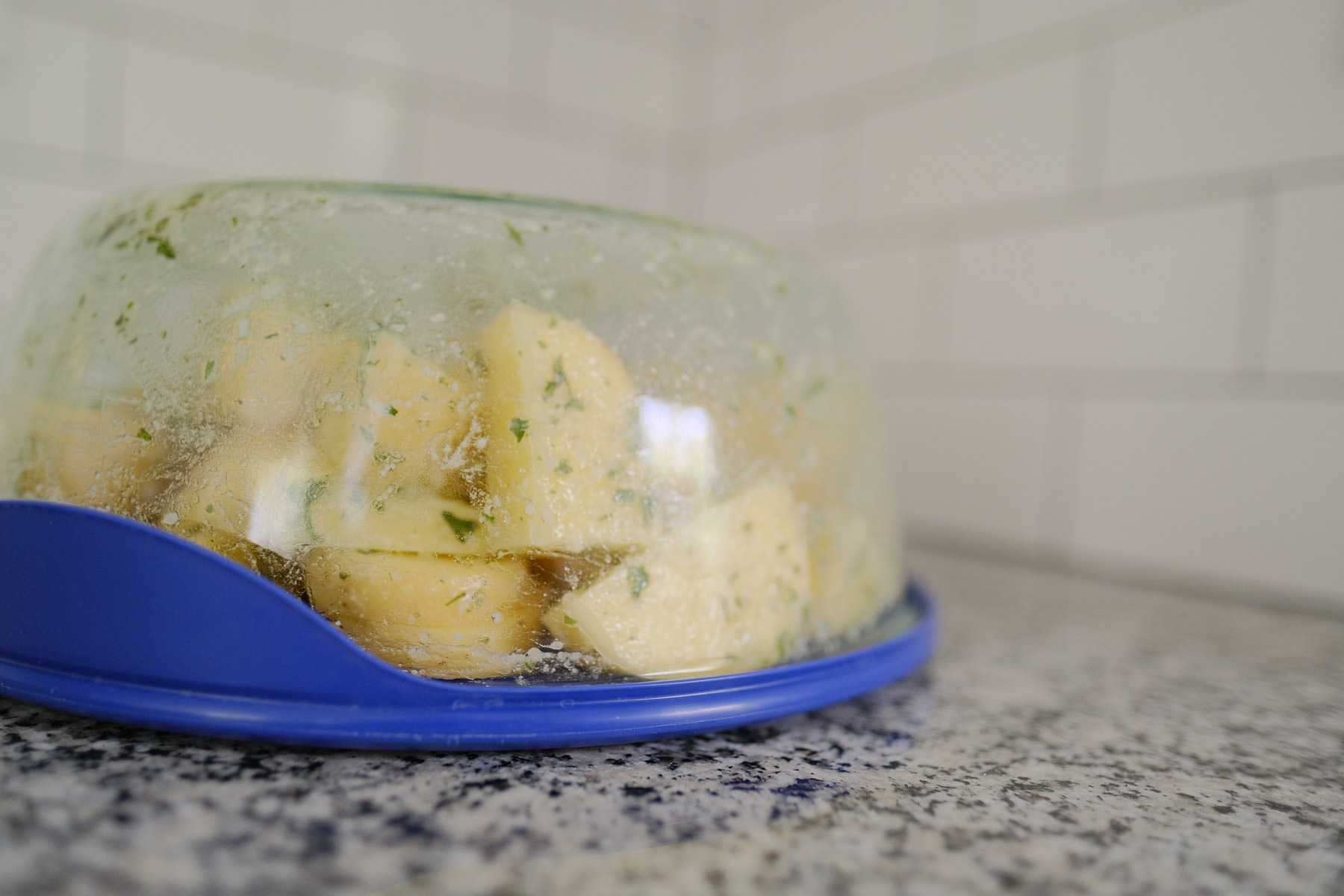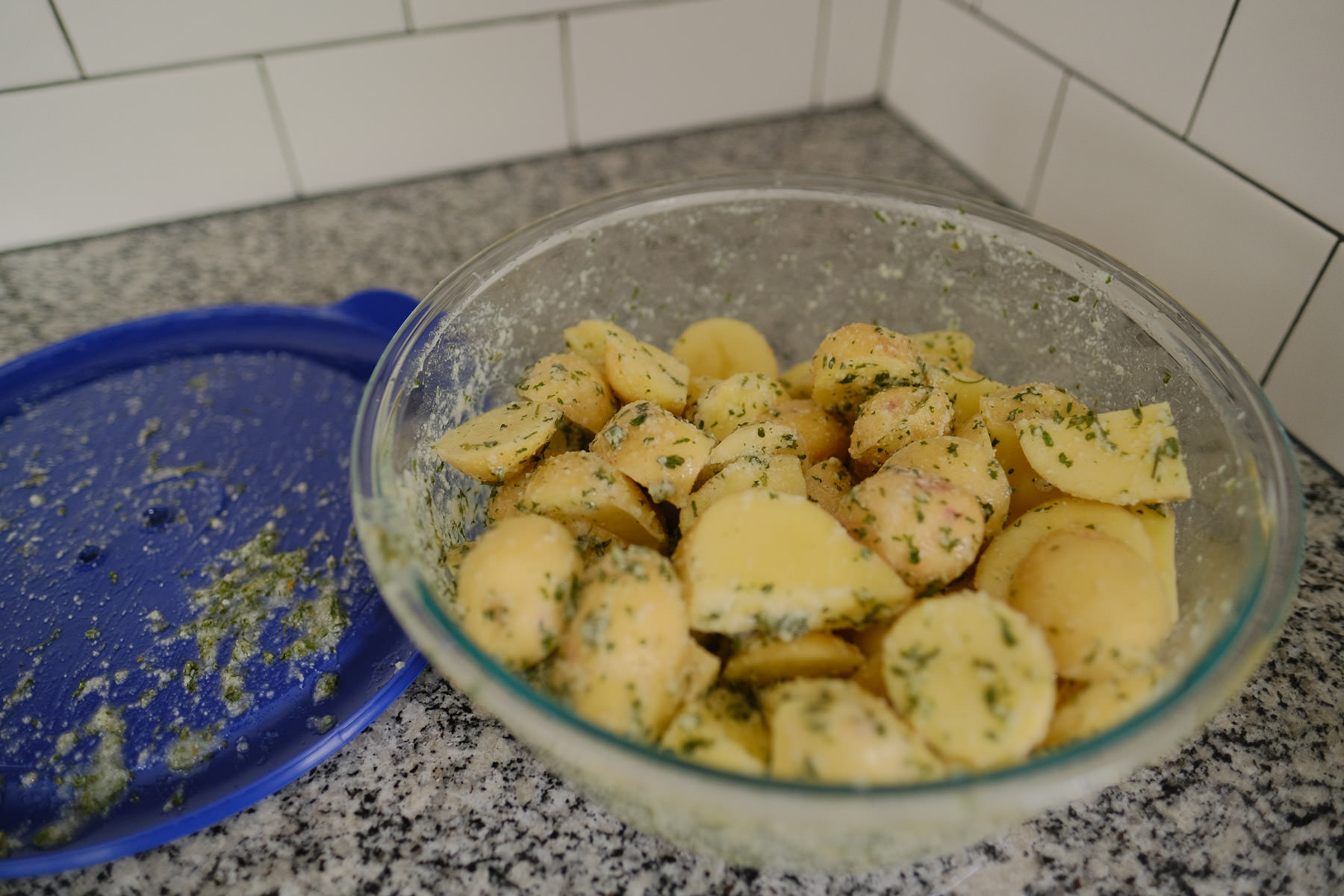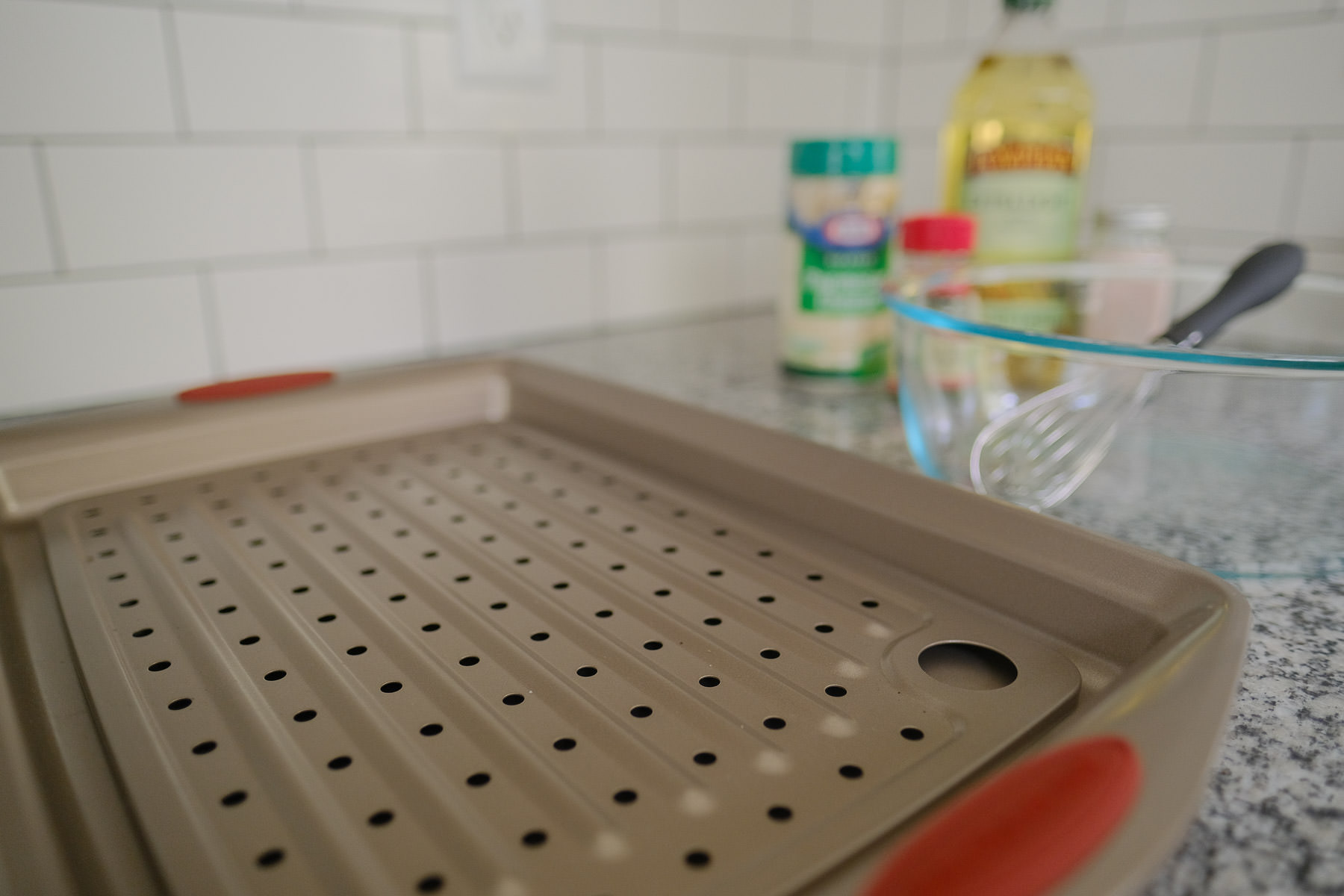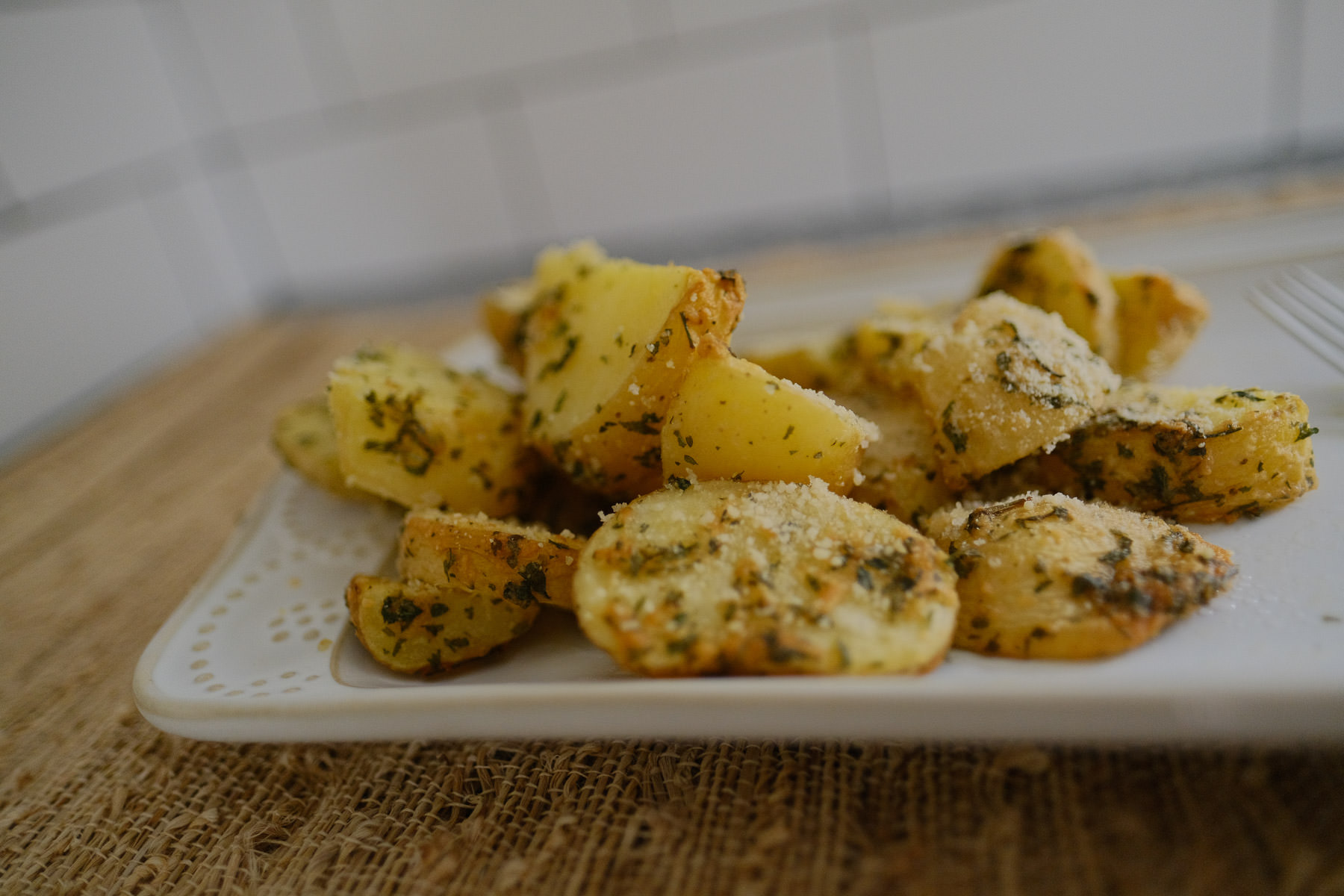 Roasted Parmesan Parsley Potatoes
EASY ROASTED PARMESAN PARSLEY POTATOES FRESHLY HARVESTED FROM GARDEN TO TABLE.
Ingredients
POTATOES

3

tbsp

GRATED PARMESAN CHEESE

2

tbsp

PARSLEY FLAKES

1/2

cup

OLIVE OIL

SALT TO TASTE
Instructions
MIX ALL INGREDIENTS IN COVERED BOWL

BAKE POTATOES ON BAKING SHEET FOR 30-35 MINUTES

SPRINKLE ADDITIONAL PARMESAN ON POTATOES LAST 15 MINUTES OF BAKING

SERVE WITH OPTIONAL DIPPING SAUCE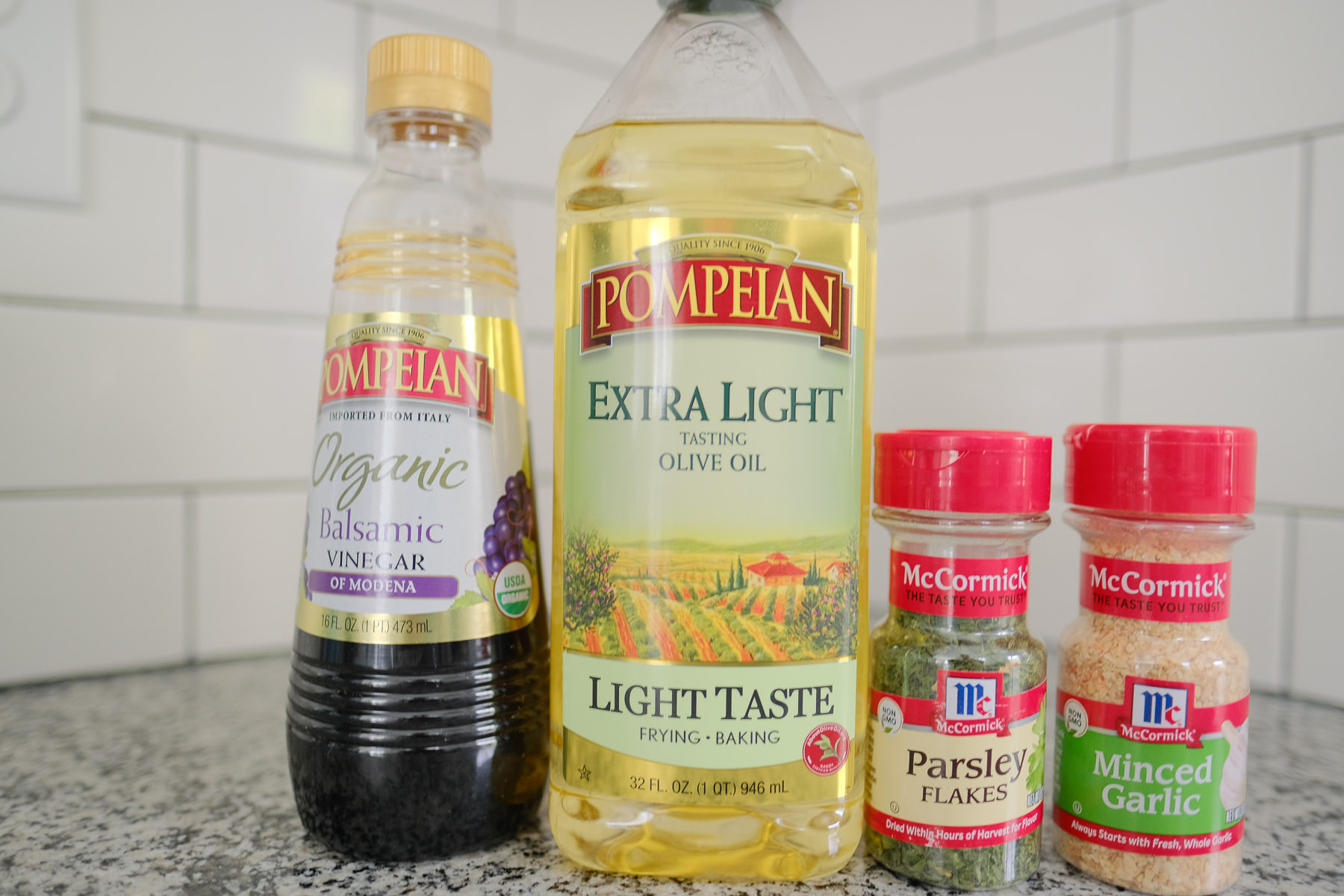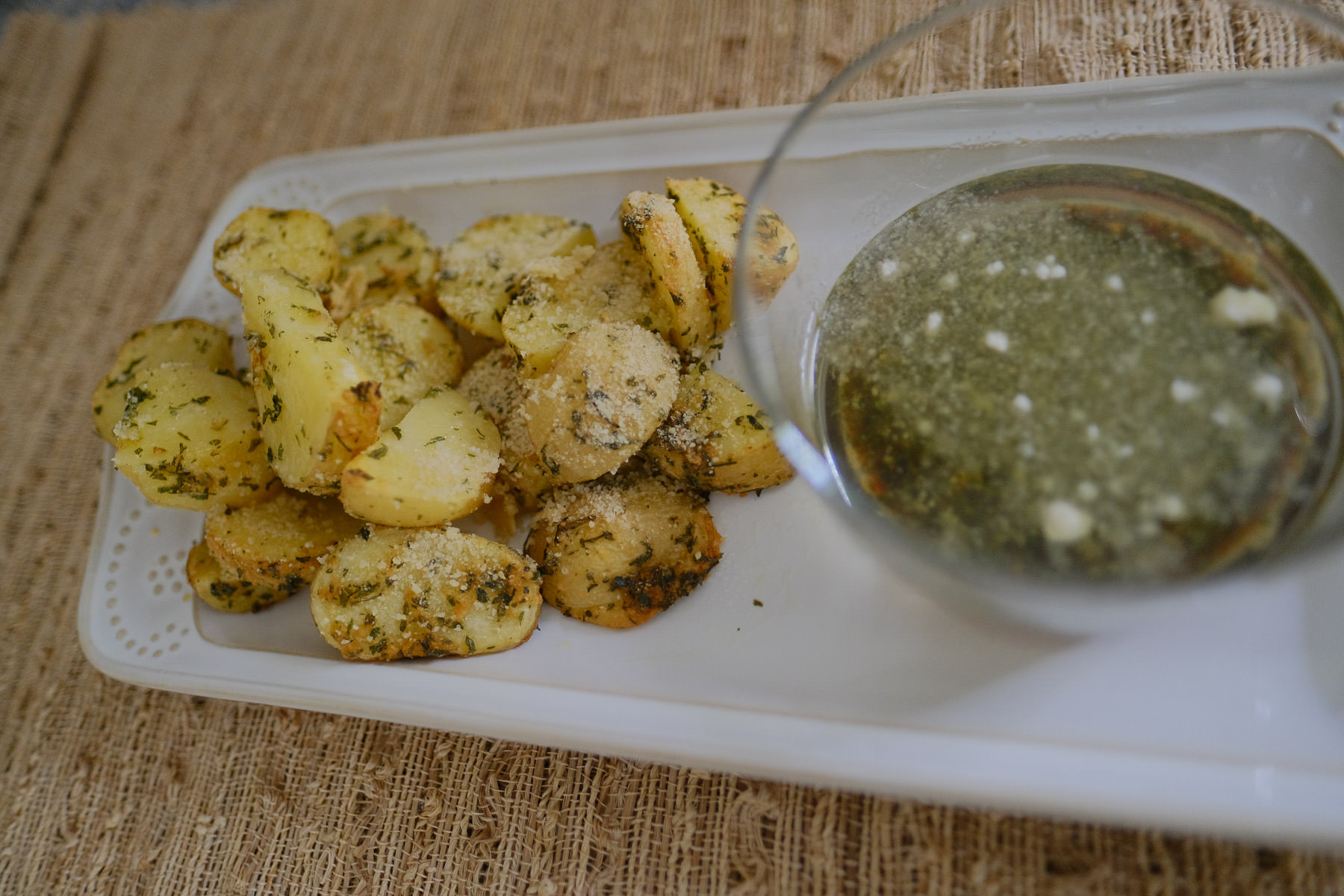 BALSAMIC & OLIVE OIL DIPPING SAUCE
If you want an extra pop in your mouth, this sauce is super easy and perfect for dipping potatoes or french breads in!
Ingredients
1/2

cup

olive oil

1/4

tsp

minced garlic

5

tbsp

balsamic vinegar

1

tsp

parsley flake

1/4

cup

parmesan cheese

salt to taste
Instructions
Combine olive oil and garlic in small sauce pan over medium heat for about 10 minutes

Remove from heat and add in all additional ingredients

Place in small dipping bowl, sprinkle with parmesan cheese optional

Serve with potatoes or french bread
Thank you for enjoying my Blog!
I sure do appreciate it and would love to hear from you in the comments!
Peace, Love, and Simple Living Friends!
~Erin
If you are ever in the NC Coastal area looking for Family Photography, please check out my Professional Portrait Site at Snapp-Shot Photography. Or possibly looking for Senior Pictures, I got you covered at The Snapps a Senior Experience.