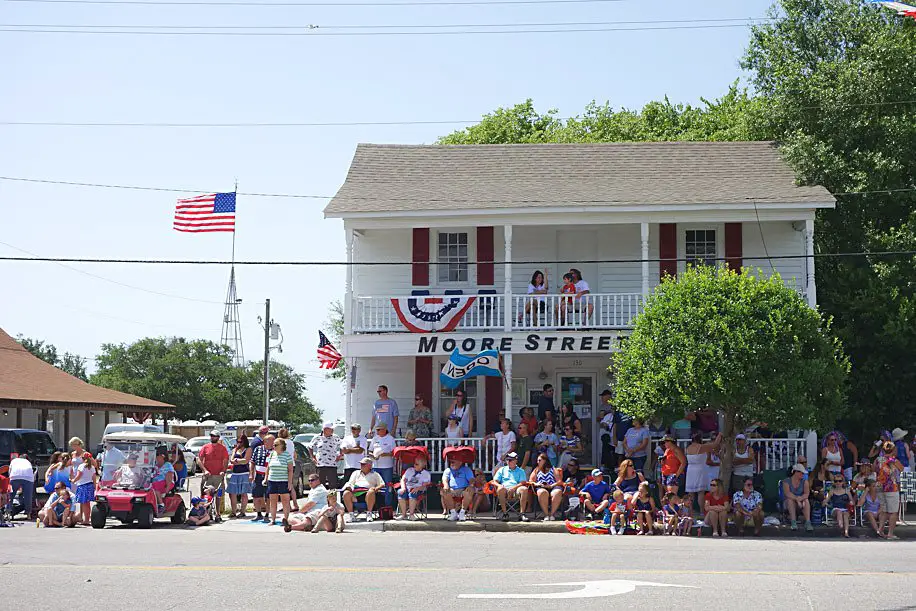 The quaint town of Southport NC is Home to the NC 4th of July Festival.
Enjoy our NC 4th of July Festival Guide through the eyes of a LOCAL in Southport, North Carolina!
Festival event calendar, parade route, fireworks schedule, things to do, and important tips to enjoy this fun-filled festival.
It's surely one of the best towns to enjoy the Fourth of July and we are here to tell you why! Enjoy our guide as local residents.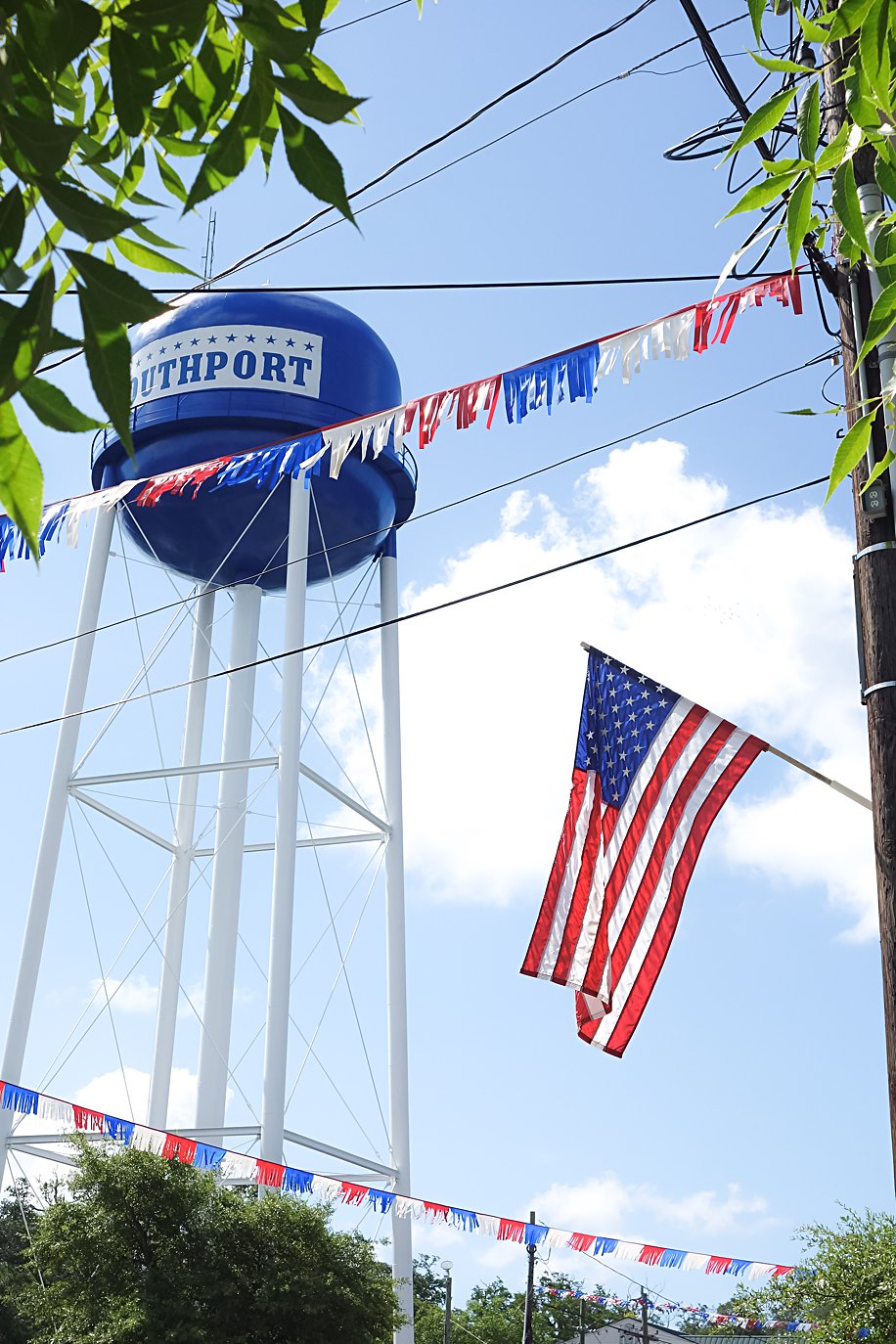 HISTORY & ABOUT THE FESTIVAL:
Southport, NC has been celebrating the 4th of July for over 200 years, with their first celebration taking place all the way back in 1792! "Festival of Free Men" was the name of the celebration that took place from 1792 until later years when it transformed into the festival as we know it today of "NC 4th of July Festival"
The festival takes place yearly within the quaint coastal town of Southport, NC attracting over 50,000 people! This is quite the crowd for our small town which is home to under 4,000 residents.
Southport NC's Fourth of July Festival is full fun including an old fashion hometown feel parade, a leisurely stroll of the arts & craft show, beach day at our neighboring beach town of Oak Island, NC, freedom filled ceremonies, classic car show, fun for the children, live music, and oh my the goodness of yummy carnival type food fills the air just waiting to fill your tummy!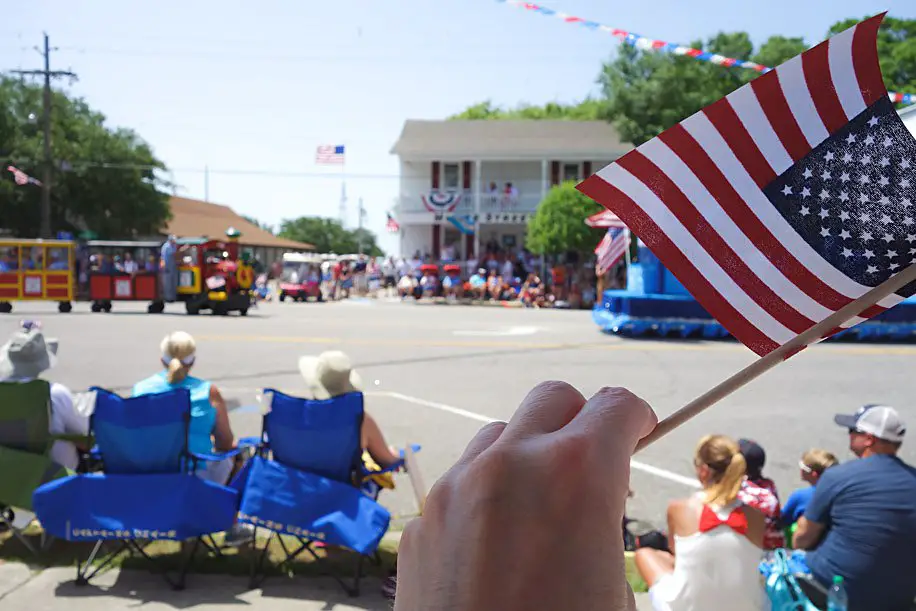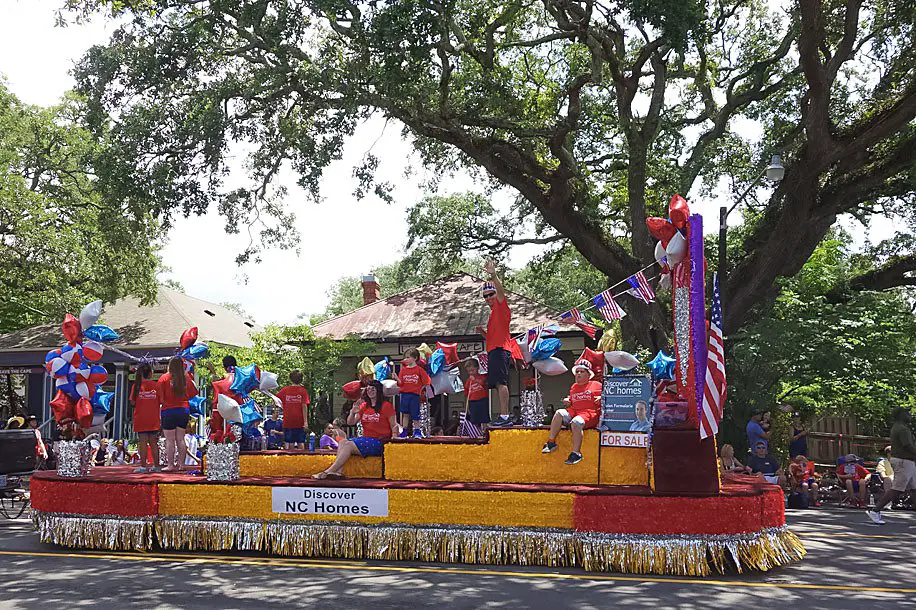 NC 4TH OF JULY FESTIVAL THINGS TO DO:
FESTIVAL DATES: July 1st through July 4th, 2018
OUR FAVES AS LOCALS:
(these are our personal top picks that we personally enjoy most)
ARTS & CRAFTS IN THE PARK:
July 2nd through July 4th | 10am – 6pm
Location of Franklin Square Park on East West and Howe Streets
Oh my goodness, theres' just something about strolling under the grand old Oak Trees admiring all of the local talents as they sell their hand-made works of art. From paintings, jewelry, woodworking, yard art, florals, shell art, plants, goodies for the little ones and so much more! With over 120 vendors, you surely will not be able to leave without taking home an artisan's craft or two….or three! There are also food and drink vendors nearby, just in case all that strolling makes you hungry and thirsty!
SOUTHPORT NC 4TH OF JULY PARADE:
July 4th | 11am
Location is throughout downtown Southport.
Starting at the corner of Atlantic and Moore Streets, making it's way from Moore to Howe Street.
There after ventures Howe Street North to Fodale Avenue.
Turning Right onto Fodale Ave. and ending near the Ocean Trail Healthcare Center.
Wanna know what the parade is like? Well, let me tell ya…just think about a parade you may see in the movies, (like the 4th of July movie seen in Nicholas Spark's Safe Haven Movie which was filmed here in our town of Southport NC) you know the good old fashion, home-town, Southern charm type of parade! I promise you…it's just like in the movies!
I personally will never forget riding a float within the parade, waiving at all the locals and visitors as they cheered, waived and applauded as our float passed by. Nowdays, we tend to just take in the parade and scenes as most other locals within the town perched upon a lawn chair on the city street or even walking from block to block just to enjoy the many views along the parade route. It's the sweetest parade one shall ever see!
SOUTHPORT NC FIREWORKS:
July 4th | 9pm
Location is Southport Waterfront
My oh my, it's almost like a bunch of magical fireflies lighting the skies above our beautiful Cape Fear River!
You'll hear the sounds of breathtaking gasps fill the air as onlookers gaze upon the colorfully lit skies.
Enjoy the views from a lawn chair, on the sidewalk, a home nearby, or even upon a boat!
Yet another moment I'll personally never forget was enjoying the Fireworks from a boat shared with friends as we gazed back upon our stunning sweet lil' town of Southport. However you decide to enjoy the view, I do indeed promise it's yet another moment that will forever live within your heart.
LIVE MUSIC ENTERTAINMENT:
After the fireworks don't be too quick to rush off there will be live music on the waterfront bringing the perfect end to this fun-filled Southern celebration.
9:30pm – 10pm
Location is on the stage next to waterfront park in Southport, NC
Live Music also takes place throughout the festival dates (I'll include a full link to the Event Calendar at the end of the blog)
FOOD CONCESSIONS:
Who doesn't love gooey carnival type food, right?
My personal fave are deep fried Oreos! The smell will lead the way, however if your smeller is a little under the weather the location of these yummies will be located at:
Location of South Howe Street near the waterfront stage from 11am until 10pm and within the Franklin park, however those are only open during daytime hours during the art and crafts festival.
Each year a new aroma fills the air, however most years it seems to be a variety of choices from Fried Oreos, Funnel Cakes, Italian sausages, hot dogs, lemonades, blooming onions and shrimp baskets are just to name a few of the yumminess to tempt your tummy!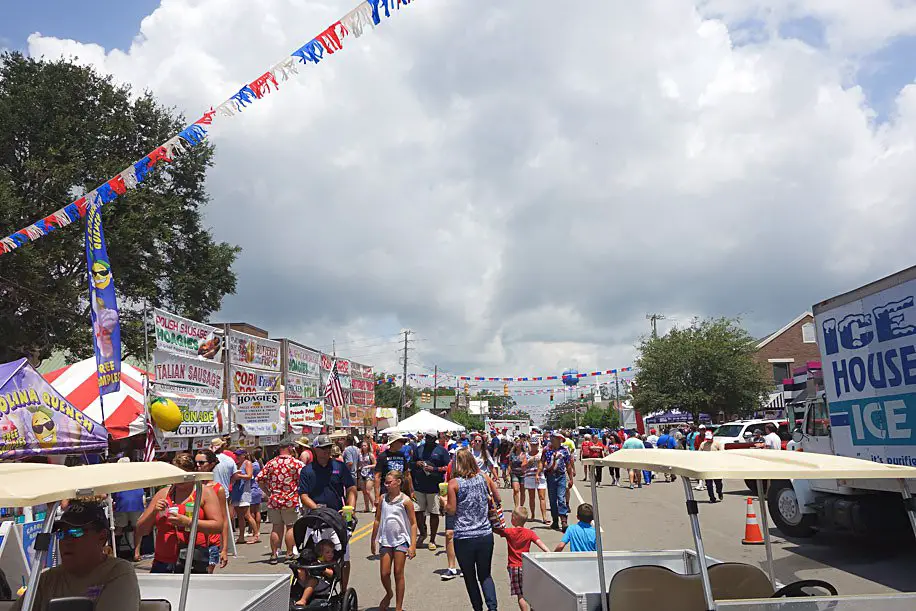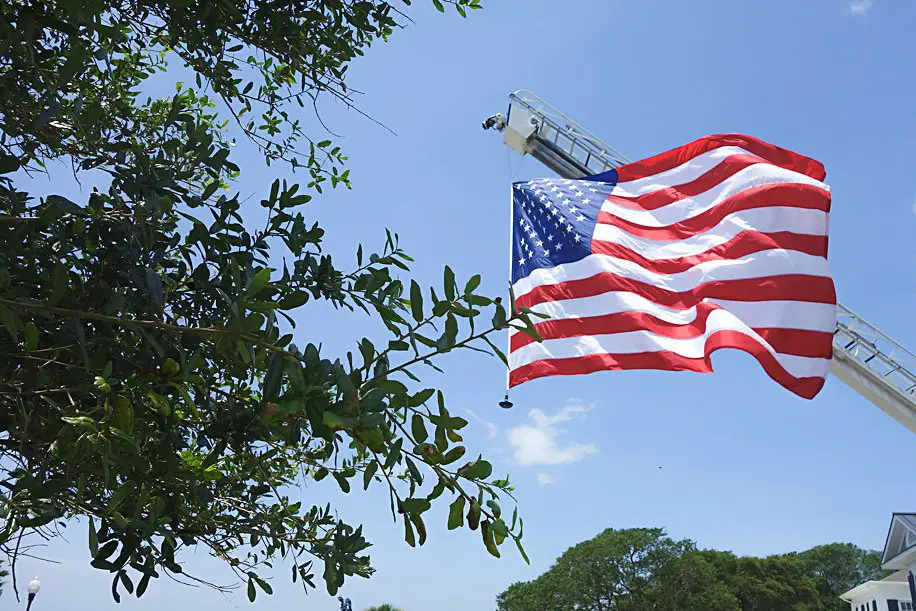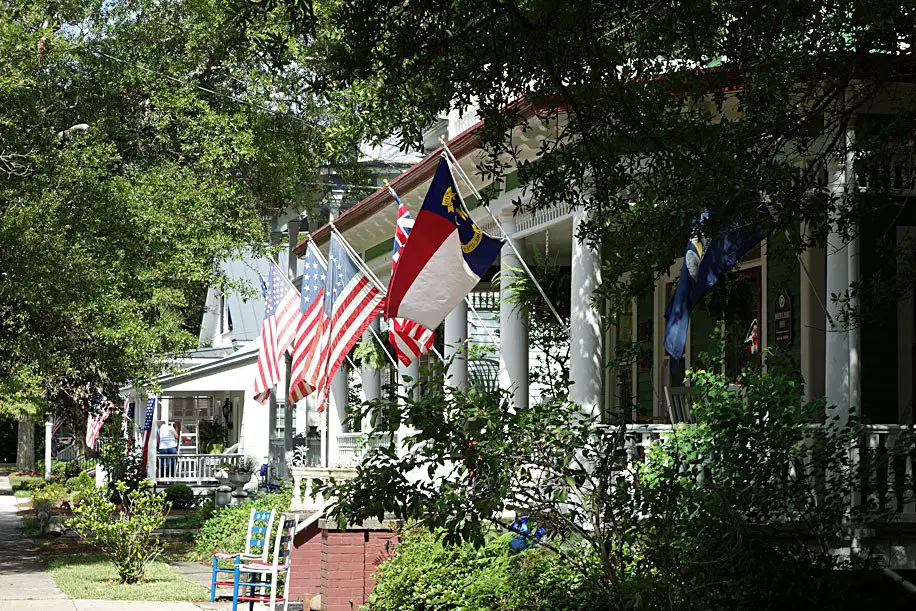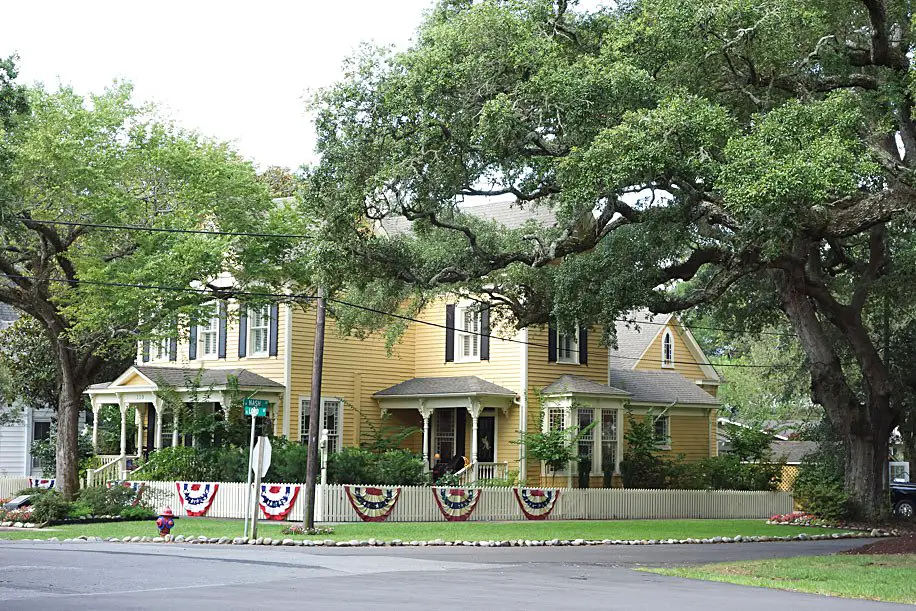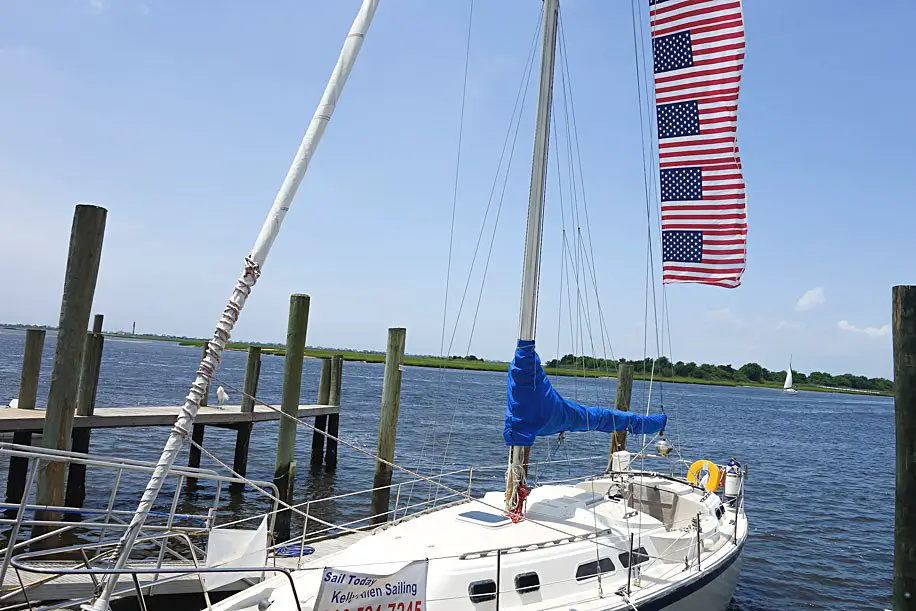 MORE THINGS TO AT THE NC 4TH OF JULY FESTIVAL IN SOUTHPORT NC INCLUDE:
The Flag Retirement Ceremony July 3rd at 6pm located at 104 S. Howe Street.
Children's Games July 3rd at 8am for registration with games beginning at 9am.
Located at Ft. Johnston Garrison Lawn 203 Bay Street for ages 5 & under.
Located at Waterfront Park 101 E. Bay Street for ages 6-11
The Flag Raising Ceremony July 4th at 10am located at the intersection of Howe and Moore Streets.
Classic Car and Shine Show July 4th 11am-4pm located at the waterfront park area 203 E. Bay Street.
For More Detailed Information on Events,
Visit's Southport's NC 4th of July Festival's Website.
Or enjoy this 2018 Festival Calendar provided by Southport, NC
IMPORTANT INFORMATION & TIPS
RestRooms: There will be portable restrooms located throughout.
The main year round restrooms are located at:
E. Nash Street behind Southport Baptist Church and at Fort Johnston at the Southport Visitors Center 203 E. Bay Street
Pet Policy: For the safety of your pets and others, the town of Southport asks to please leave your pet at home.
Please Never Leave your Child Unattended
Police | Emergency | First Aid:
Southport's Police Station is located on West Moore Street next to the town library. Hours are 8:30am to 6pm
First Aid Stations will be located at 111 E. Nash Street from 12noon until 8pm July 2, 3, and 4th.
Southport states to please dial 911 in case of an emergency.
Parking & Traffic:
Free Parking can be found throughout Southport
Traffic will indeed be heavy at times, crowds will fill the streets, here is a link to Southport's detailed Traffic Map & Routes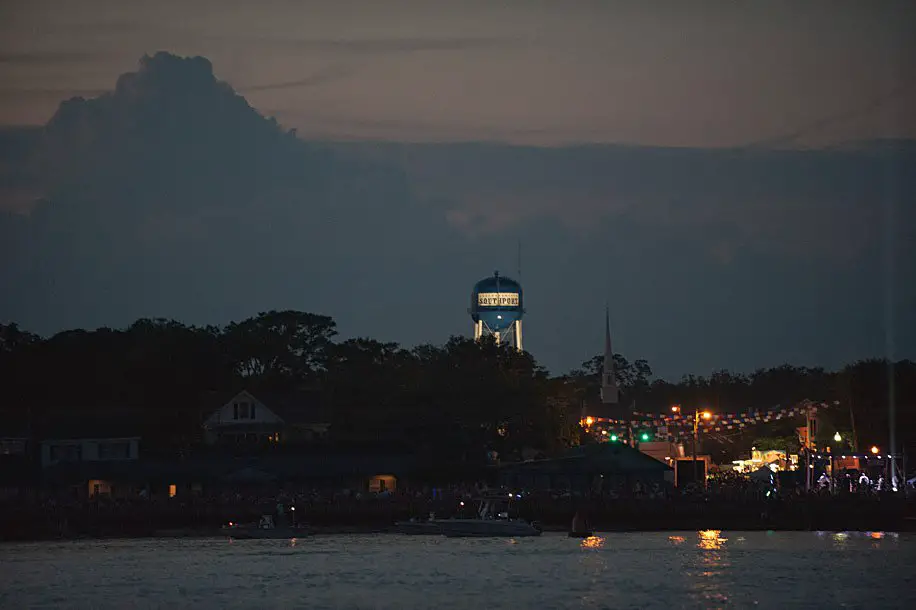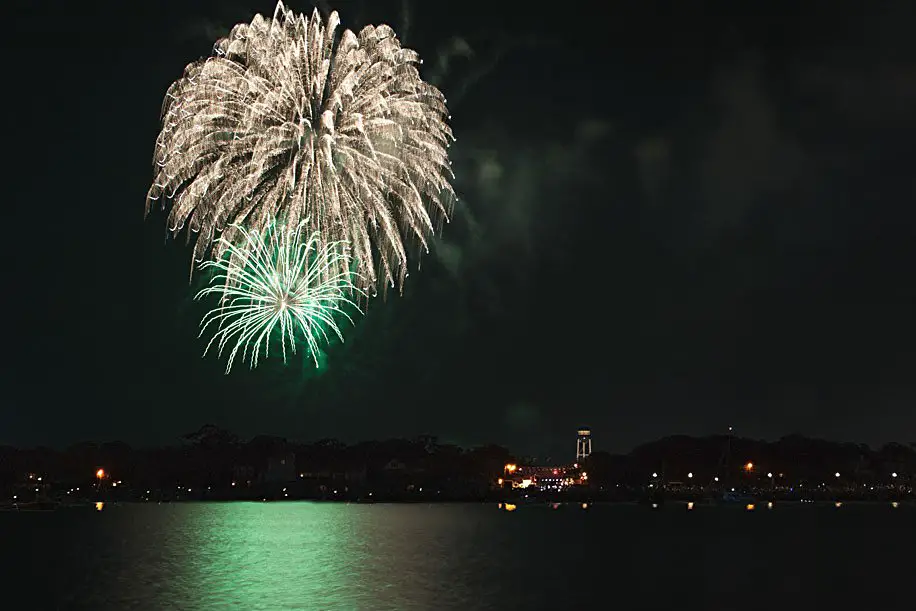 OUR LOCAL TIPS:
Last but not least, as local residents of Southport, NC we personally take off from work as professional photographers each year on the 4th! Even though we have a huge request to fill this date, it's a celebration our hearts truly adore and we never want to miss.
Some tips from us would be to:
-Wear Comfy Shoes
-Carry Bottled Water (lots of cold water)
-Wear Sunscreen
-Wear Bugspray
-Wear Sunglasses
-Wear Sunprotection
-Carry Small Amounts of Cash, as some vendors don't accept Credit Cards
-Be alert of your surroundings, watch for traffic/drivers who may be distracted by the events.
-Remember to slow down. In the South everything's a little Slower here and we love every moment of it.
-Take a moment away from the route to enjoy our side streets, wander throughout our proudly decorated homes that adorn our sidewalks of red, white, and blue!
-Be Nice….that's right….just simply Be Nice, Be Slow, Live in the Moment.
Enjoy your visit here in our Sweet Town of Southport, NC and Welcome to Paradise our Sweetest Southport!
Other Fun Area Coastal Towns to Enjoy Include: Ocean Isle Beach, NC, Bald Head Island, NC and Holden Beach, NC
Happy Fourth to You and Yours!
(Curious, have you enjoyed the 4th here in Southport? Leave a comment below…I'd love to hear from ya!)