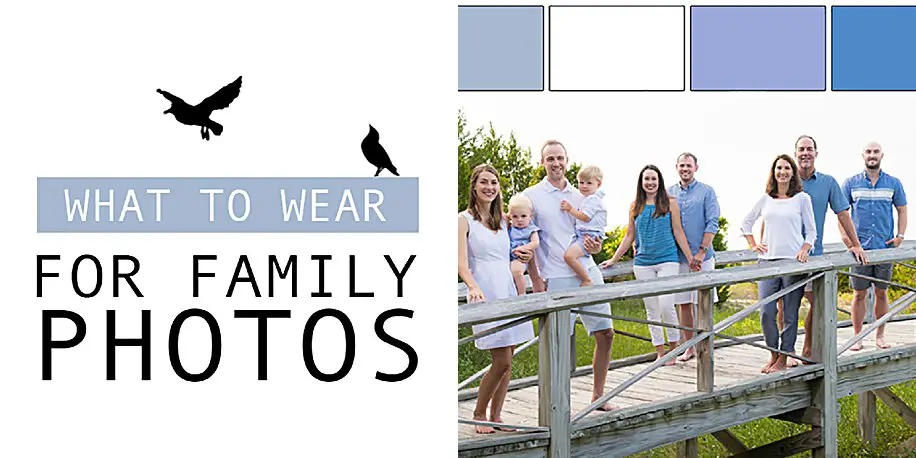 So you've booked the photographer, you've gotten all of your family members on board, and you are all set for your upcoming Family Portrait Session!
….almost set, you just realized you have no idea What to Wear for your Family Photos!
As Oak Island NC professional photographers, this is our number one question from our clients.
A perfectly good question because trying to coordinate multiple outfits can be quite the challenge.
No worries at all, we've got you covered…grab a cup of coffee and our favorite inspirations on:
What to Wear for Family Photos
First let me say, I'm am not a fashionista by any means!
What I do know are colors and patterns that are pleasing to the locations we create our magic within.
My first word of advice is please be yourself.
For instance, say you are a relaxed free flowing person however you see the classic beach picture with everyone wearing perfect pressed khaki pants and white shirts buttoned up to their chin. That's the classic beach portrait look, so that's what you should go with….right?? WRONG, oh so Wrong! If that's you, then yes by all means go with the classic tan/white look. However if it's not you, then please think about what you love and just go a bit milder with that vision. Milder meaning you'll need to flow with the others within your session.
In addition to your clothing choices, think about stylish hats to keep hair in place, flowy wraps, and if you book your session during the chilly months think about bringing a pretty sweater or jacket. Don't forget hair ties and clips for breezy hair. Bringing in a bit of BOHO is also a fun flowy feel.
Want more inspiration? Great…keep on reading and enjoy our inspirations!
WHY COLOR CHOICE IS IMPORTANT
Color choice is important simply because you don't want to look back on your family pictures and wish you had worn something else. Trust me, you don't want "Junior" to wear his graphic tee making the statement of his favorite band for all to see. Choosing colors or neutrals that flow and are pleasing to one's eye is very important, while at the same time making everyone happy with their color of choice.
THOUGHTS TO THINK ABOUT
Some thoughts we like to tell our clients to think about are the following:
-Will these photos be hanging upon your wall?
If so, you'll want to think about what will flow within your home and/or homes.
-What type of personalities do you and your family have?
are you all formal, traditional, free flowing, fun, crazy, loving, or relax and laid back?
-Are there colors that you just absolutely can not do?
if so, then please avoid that color…you'll look back and to regret it.
-Are there colors that you just absolutely love?
if so, then try your best to bring those colors in your photo session.
FUN FACTS ABOUT COLORS:
Colors and tones can affect one's spirit, mind and soul greatly.
Here are some interesting meanings behind colors:
WHITE
-PURENESS, A SENSE OF SPACE & NATURALNESS
BLACK
-STRENGTH, POWER & MOURNING
PINK
-ROMANCE, LOVE & CALMING
BROWN
-NATURALIST, WARMTH & COMFORT
BLUE
-FOCUSED, CALMNESS & WISDOM
PURPLE
-SPIRITUAL, MYSTERIOUS & EXOTIC
GREEN
-GROWTH, TRANQUIL & WEALTH
YELLOW
-HAPPY, CHEERFUL & WARMTH
ORANGE
-CHANGE, HAVING ENERGY & ENTHUSIASM
RED
-LOVE, INTENSITY & EXCITEMENT
GRAY
-TIMELESS, PTRACTICAL & NEUTRAL
Now that you know all about the colors of the rainbow, let's take a look at some photo shoot inspirations of color that we love!
FREE FLOWING:
Simply being yourself! Notice the flowy simplicity of the white dresses, the little one's bit of whimsy with her pink tutu dress, a pop of color and nothing is too "matchy matchy"
This Bald Head Island, NC Session enjoyed the "Free Flowing Look"
WHITE & KHAKI:
If you enjoy the look of white and khaki, we love how this family brought in the two colors without being "matchy matchy"
Notice how the white dresses, pants and shorts are a mixture of tans and whites on both top and bottom.
This is much more pleasing to one's eye verses everyone doing white tops with khaki bottoms.
This Ocean Isle Beach, NC Session enjoyed the "White & Khaki Look"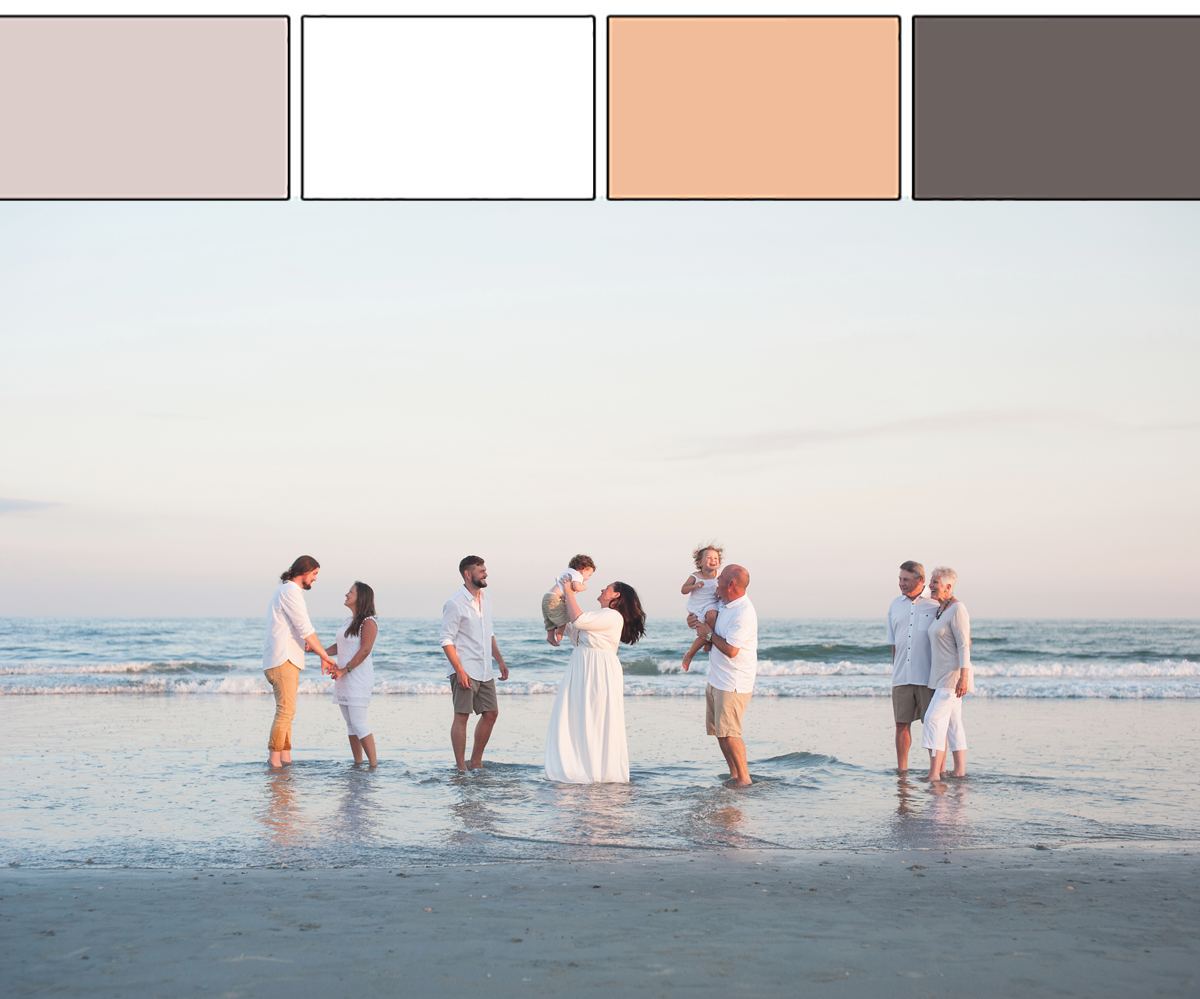 WHITE & BLUES:
White and Blues have forever been a popular classic family picture look.
We love how this family enjoyed bringing in chambray blues, alongside the simplicity of white.
Once again this has been accomplished with a mixture of white dresses, pants, and shorts without being too "matchy matchy"
This Bald Head Island, NC Session enjoyed the "White & Blues Look"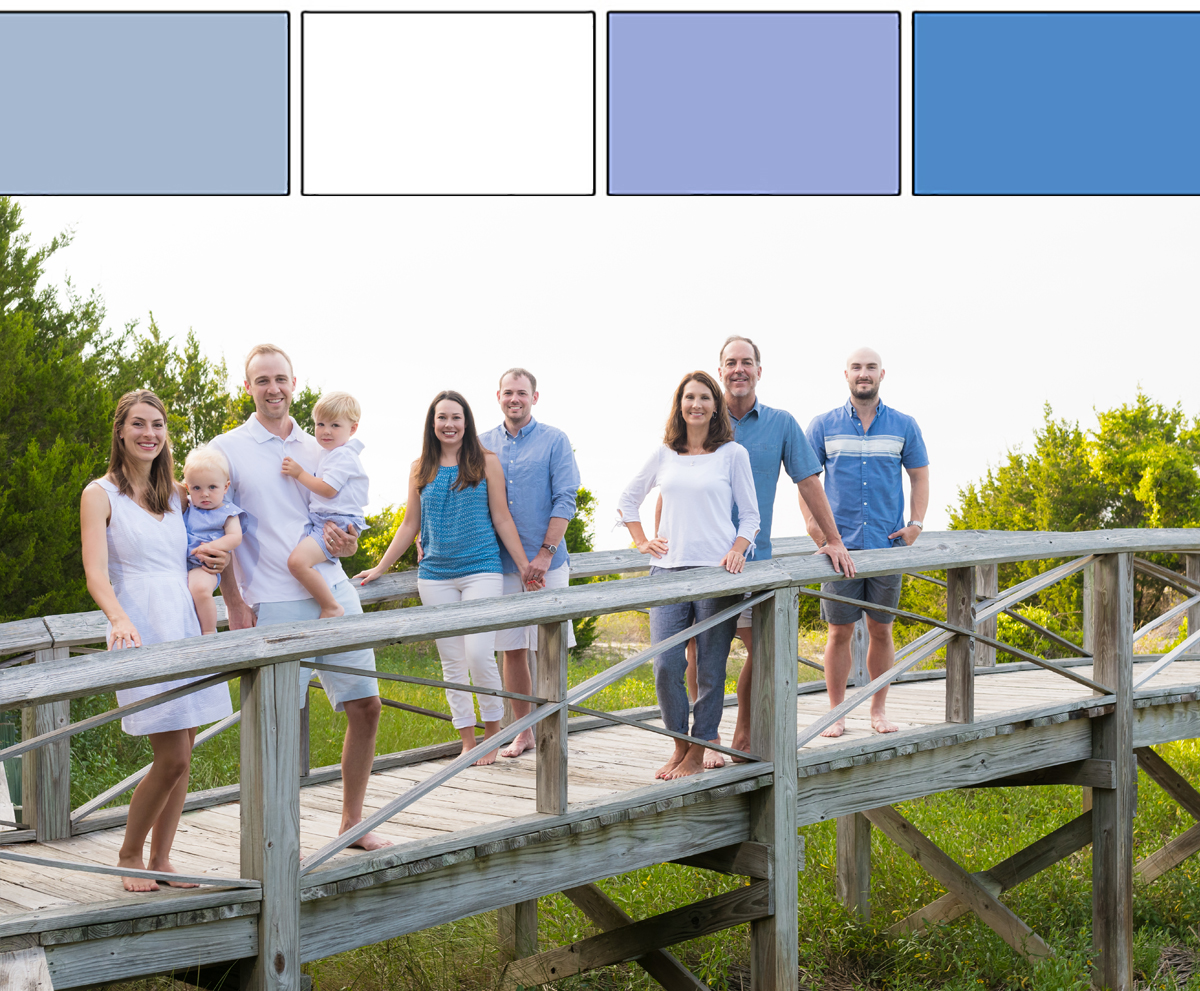 PASTEL:
Oh the sweetness of pastels!
Pastels are very soothing to one's eye, they provide a sweet, calm, soft look.
We enjoyed how this family decided to bring a floral printed dress in. It's a large pattern, yet with having only one large patterned dress it's very pleasing to one's eye. They also added cute little hair clips for the girls, which is a really nice touch as well as keeping the hair out of their eyes.
This darling family matched their little girl's pink dresses and added a cute lil' hat for their son without being too "matchy matchy" by all. This Oak Island, NC Session enjoyed the "Pastel Look"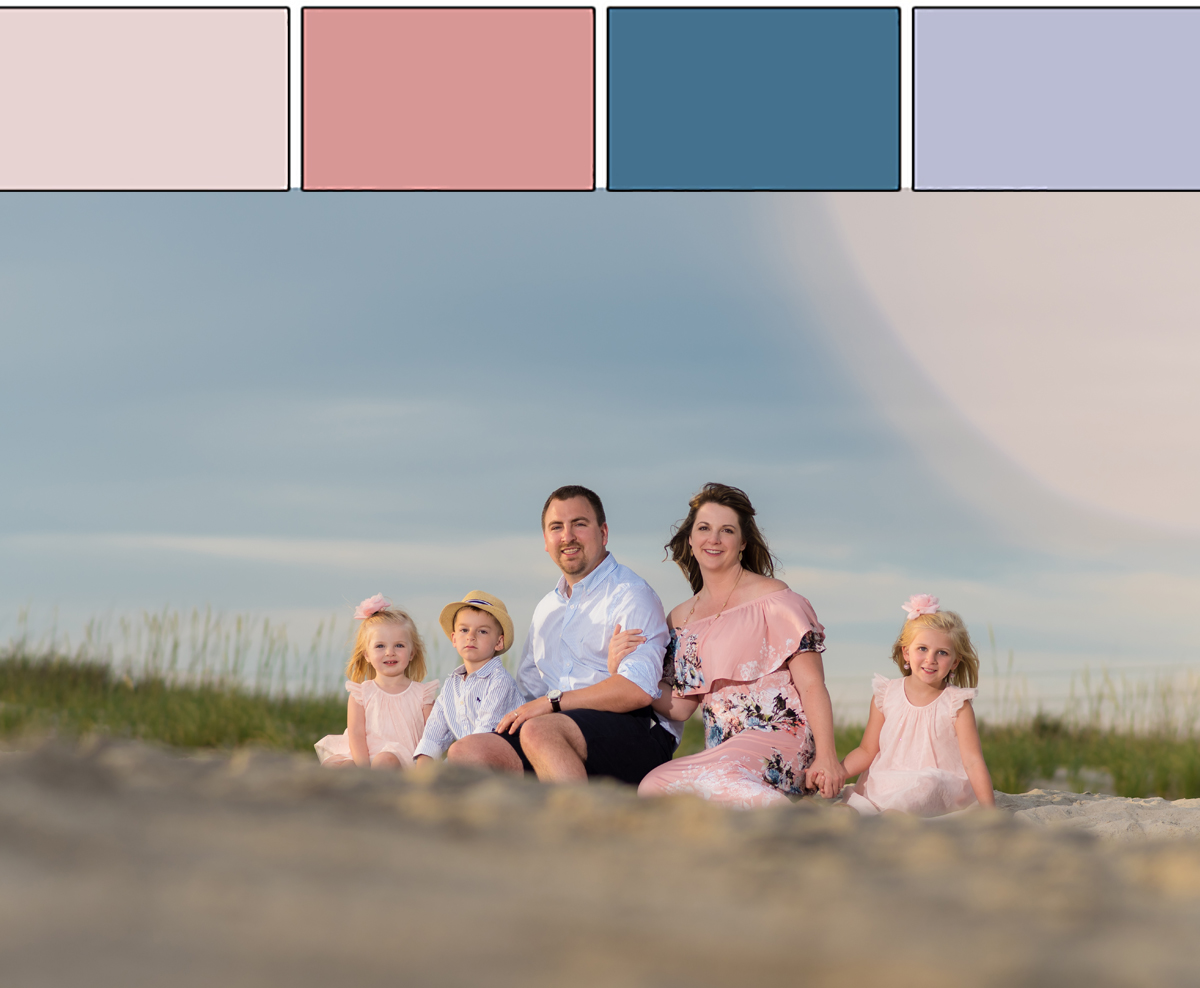 BRIGHT COLORS:
…boom, a POP of Color!
Pops of color are very cheerful, full of happy and fun!
We enjoyed the fun vibes this family decided to bring into their family photo session outfits!
They decided to match their little girl's dresses, however the entire family made sure not to go too "matchy matchy"
This Bald Head Island, NC Session enjoyed the "Bright Colors Look"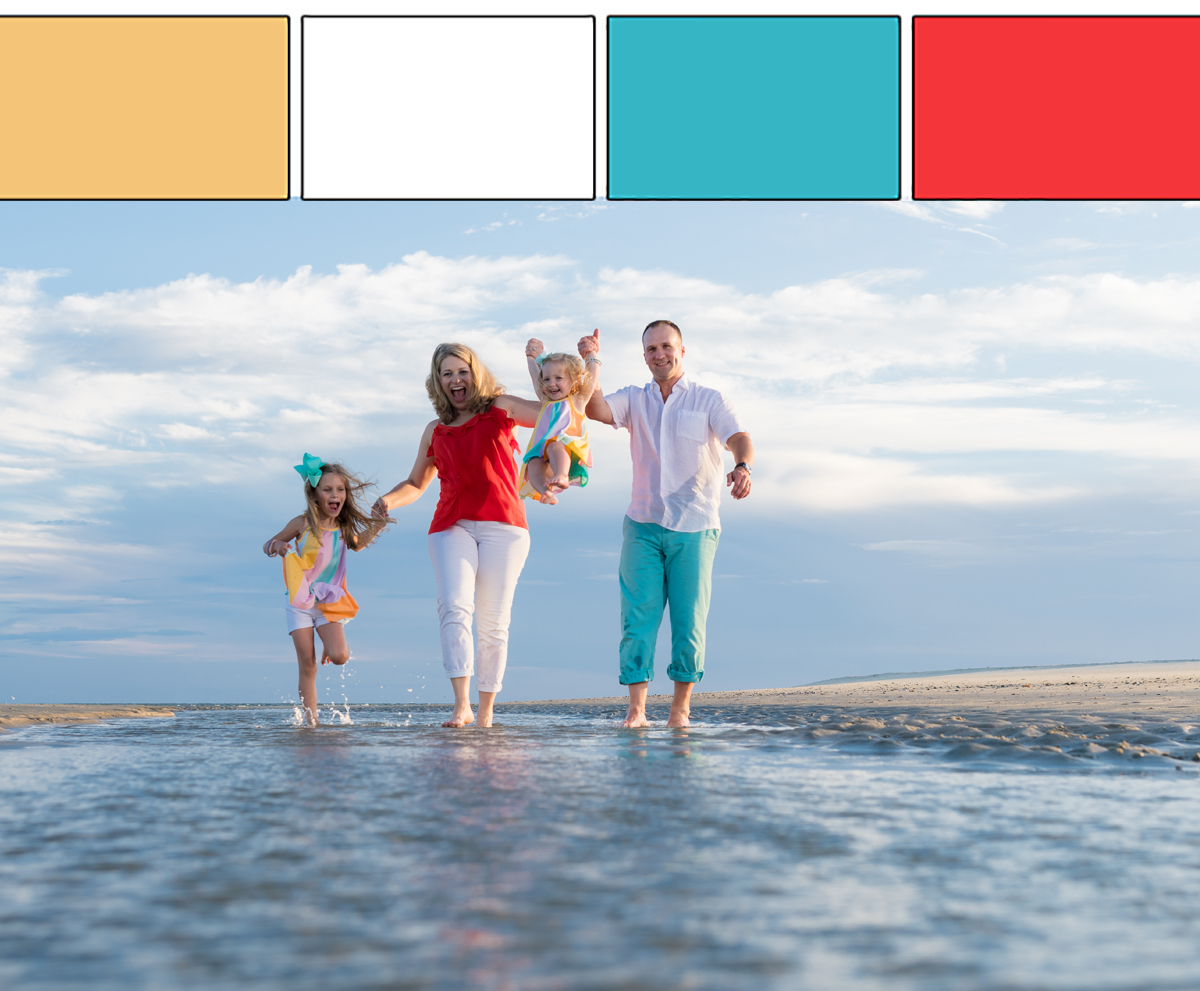 CORAL & KHAKI:
Coral and Khaki are two beach lovers favorites!
There's just something "beachy" about the two together.
We love how this cute family of three brought in their colors within their son's cute plaid shirt!
This Oak Island, NC Session enjoyed the "Coral Khaki Look"
PURPLE & PRINTS:
Purple and prints are oh so beautiful!
This look to us provides a nice contrast of color to the sand as well as providing beautiful almost timeless type of prints within the twin's dresses.
This is an elegant yet casual look and we simply adore it! We love how this family dressed their twin little girls in matching dresses without being "matchy matchy"
This Oak Island, NC Session enjoyed the "Purple & Prints Look"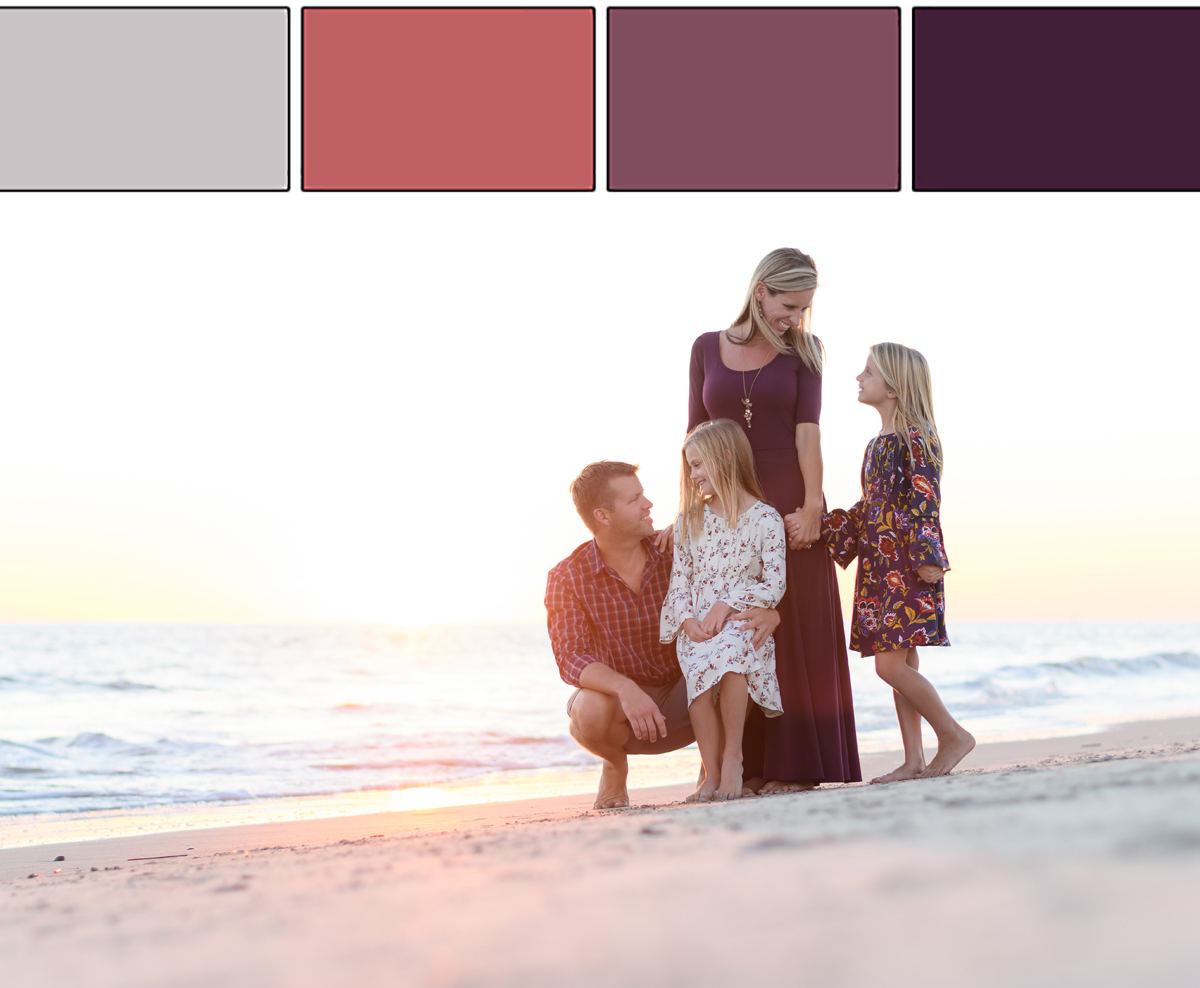 As you can see there are so many beautiful choices to choose from while planning for your family photo portrait sessions. The most important thing of all is to simply ENJOY your family photos! From start to finish, this should be a fun, memorable time for you and your family. Try not to stress over finding the perfect outfits, start your inspiration by looking within your own closet.
If you still aren't finding what your heart desires, then start by browsing online for outfits. Many times stores will offer a return shipping for free.
If you are a Teen Senior and Wondering What to Wear….don't worry, I got ya covered!
I am a professional Oak Island NC Senior Photographer 
Head on Over to my What to Wear For Senior Photography Blog
Feel free to leave us any questions in the comments
Thank you for enjoying my Blog!
I sure do appreciate it and would love to hear from you in the comments!
Peace, Love, and Simple Living Friends!
~Erin