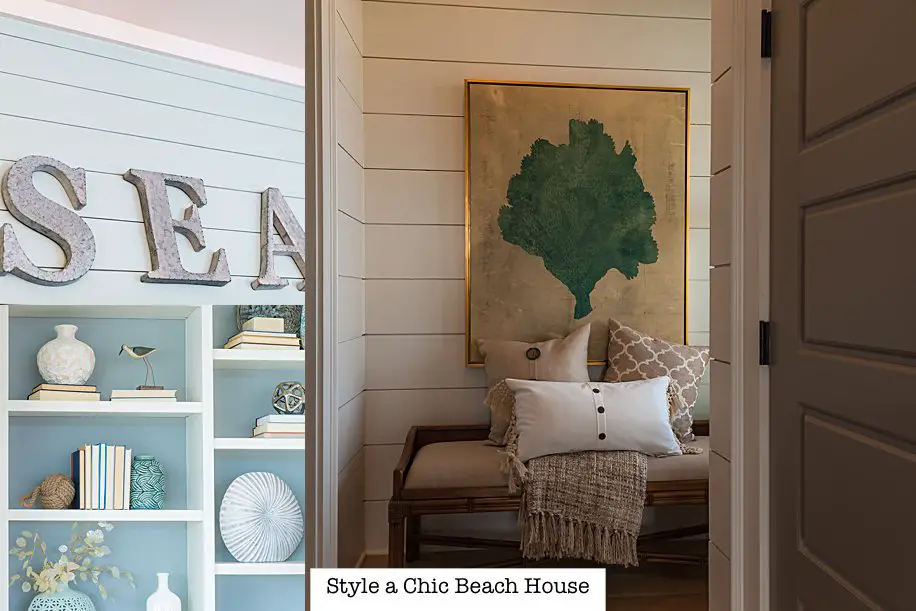 Have you just returned from dreamy vacation all while staying within the most gorgeous of beach houses? Or just maybe you have just purchased the coastal home of your dreams!
You are landing upon your favorite Pinterest boards on How to Style a Chic Beach House, and pinning away! We hope we were one of your favorite Pins providing Coastal Details for your Chic Beach House.
We've included some helpful inspirational tips to create the perfect home for any beach lover.
How to Style a Chic Beach House with Coastal Details
a few easy tips to bring in a coastal vibe to your home…
COLOR
Let's first talk about coast beach colors.
Most beach homes start with a base of neutral tones which include white, beige, creams and grays.
There after a color is chosen which is typically either a pop of bright colors like coral and turquoise or may also be the calming colors like an ocean blue.
These colors can be brought in upon painted walls or even on cabinet colors.
Another fun option is to add patterns with paint, such as bold coastal colored stripes!

DECOR
Chic Beach House Decor comes in a variety of shapes and sizes.
An easy way is to create a bookshelf decorated with coastal decor.
Think about adding vases, sea birds, books, coastal knot balls, and seashells.
Pillows like this "Happy Place Pillow" are also a fun favorite among beach lovers, adding a phrase will make your heart smile.
Don't be afraid of going Big & Bold with your beach decor by adding a coastal word or phrase to your wall! It's an easy way to instantly add that beachy/coastal vibe to your home.
Mirrors within your home not only add a sense of having more space, almost an illusion of a window, it also creates a very clean vibe.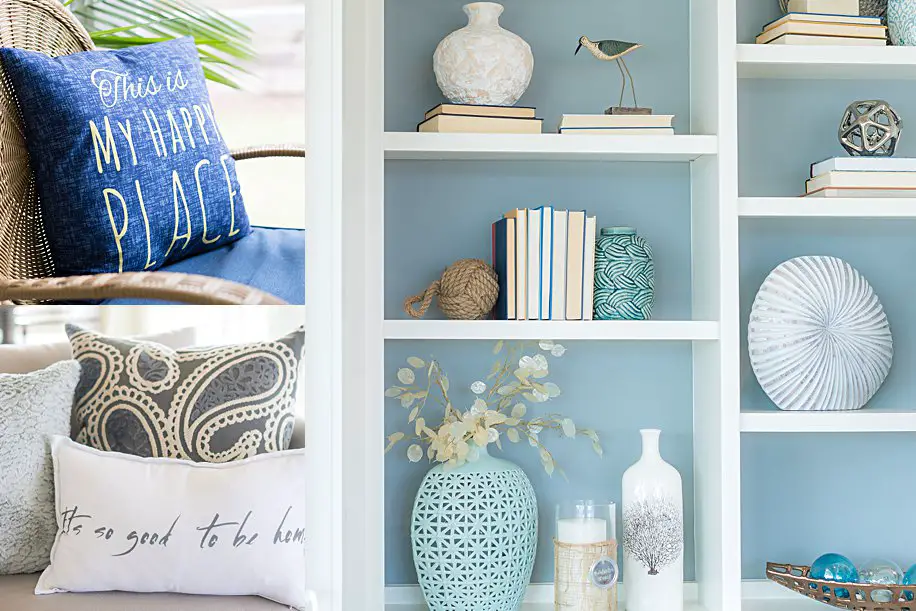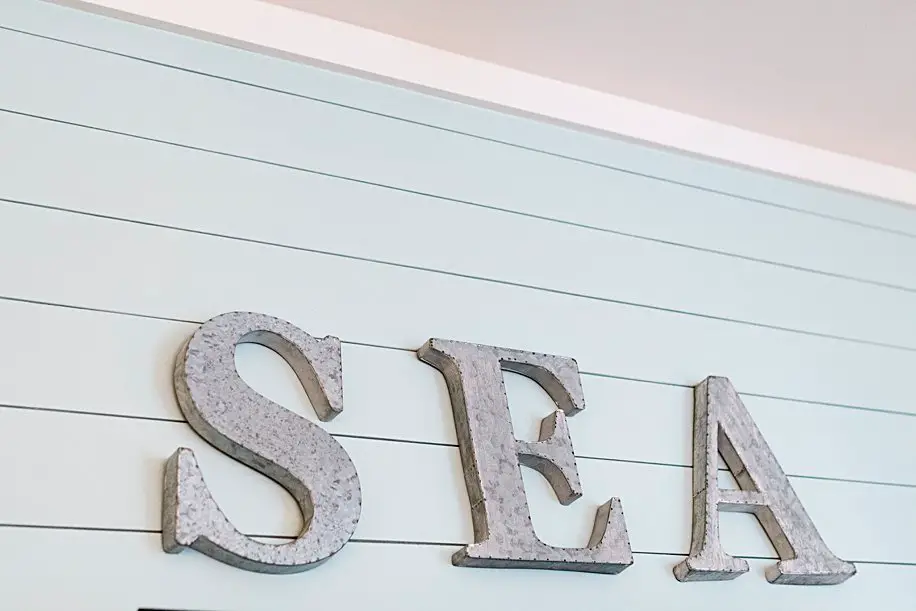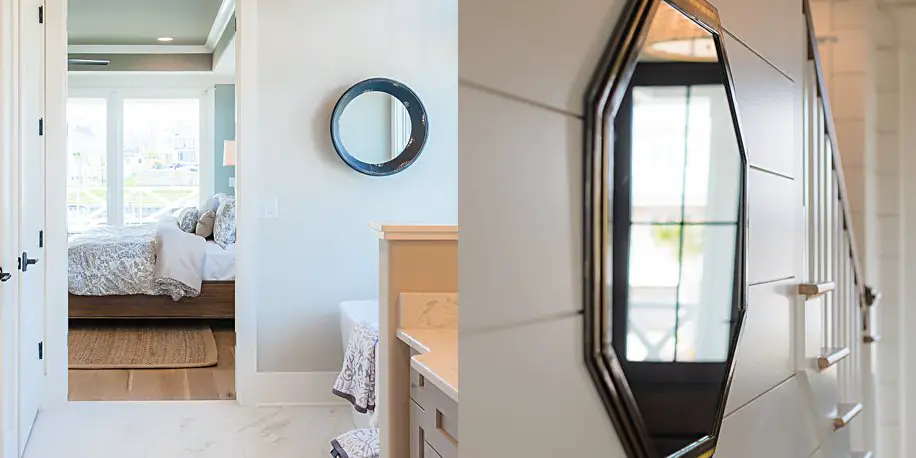 TILE | FLOORING | TEXTURES
There's just something about "spa-like" bathrooms.
The calming sea like tones have a way of creating a sense of calm.
A beautiful way to bring in these colors is by adding floor and wall tiles.
Ask yourself if you enjoy the look of a simple white and black tile or a bright blue pop of color.
Do you like a smooth or ripple of texture?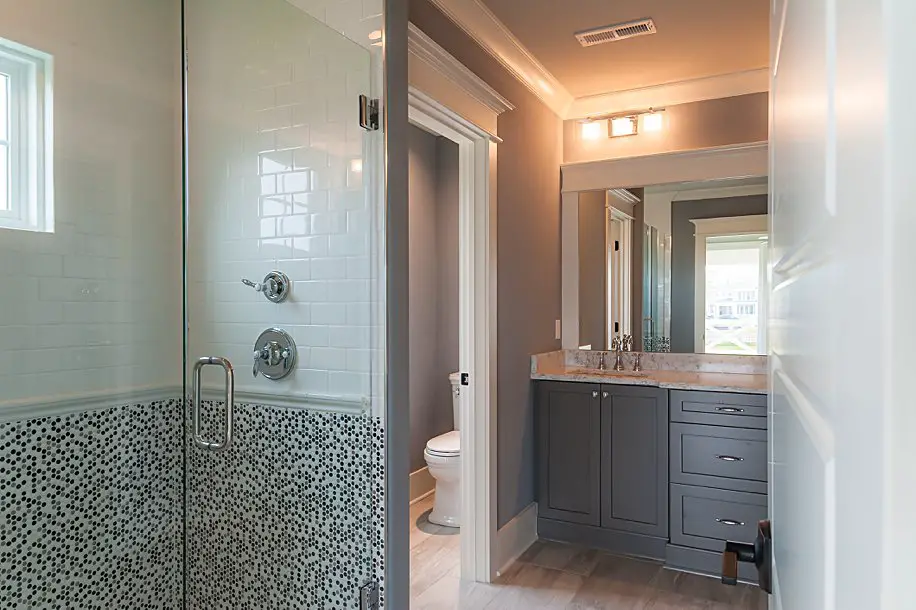 FIXTURES
Many time fixtures are the forgotten ones, however they are so very important within your chic beach house! Door knobs, handles, and faucets are all used upon a daily basis! There are many options, from the simplest of black iron to a bright blue pop of sea glass.
Chrome, Nickel, Glass, Brass, and Bronze are popularly offered in many styles.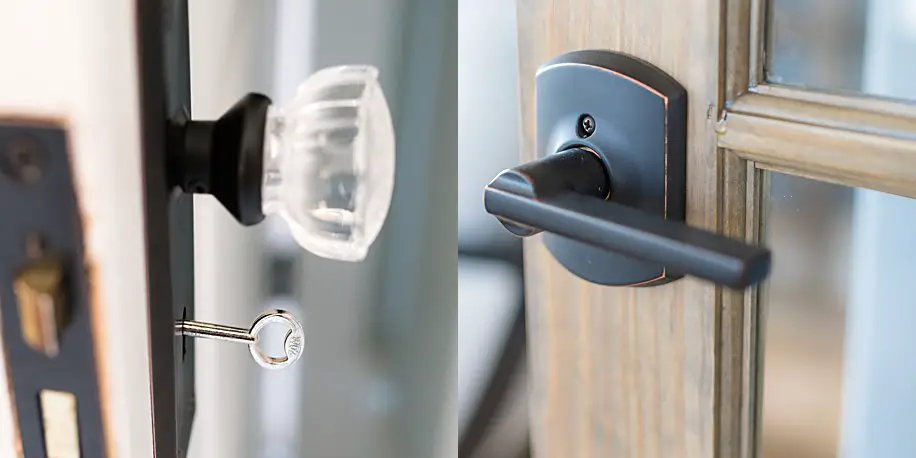 WOOD TRIM AND CRAFTSMANSHIP
Wood trim around your windows can add a great deal of character within your home.
Trim can create an instant picture frame around the beauty of nature your eye looks out to from the window within your home. Are you looking through to a sea of waves or are you looking through to a sky full of cotton candy clouds? Whatever you are looking through to, frame your picture with a beautiful style of trim. Wood doesn't end around your windows, adding it to your walls can create a beautiful simple yet stunning statement piece within your home.
Try Shiplap for a timeless look!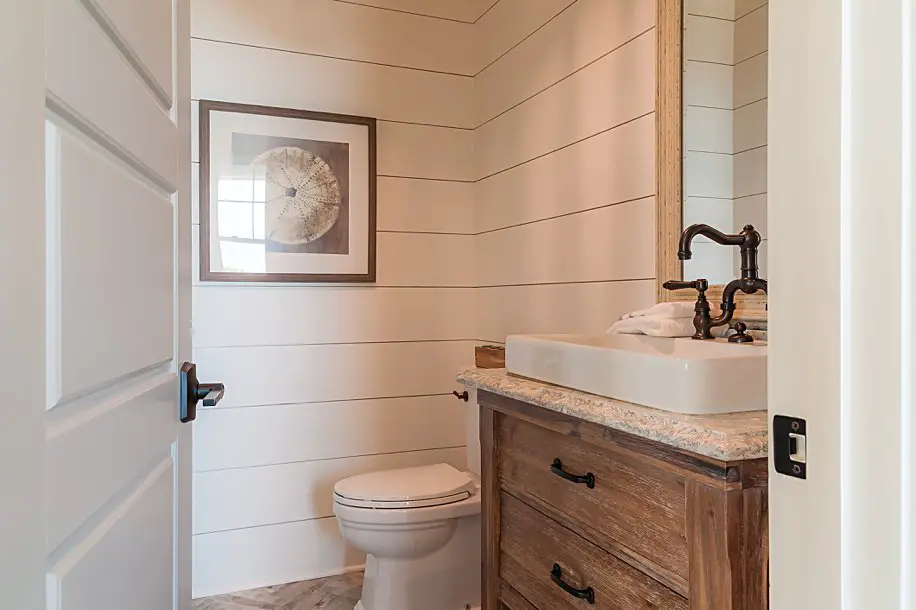 NOOKS
Peaceful calming nooks within your home can be the difference between the feeling of a house and a home. A house is simply just a house, but create little nook spaces within your home can simply make your heart feel "at home in your happy place."
Use pillows, cushions, and even benches to create these little nooks.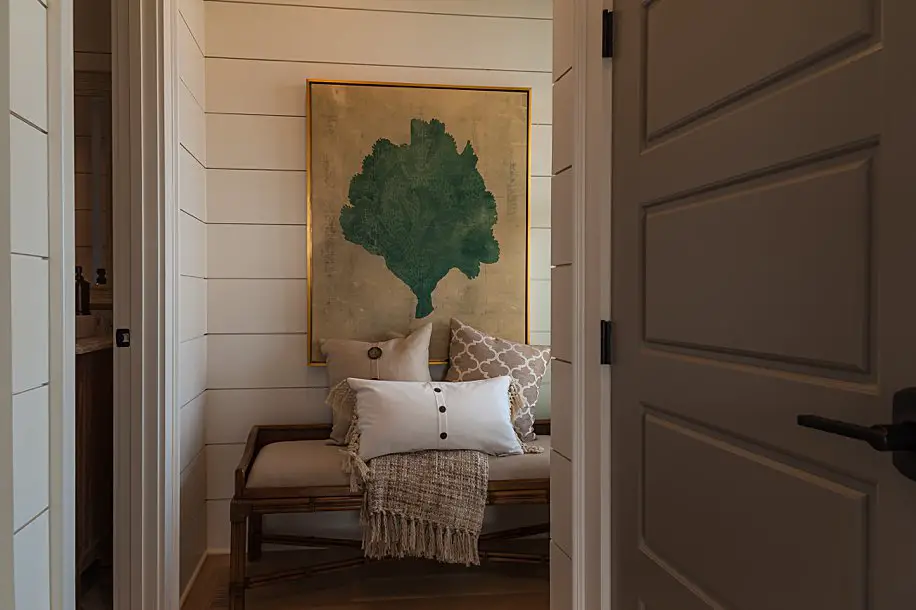 OUTDOOR SPACES
Last but not least, don't forget the outdoor spaces within your chic beach house!
Rocking Chairs placed upon your front porch create a welcoming feel.
Rocking chairs sooth our souls and create a sense of calm as we rock our day away.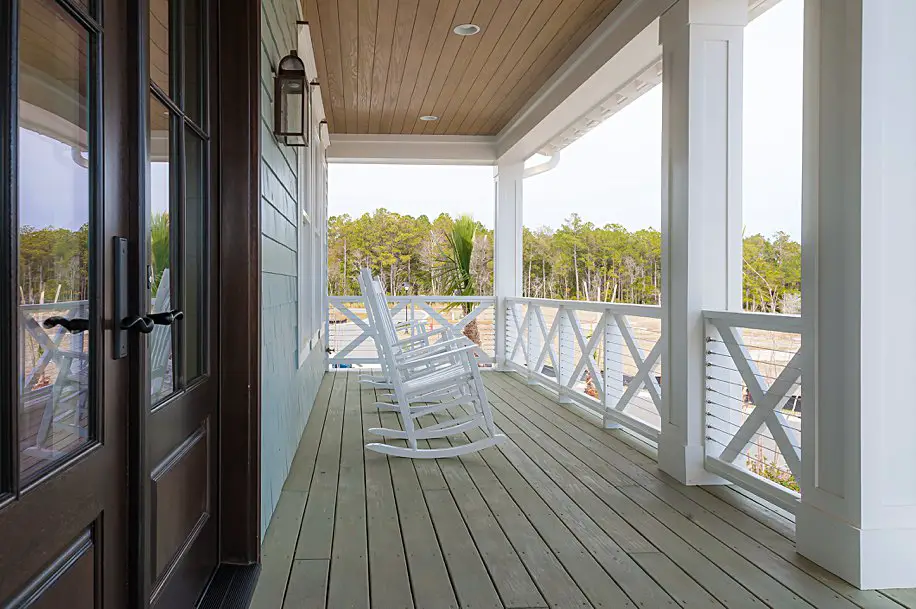 We hope this blog has brought a bit of inspiration your way to create the chic beach house of your dreams! Have you created your own beach house? We'd love to hear all about it in a comment below!
Thank you for enjoying my Blog!
I sure do appreciate it and would love to hear from you in the comments!
Peace, Love, and Simple Living Friends!
~Erin