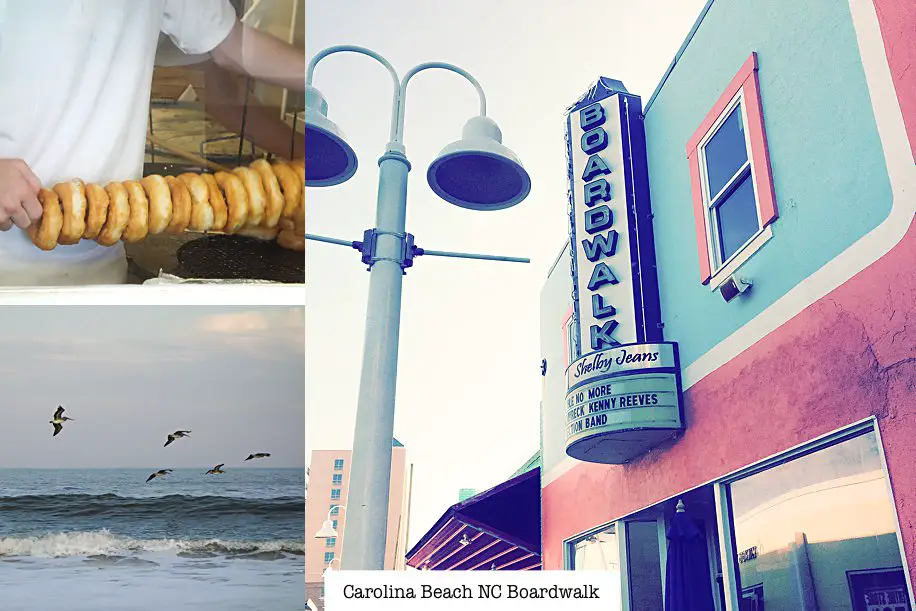 Things to do in Carolina Beach NC include the famous Britt's Donuts located on the Carolina Beach NC Boardwalk! After a day of fun in the sun on the beach, the Carolina Beach NC Boardwalk is the perfect place to be with fun filled things to do! Awarded by Food & Wine magazine as one of the top 10 boardwalks in America, this vintage style boardwalk is full of shops, carnival rides and of course the raved Britt's Donuts! No trip to Carolina Beach NC is complete without a visit to Britt's Donuts as you walk along the fun filled Carolina Beach NC Boardwalk! Join us for a magical walk through this classic styled boardwalk with 5 fun things to do!
HISTORY OF CAROLINA BEACH, NC:
A brief history of Carolina Beach, North Carolina.
In the year of 1887 the first hotel was established which was named Bryan's Oceanic Hotel. Thereafter several other businesses like a grocery store, bowling alley and a billard hall were developed. Growth for the island remained at a slow growing pace until the year of 1929 when the Grand Ocean View Hotel was built which would soon include a wooden boarded walkway leading out the beautiful beach.
By the 1940's Carolina Beach, NC was the popular spot to be! The 1970's and 80's continued to bring vacationers from far and near even though there was a slight slowdown within the economy. The 90's brought new businesses, more visitors, and start of revitalizing the boardwalk. Carolina Beach, NC continues to be a favorite destination for vacationers and locals! Here we share our just a few of our favorite 4 things to do while visiting Carolina Beach, North Carolina. Furthermore you can learn more about Carolina Beach in this Lovely North Carolina Beaches Book & pick up a Cute Carolina Beach Tee!
Things to do | Britt's Donuts | Carolina Beach NC Boardwalk
BRITT'S DONUTS:
Oh the beloved Britt's Donuts!
Fans of the scrumptious melt in your mouth rings of sweetness will stand in line for hours waiting to fill their tummies! Established in 1939 by Harvey Britt; this donut shop has forever been a long standing tradition for all who visit the Carolina Beach NC Boardwalk.
This nostalgic donut shop nestled within a garage type feel along the Carolina Beach Boardwalk is one of the boardwalks oldest and most POPULAR establishments. In 1974 Britt's Donuts was purchased by Bobby and Maxine Nivens. Bobby had a heart-filled connection to this sweet little donut shop after working there as a teenage boy. It's been said that Mr. Nivens has consumed over 7,000 of his one of a kind glazed donuts since he purchased the shop in 1974.
The Donuts
Those one of a kind glazed donuts are just that; the donuts offered at Britt's are a glazed only warm donut. One would think offering only one kind of a donut would cease to leave fans coming back for more, however it's quite the opposite. Fans line up for blocks with cash in hand to purchase simple white bag filled warm glazed donuts. The secret recipe to this mouthful of pure goodness has been passed down for over 70 years and Mr. Niven's outlook is "Don't fix it if it isn't broke"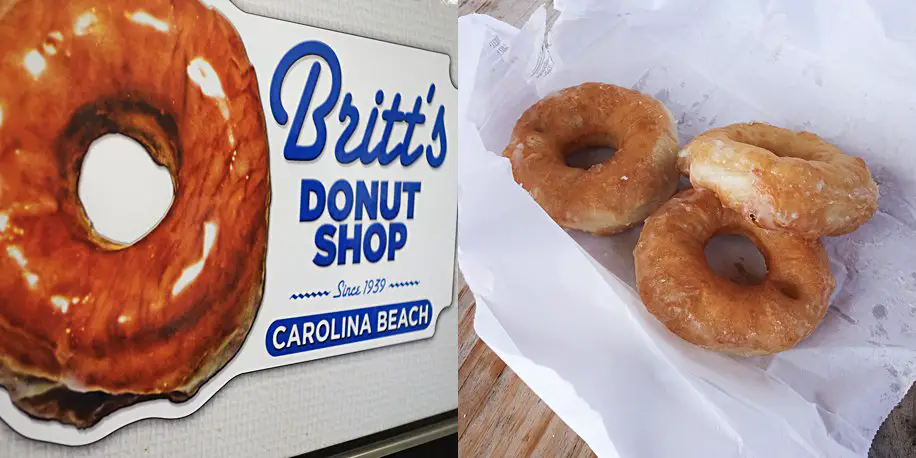 Important Britt's Tips
-Britt's is a Cash Only Shop, so don't forget to have a cute lil' donut backpack full of Cash!
-Hours of Britt's are seasonal, a simple phone call will provide you with a recording of their current hours (910) 707-0755
-You will find their location at 11 Carolina Beach Ave N, Carolina Beach, NC
-To much surprise there is even a Britt's Book!
-Britt's Donuts was featured as USA Today's 8th best boardwalk food in the Country!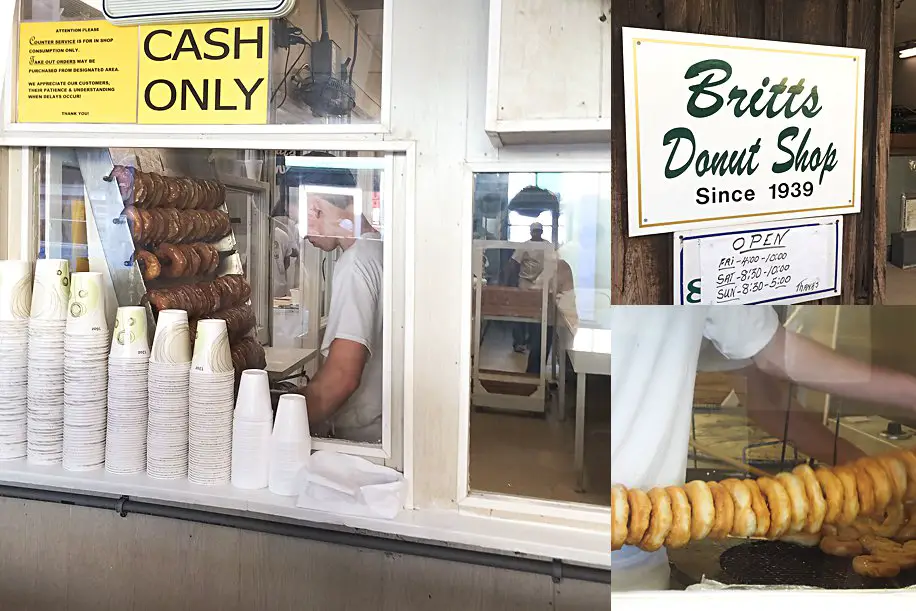 THE CAROLINA BEACH BOARDWALK
The Carolina Beach Boardwalk is one of the last boardwalks still standing along the EastCoast. The boardwalk is sandwiched by nostalgic sentiments of shops and the mystical waves of the ocean. Enjoy shopping for all of your beachy vibe needs, sip on a fruity-island drink, or savior your scrumptious Britt's Donut along your boarded walk of way.
Other Summertime fun you'll be sparkled with is the nightly ferris wheel ride high above the motion of fun below, carnival fried food, and on special nights the sky will be adored of fireworks! The Carolina Beach NC Boardwalk is surely a summertime visit you won't want to miss! You'll find the Carolina Beach Boardwalk located at Carolina Beach Ave. S & Harper Ave. Carolina Beach, NC 28428.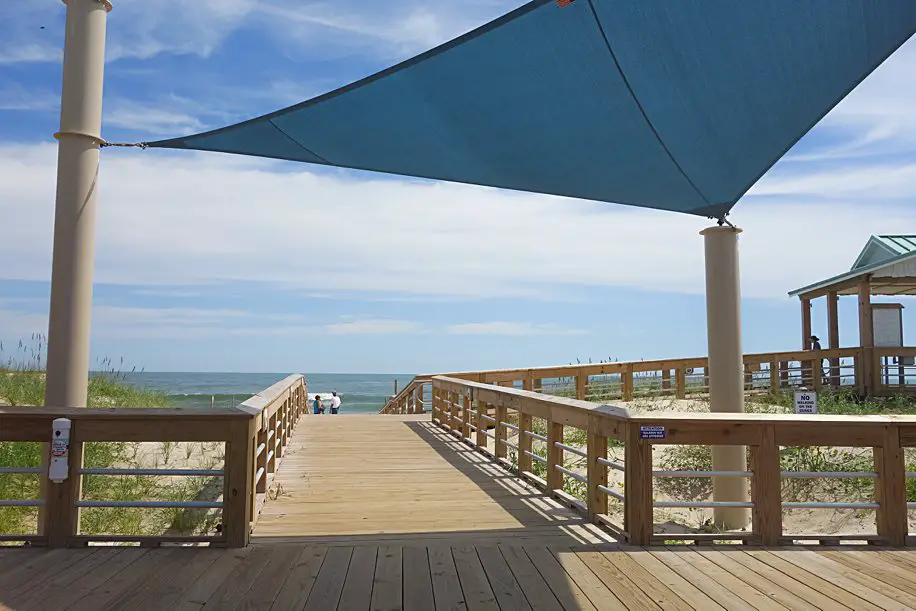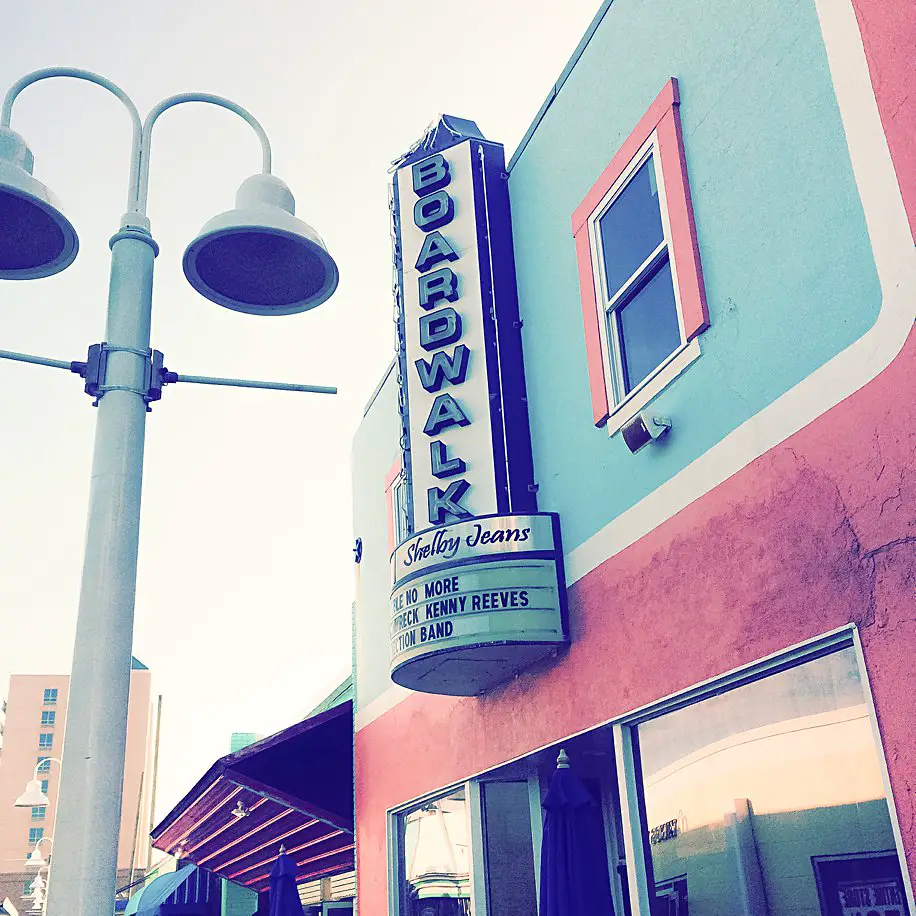 THE BEACH AT CAROLINA BEACH, NC
Next, we bring you the beach at Carolina Beach, NC! Carolina Beach is known for it's soft sand beneath your feet, wide coastline, gentle waves and life guarded safety.
Weather you enjoy sunbathing on a blanket of sand beneath your cozy beach towel, search for seaside treasures, or simply play within the playground of waves, the beach at Carolina Beach will provide you with a relaxing day to wash all your worries away as you watch the peaceful pelicans gracefully glide over the shoreline. The beach is the perfect place to play before retiring from your day in your beach house or nearby ocean front hotel.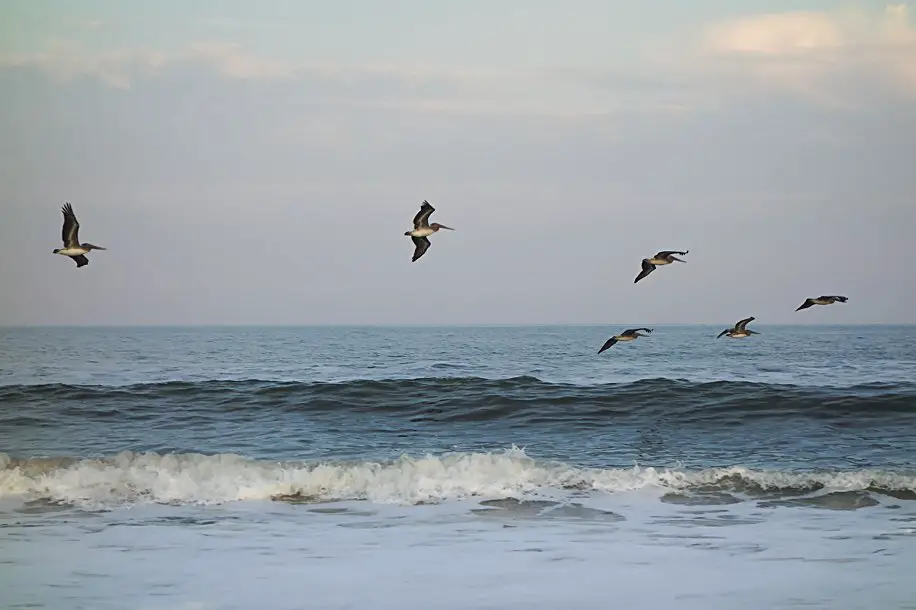 Helpful Beach Tips
-Parking is found at nearby pay stations.
-Public Restrooms can be found along the boardwalk
-Lifeguard season is from Memorial Day through Labor Day
-Remember a good quality sunscreen
-Sunglasses are a must while basking in the sun
-Sun hats provide sun protection, in addition to looking super cute!
Rules to Remember
-Alcohol and glass is not permitted on the beach
-Pets are allowed on the beach from November 1st through February 28th
-Please stay off the sand dunes because they are protected
-Personal items such as beach chairs, this very cool shelter umbrella, and beach toys should be removed at sunset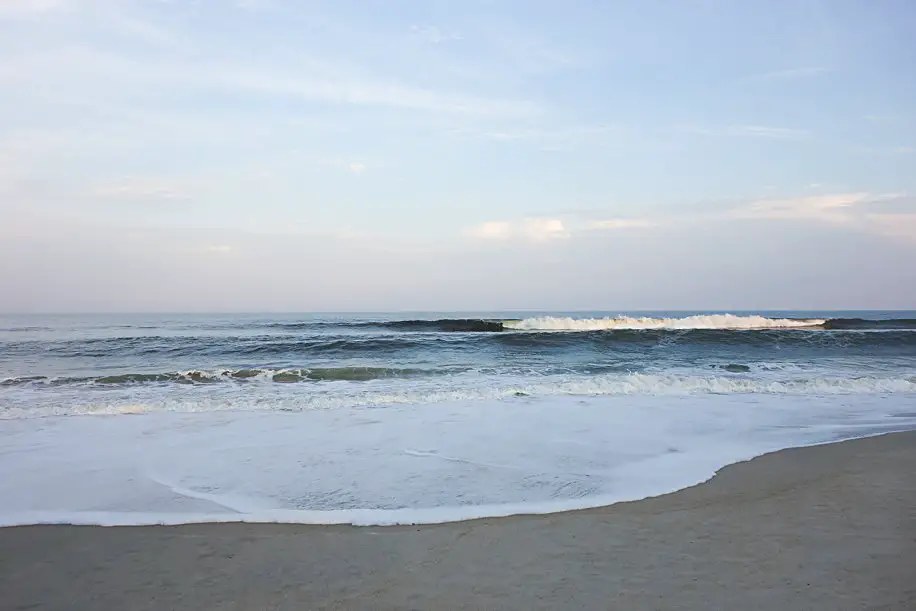 VACATION BEACH HOMES
Where will you stay while visiting Carolina Beach, NC? Does your family enjoy living amongst one another, then maybe a beach home will suite your needs.
Or does your family or group of friends enjoy retrieving back to a cozy time alone, then maybe an ocean front hotel or nearby motel will suite your needs!
Throughout Carolina Beach you will be provided with endless choices of beach homes. Tall beach homes, short beach homes, ocean front beach homes, or canal side homes.
Furthermore, rental Companies can be found online to help with your perfect vacation home.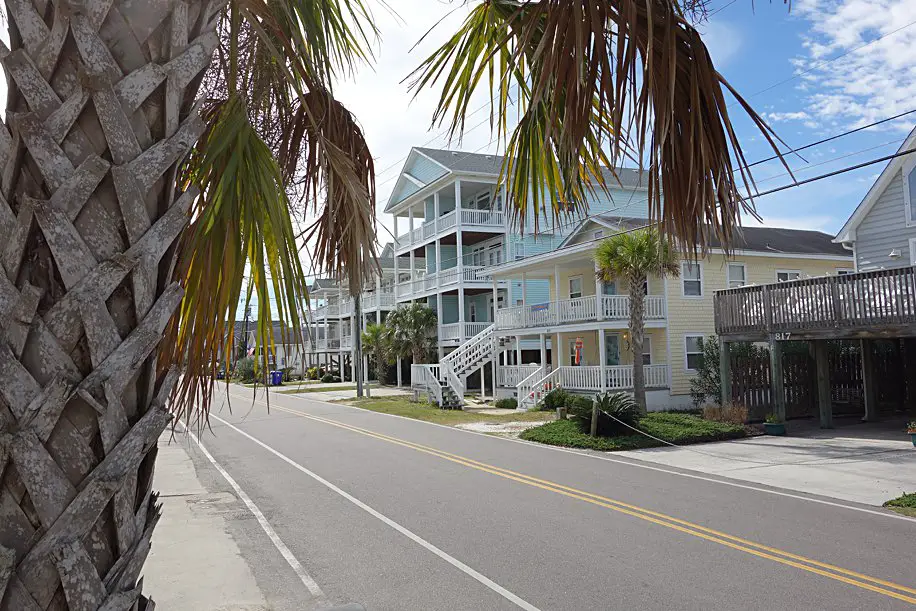 HOTELS AND MOTELS
Hotels and motels can also be found in Carolina Beach, NC however they aren't quite as plentiful as the vacation homes offered throughout. Probably one of our favorite Carolina Beach hotels is The Courtyard by Marriott, we've enjoyed many Carolina Beach Skyline Views due to their picture framing windows high above the island. This great hotel was host to us during many overnight stays throughout Our Story of Simplifying our Lifestyle. In addition, it's ocean front!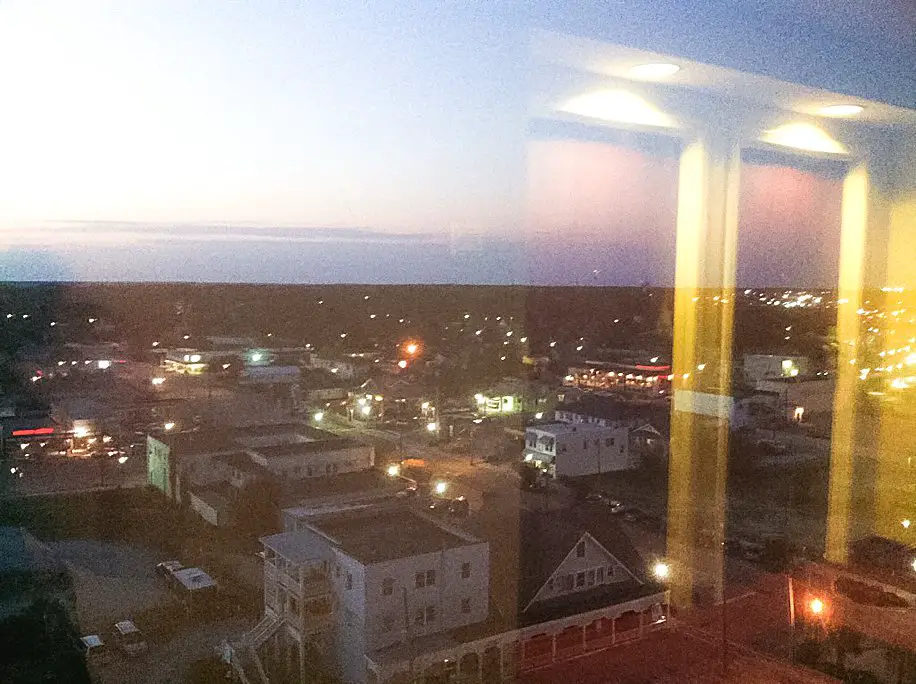 PHOTO SESSION ON THE BEACH
After you are fully refreshed from your fun in the sun, how about remembering your fun with a Beach Photo Session? There is no better way to remember your moments than with pictures.
Snapp-Shot Photography provides not only simply beautiful pictures; they also provide a photography experience! Snapp-Shot Photography are Carolina Beach NC Photographers specializing in portraits, senior pictures, and engagements! Check them out!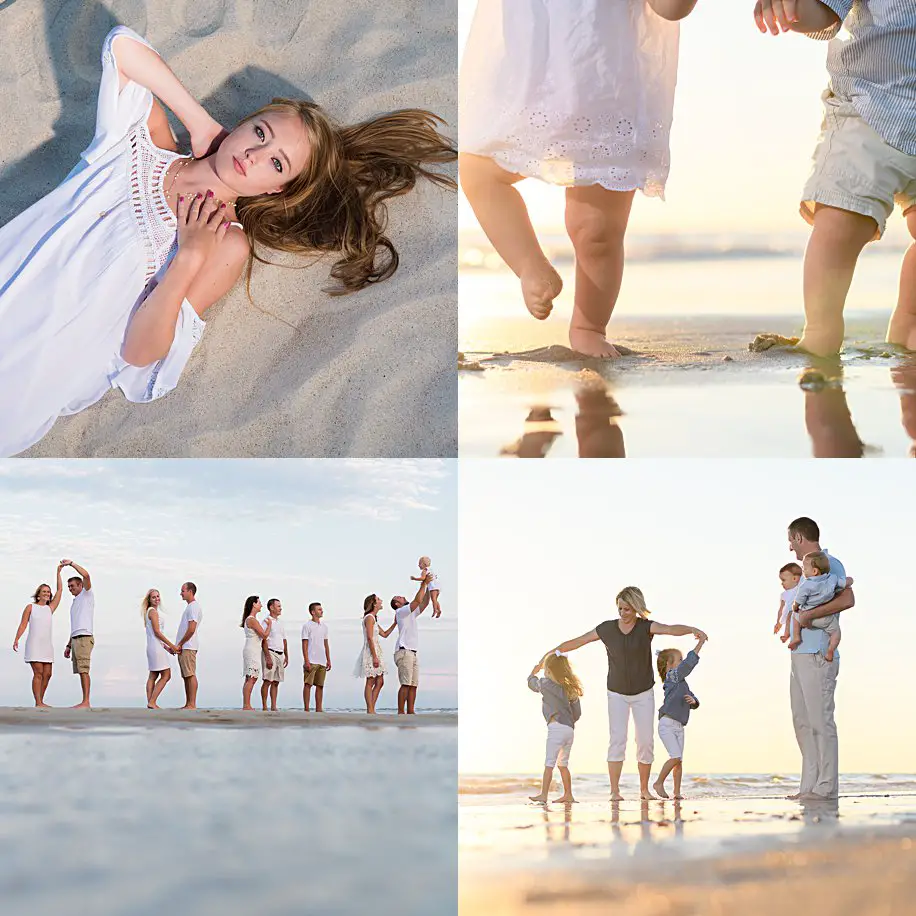 Fun Photo Session Tips
-Book in advance, photography sessions tend to fill up quickly
–Snapp-Shot Photography is "us" here's fun way to get to know more "About Us"
-Avoid sunburns prior to your photo session
-Shop for some beachy-vibe or boho fashion; it's always cool photo shoot fashion.
–Contacting Snapp-Shot Photography is Easy-Peasy!
We hope you've enjoyed these 5 Fun Things to do in Carolina Beach, NC!
If you have any questions, feel free to list them in the comments below! Also we would love to hear about things YOU LOVE in Carolina Beach NC!
Have you enjoyed Britt's? Do you love the Beach? How about the Boardwalk, what's your favorite boardwalk shop?
In conclusion, tell us all about it in a comment below!
Thank you for enjoying my Blog!
I sure do appreciate it and would love to hear from you in the comments!
Peace, Love, and Simple Living Friends!
~Erin