ARE YOU STUCK AT HOME QUARANTINED WITH NOTHING TO DO? OUR FAVE AFFORDABLE INDOOR & OUTDOOR GAMES EASILY PURCHASED ONLINE CAN DIMINISH THAT BOREDOM!
Affordable entertainment or things to do while quarantined at home with our fave indoor & outdoor games! Your first thought may be to purchase expensive video games, however that may or may not be practical during a time without income as much of society is shut down. No worries there are other ways to tackle that dull mind wandering boredom.
INDOOR BOREDOM BUSTERS
GOING BACK TO THE 80'S WITH THE CUBE:
I don't know about you, but I've personally have let my mind go back to childhood a bit during this Covid-19 Stay at Home Quarantine Issue. Back to the 80's where my mind would play brain-puzzles like the well known Rubik's Cube. Sitting for hours just trying to solve the darn thing. I remember I had a full size and the teeny tiny key chain one. Did I ever solve either? Well Ummmmm…NO.
This being said, now would be the perfect time to purchase another of my beloved 80's Cube!
In comes the Rubik's 2×2! I mean seriously? 2×2, how darn cute does that sound!
I couldn't resist this CUTIE! It now sits beside my chair in a bowl full of boredom busters for whenever that moment hits, I simply pick it up and attack that boredom!
Go on and Order a RUBIK'S 2X2 for Yourself, it's Super Cute and Super Inexpensive!
FLEXING THE BRAIN A BIT:
This little guy caught my attention. It reminded me a bit of my beloved Snake back in the 80's.
It's a very very simple little brain teaser, fidget type of toy/game. It's created with pretty clear plastic cubes which are all connected with an elastic type cord. Each cube has slits in it only allowing it to turn in the direction of the slit for the cord to lay. Included with the Flexi Puzzle is a little booklet full of puzzle challenges for your brain to flex a bit. I Love this little Puzzle!
Go On and Order Yourself a Flexi Puzzle Crystal The Bendy Stretchy Brain Teaser Game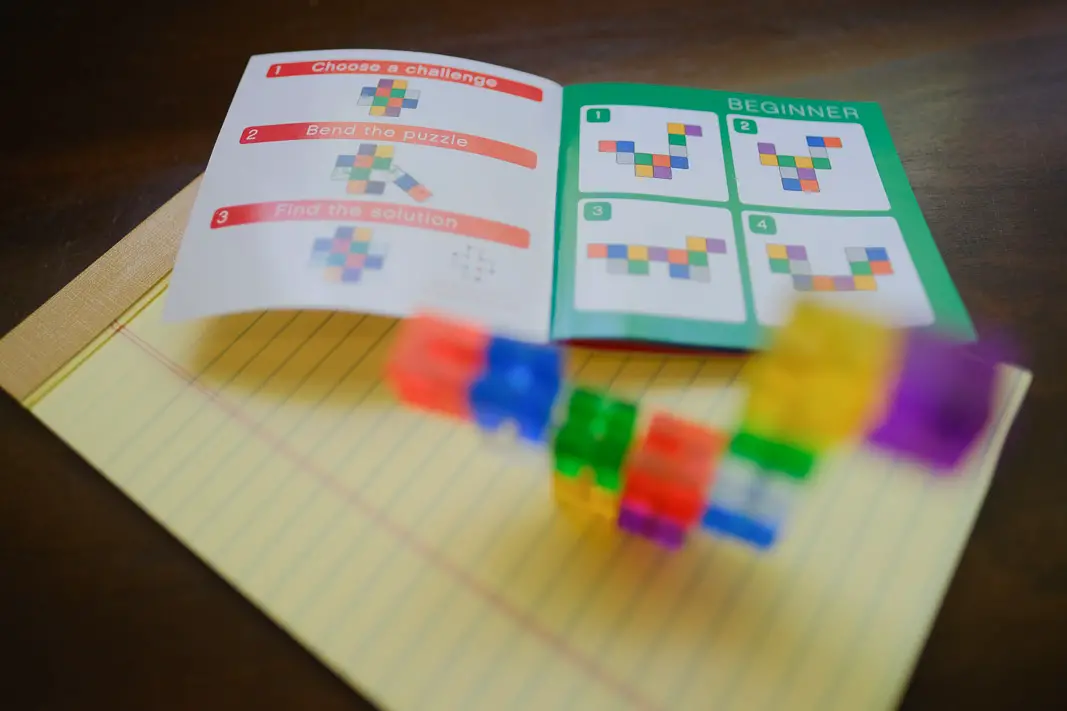 IS THAT A PUZZLE IN YOUR POCKET:
Well let me start off by saying, for anyone who knows us and/or follows our blog you know our cottage is named "The Pocket Cottage" and our garden "The Pocket Garden" soooooooo of course when my eyes set on this Puzzle named Pocket Puzzle, I would have to have it to call my own!
This cute little puzzle is very EASY! So younger ones would really enjoy this little one. It's much like the famous cube where you match all colors, you can also create a checkered pattern.
To me it also serves much like a fidget toy.
Go On and Get Yourself a QBoid The 1-2-3 Pocket Brain Teaser Puzzle
LETS DO THE TANGOE!
It's a Dance for your Brain!
Oh my goodness, these Tangoes are Super Duper Fun and Work Your Brain!
It's a compact box which is filled with two different colored plastic puzzles, one for you, one for your partner. It also contains cards which display a shape to create with your plastic puzzle pieces. A card is placed within the display box, you and your partner are at a race to see who can complete the shape first. A dog, a boat, etc. whatever your card displays is what you create. Such fun and so affordable!
Hurry and Buy Yourself a Classic Tangoes and/or Tangoes Brainiac (we bought one of each)
NOT YOUR ORDINARY DICE GAME:
For years people have been playing dice games, however this one is so unique!
It's a simple game which is filled with 15 dice with one of them being GOLD.
The object is to end up with the GOLD die, which is accomplished by taking either one, two, or three dice from the three piles. It challenges your brain to figure out how you may be the lucky one!
It's a game you can play anywhere and is fairly inexpensive.
Go On and Get Yourself a MOBI ULTIMO Strategy Game Dice Game
IT'S A CLASSIC:
Of course who doesn't love a classic card game?
It's funny, I always thought I would have a deck of cards in the house…yet somehow when I went to reach for a deck of cards to play Solitaire, my cards were gone! No worries, I was able to order a double deck of cards, which will be perfect for me to teach my hubby Corey to play a game of Double Solitaire.
Always Have a Deck of Cards On Hand Bicycle Standard Face Playing Cards
OUTDOOR BORDOM BUSTERS
CATCH LIKE A CRAB:
Who knew we could transform our hands into crab-like claw catchers!
Fundapop found a way to transform us! This is a super fun outdoor game that takes quite a bit of coordination. It's funny, when I watched the video of "little ones" playing the game, I thought to myself ohhhhh this will be so easy! Boy was I wrong. Apparently little ones can be like a crab much easier that the adult version of me! LOL. My hubby and I have shared many laughs with this one. So fun!
Go Get Yourself a Fündapop – Throw & Catch Sports Game 
GET A LITTLE BOUNCE IN YOUR BALL:
Bounce that ball on that mini trampoline in your hands! Yep, that's right folks, this awesome game provides a disc with a trampoline to bounce a koosh type ball on your mini trampoline.
This game provides exercise while staying safely within your own backyard!
We found Amazon has sold out of the two set, however they do still have: Four Set & Paddle Set
Speaking of Bouncing a Ball, I SIMPLY ADORE this little, but oh so mighty bounce mall.
It's called a Moon Ball by Waboba. Oh my goodness, who would have thought such a small little purchase could be so much FUN! Yes, I'm a grown adult who loves bouncing a ball, high, slow, fast and hearing the pop pop sound as it hits the surface. As you can see I bought one for me, and one for C (my hubby)
You can Purchase One for YourSelf at this Link on Amazon or Purchase a pack of two!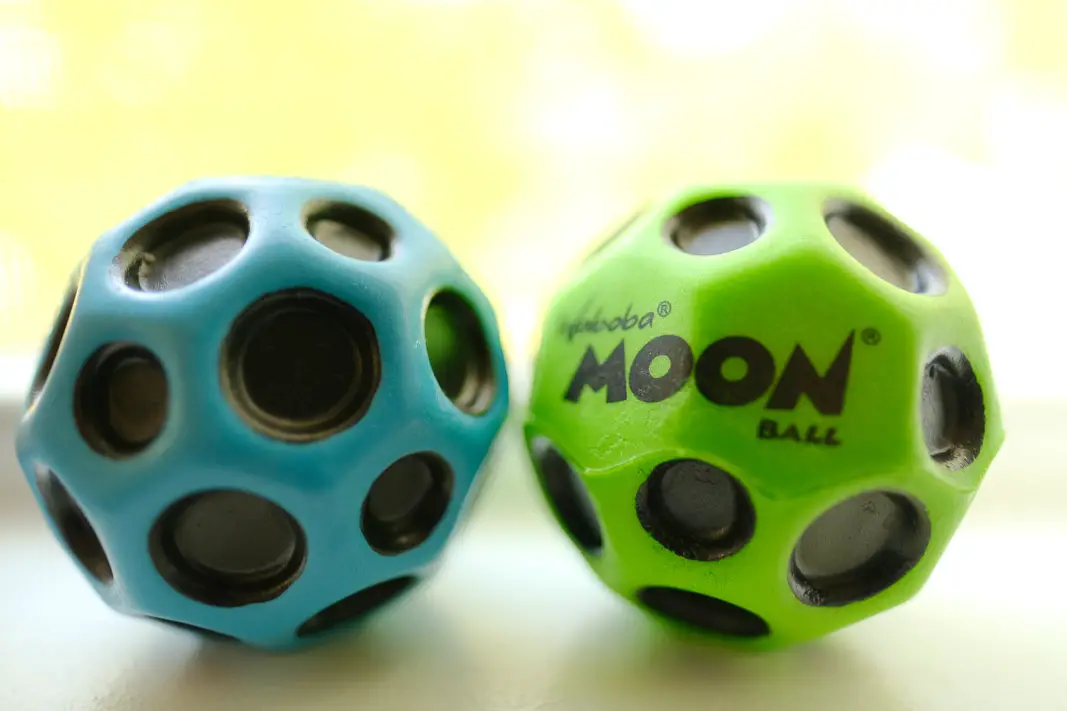 As I end this blog, I hope it helps to provide you with an affordable way to bust your boredom a bit!
For me I haven't had money to spend on such things as expensive video games, and or expensive yard games…however the few I have purchased have totally helped me occupy my brain a bit by providing me time not watching the news, not worrying or at least trying not to worry about this current situation. We are all in scary times, not knowing if we ever have work again, if it will ever be safe to go to the store again and if we will all stay healthy….I hope these simple little games provide a smile to your face and joy to your heart even if just for a short while throughout your day.
Don't forget to get out and PLANT THOSE GARDENS, NOW is the BEST TIME TO BE GROWING YOUR OWN FOOD. ENJOY OUR VICTORY GARDEN BLOG AT THIS LINK.
Thank you for enjoying my Blog!
I sure do appreciate it and would love to hear from you in the comments!
Peace, Love, and Simple Living Friends!
~Erin